Melissa Grey, David Morneau, & Robert Kirkbride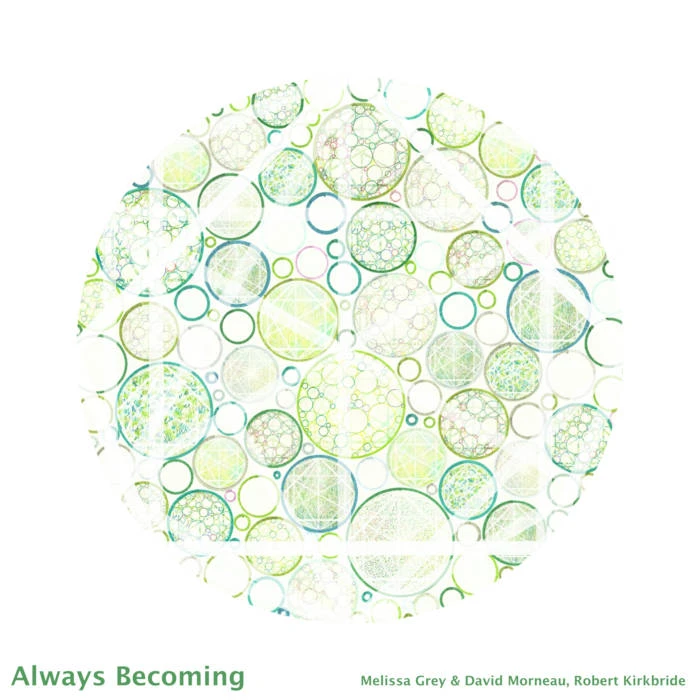 Always Becoming is the latest four-track EP from the following colorful, tender trio of creatives: Melissa Grey, David Morneau, & Robert Kirkbride. I had no idea what to expect when diving into this record, and that's my favorite way to listen to music. On the first track, entitled "Being," I loved the surprise of gorgeous guitar-work, delicately finger-picked on an acoustic guitar, along with sharp plinks of synth notes, a muted electronic beat and an eerie, atmospheric ambience. As a fan of avant-garde experimentation, this EP is right up my alley — if you love Radiohead, Aphex Twin, Portishead, or Massive Attack, then the same should hold true for you.
"Always" is the second track on this instrumental voyage. It delves more deeply into beautifully haunting, yet entirely serene, sounds. Wildly experimental, like the introductory track, "Always" offers electric guitar note twangs atop acoustic guitar finger-picking, and there are brass-like synths reverberating in the distance, along with a beat that feels ever-understated. This EP feels like a soundtrack to a film that hasn't yet been made. But I'd certainly watch it with a mixture of teary eyes and a clenched body. This song, like the other three, makes me feel simultaneously anxious and relaxed. Bizarrely beautiful.
"Ever" offers clicking percussion and another spectacularly stunning acoustic guitar passage. The finger-picked melodies would be breathtaking on their own, but there's no doubt that the booming beats and screeching synth effects give all of these songs an added layer of unease; something alien and unknown atop something very human and emotional. But "Becoming" feels like the cathartic closer to an EP full of twisted, dissonant sounds; to my ears, there's a lightness to this closing track. It breathes with a sense of freeness. The guitar passage feels a little more hopeful. I love the glitchy beat and whirring synths on this closer; there's still, of course, a slight unease that is consistent with the EP as a whole, but it's a glimmer of light at the end of the tunnel. A magical outro.