DOUBLE CLICK TO EDIT TITLE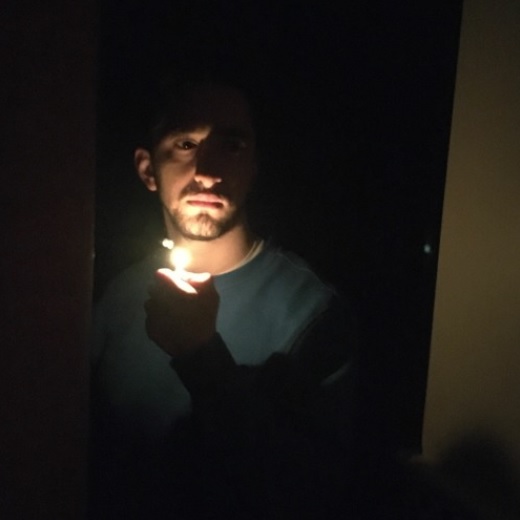 A new EP release from singer songwriter AM brings on the classic folk styles and emotionally driven lyrics to go along with an acoustic backbone and a beautifully structured and stripped down approach. 
The Misanthrope EP is loaded with heart and passionately performed vocals that come through impactful and with a youthful gusto to them that displays a great energy all around. 
The songs come from someplace real and the EP seems like it could even be a concept record of sorts as these songs are quite personal if you really listen.
It doesn't take long to get sucked into the artist's infectious songwriting style and his incredibly catchy and alluring melodies that at times, feels like a live performance happening right in front of you.
Songs boast some gorgeous harmonies vocally and the guitar work is riddled with outstanding layers of lead guitars that flutter in and out at just the right times. 
AM seems like he may have been a guitar player to start off with and building those melodies with a guitar flowed into his vocal style as well. 
Good thing too because the record has some addictive sections and the whole thing feels slightly like a dream. 
There is a little ambience there that keeps you floating just above ground and it's really impactful.
Written, performed, recorded, and produced by AM himself, Misanthrope is a deepening and heartfelt record that shows color and character to say the least. 
With such a great release, we wanted to have a talk with AM to find out where this all really came from. 
TSWS: Okay so let's start with the Misanthrope EP. This record has a very honest and passionate singer songwriter feel to it. Where did this record come from?
- Thank you. It comes from, well, I don't really know. Where songs come from…maybe being able to parse temporarily the scrambled transmissions constantly bombarding you at your subconscious level. And having the will to write that all down and record it. Like Joseph Smith and the Golden Plates. Maybe it's all bullshit. Who's to say?

TSWS: I'm hearing several styles on this release. Who are some of your biggest musical influences?
- I like quite a few British acts. The Smiths, Radiohead, The Beatles of course, David Bowie. 10cc. Big British rock acts with an artsy twist. Of course I have to mention Bob Dylan and Kurt Cobain. They're close to my heart. And My Bloody Valentine. Cocteau Twins. I also love 80s tough guy, ripped jeans rock. I love how camp it can be. Eddie Money. Billy Idol. I like Prince. I like a lot of acts. Too many to remember. Vintage music though, mostly. I'm not big on today's music, with some exceptions it all sounds more or less the same to me. I'm an old man at heart. Ancient. 

TSWS: So how did this all begin for you really?
-It all started when I was born. Before that I was floating in a pool of darkness and warmth. Ah, the good old days…

TSWS: What's next for you as an artist?
-I have a few singles coming out. I'm playing gigs regularly. I'm making music videos, etc. Throwing my painstakingly crafted musical children at the wall and seeing what sticks. Who will join the AM enterprise? 

TSWS: How do you write your songs? Lyrics before guitar? How does it work for you?
- Depends. Sometimes it's a melody first, sometimes a riff, or a chord progression. Never lyrics first. I hate writing lyrics. They make me anxious. I procrastinate over lyrics until I just have to turn my gibberish into something intelligible. Until then I'm singing gobbledygook over the melody. 

TSWS: What inspires you to write a song?
-Fear. Love. Angst. Just feelings, I guess. I'm an overly emotional person so songs, poetry, art- these are ways to catch some of the overflow and make it into something worthwhile instead of sloshing around in it, becoming pruned by it. Catch the deluge in a paper cup, as it were. Crowded House. 

TSWS: What are you doing when you're NOT working on music?
 -Seeing various doctors for my various ailments. Teaching- for money. Reading and writing. Consuming online content. Trying to appreciate art. Sulking. 
TSWS: Who are you listening to right now?
- Bob Dylan but that's to be expected. I'm always listening to Bob Dylan even when I'm not. 

TSWS: Can we expect any music videos from you this year?
-At least one. The others will be out in the first month of the New Year. 

TSWS: Are you putting any thought into live performances?
 -"Don't fuck up." 

TSWS: Do you have a home studio where you track your stuff? 
-Yes a very amateur setup. But now I'm outsourcing studio and producing shit to more experienced players. Hopefully it will reflect in the shiny new sound. 

TSWS: This EP seems like a big undertaking. What kind of advice might you have for other up and coming artists out there?
 -Fuck if I know. Ask me again when I'm rich. 

TSWS: Before we go, what would you like to say to fans of the music?
-Hello to all three, perhaps four of you. Congratulations for getting on the ride first. You will be amply rewarded for your loyalty once our conquest is completed. My love for you, your honor, and our victory is assured. All we require is tenaciousness, steadfastness, confidence, and a sprinkling of marijuana. Our glory is ascending. Talley-ho!