An Interview With Angry Joe And The Holy Socks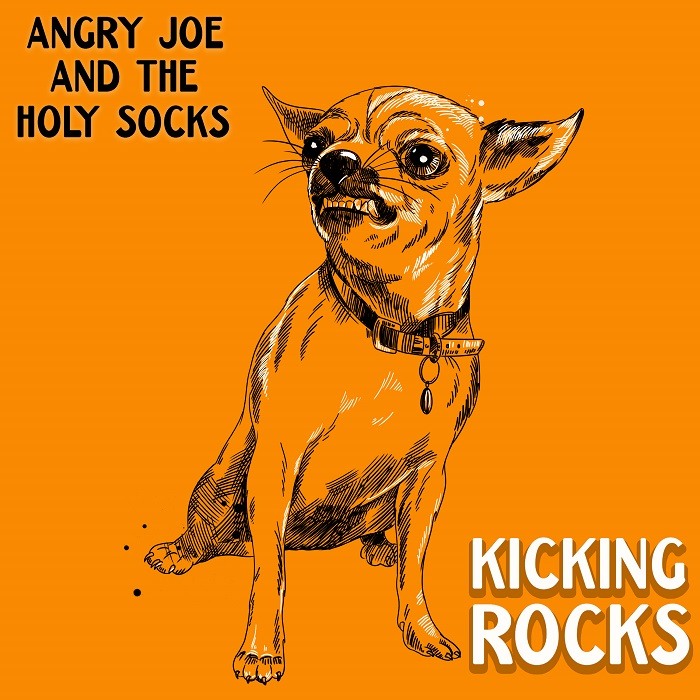 Angry Joe and the Holy Socks just released a killer classic and folk rock record that borders on 90's radio rock and oozes with feel good sing along bangers that you can jump around to anytime. 
The Kicking Rocks album is packed to the brim with fuzztone guitar hooks and bending wails that feed the rock beast as vocals belt out melodic and powerful sections that all give the feel of a live performance.
The songs are infused with life and at times give the feel of bands like The Toadies. 
There is that great nostalgic factor that breathes within the walls of this album and the whole thing comes off super colorful with a great alternative rock style lurking just beneath the surface. 
This record has swagger and attitude that all makes for some outstanding presence captured on record. 
Maybe the album was recorded live. It certainly feels like the players are feeding off each other's energies the whole time. 
Loads of catchy vocal lines and passionate performances from all sides, this album has all the bells and whistles you could ever want from a rock album like this. Even violins peeking in and out from time to time. 
The record sounds like it could be a diary of sorts with lyrics being pulled from real places and done with a tasteful touch. 
Fans of indie to garage rock, classic to radio rock, and everything in between should fall right in love with this album and with such a killer release, we wanted to have a chat with the band about where it all started and maybe even where it's all going. 
Here's what happened. 
TSWS:This record has a real alternative rock undertone but is loaded with acoustic power ballads. What a killer sound! Where did this record come from? 

> This record came from residual feelings of experiences that left deep impressions. We have both been through heartbreak, and have had days where things go terribly, even comically wrong for us. There is a lot of anger and despair in this album, but it also has fleeting moments of hope and bliss. In a sense, this record was an exchange of stories between us: stories where something so trivial that you can easily "brush off" ended up impacting us so severely.

TSWS: At times this feels like a concept record. Is that true? 
>Yes and No. We did not write the songs with any intention of creating a concept record. After finalizing all the songs and hearing them as a collection, we found there was a common theme between the songs. It's really neat how all 11 songs ended up sounding so great as a collective.

TSWS: I'm hearing some great rock and singer songwriter styles on this album. Who are some of your biggest actual musical influences?
>Joe is heavily influenced by The Beatles, Oasis, Stone Temple Pilots, and Counting Crows. Charli enjoys Bee Gees, Peter Paul and Mary, Hall and Oates, and Jay Chou.

TSWS: How did all of this begin for you?
>Joe has been in bands for many years but finally decided to start his own in September of 2019. He has known ever since his first show that this is his calling. Charli has always secretly dreamed of playing the drums in a rock band, but never had the opportunity until a good friend taught her to play in 2018. Charli's performance that solidified her dream of being a musician: a piano recital at 8 years old in Carnegie Hall. 

TSWS: This record is massive! Did it take you long to put together?
>The record was written in parts. Joe comes up with riffs that we jam to. Sometimes we will have to keep working at a progression for months because it just doesn't sound right. Other times, we are able to complete a song in under 5 minutes. Joe completed the debut EP in March of 2020 and worked on new material until Charli joined the band two months later. Thankfully we both had extra time during quarantine, so we were able to finalize all 11 songs by November that year.

TSWS: How do you write your songs? Is it lyrics first or guitar chords? It's different for everyone. How does it work for you?

>There is no constant method! The majority of our songs are written chords first, but we have had almost as many songs come out completed on the first try. Sometimes we will discuss a topic as inspiration for lyrics, but the guitar is always present.

TSWS: What's next for you as a band?
>During the process of releasing Kicking Rocks, we got to meet so many cool people around Houston. We were lucky to meet creative and artistic photographers, videographers, and artists who assisted along our journey. There are going to be several collaborations to come!

TSWS: Can we expect any music videos coming from you?
>Yes! We are so excited, the next one will be fun!

TSWS: With things up in the air, do you think you'll be focusing on any live performances? 
>We really want to play a show, but think it is safer to wait a little longer. When the LP was released, we played a private show for friends and family, since we were able to control the number of people who showed up. 

TSWS: Has the whole pandemic affected you as a band? How so?
>Very much so. We were able to complete 11 songs in approximately half a year thanks to all the extra time we had. The pandemic also had a way of bringing out self-reflection for us both, which definitely helped in the songwriting. Since the band was formed right before the pandemic, we weren't ready to play shows last year. We are lucky, the pandemic gave us time to prepare our skills for when live shows are in abundance again.

TSWS: This record feels like it was a pretty big undertaking. What sort of advice would you have for up and coming bands out there?
>Do one thing every day. Whether it's responding to an email, researching that one blogger, practicing your instrument, brainstorming network strategies, etc., do one thing every day. It always feels like nothing is happening at the moment, but consistency is the only way to progress. Take criticism with a grain of salt, always be courteous, and support fellow musicians. 

TSWS: Before we go, what would you like to say to fans of the music?
>Thank you for listening to our music. We hope our music helps loosen any emotional knots you have. 
Angry Joe and the Holy Socks Spotify
Angry Joe and the Holy Socks IG
Angry Joe and the Holy Socks FB
Angry Joe and the Holy Socks Twitter