DOUBLE CLICK TO EDIT TITLE
An Inteview With Animal Souls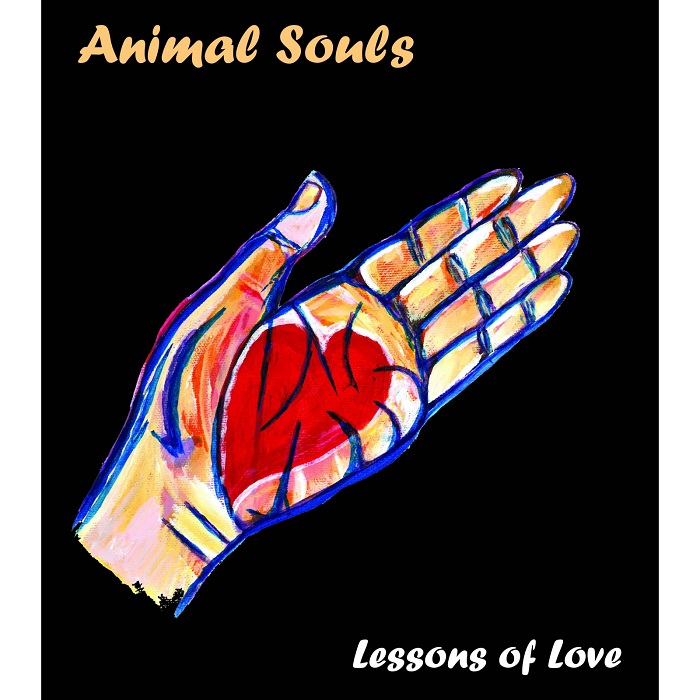 A new release from Animal Souls beckons a gorgeous and ethereal tonality that pushes the envelope with a passionate and lush array of instrumentation that all comes together in a sweet and natural feel. 
"Lessons of Love" is a wonderfully woven masterpiece that boasts a number of contemporary genres and blends together such a palette of sounds its addictive and engulfing. 
The song is riddled with massive vocal hooks and harmonies to go along with jazz and soul percussion, violin, keys, acoustic guitars, flute and so much more. 
This release is packed with perfectly layered notes and sonic presence that really digs into the soul and lifts you up. 
The track has touches of nostalgic undertones during the chorus and the vocals are oozing with heart and a pure love or the craft. But really the entire ensemble does as well. 
This was beautifully executed and arranged and as it turns out, the song is the brainchild of songwriter Michael Fisher who put everything together in the first place it seems.
This track was intricate and precise to a certain point but kept true to its passionate roots and it must have been quite something to have a song like this come from a thought to fruition with so much put into it. 
The players are all outstanding and, in the end, you want to see them perform this live so badly its crazy. 
Although this may not be something that actually happens, it's okay because at least we have this single to give us such a full and heartfelt warmth.
This is the kind of thing that happens when you get experienced musicians together with the same aim. 
With the release of such a great single, we wanted to have a sit down with Fisher to talk shop about the single, its origins, and more. 
TSWS: Okay let's start with the "Lessons of Love" single. This track came out beautiful and lush with a colorful tonality to it. Where did this song come from?

If you listened to the original 4-track demo, from the late 80's, you wouldn't recognize the song! The arrangement is actually pretty close to the original but for this recording I wanted to 'bring it up to date' if you know what I mean. The lushness is all in the vocal arrangement I think, thanks to an amazing young singer, Mara Hatklin. When Mara came into the studio to do her tracks, I gave her the basic melody and asked for an 'airiness' in the vocal style but Mara pretty much took over from there. My co-producer Pete Cordalis and I just sat back in the control room and let her do her thing! Interestingly, the flautist on the track is Mara's father, Les Hatklin, who has been a mainstay in the Mission folk scene for a long time. You don't hear much flute in rock songs these days, but I wanted to stay as true to the original as possible which had flute throughout the song. For this track though I wanted to do a kind of Jethro Tull kind of thing and Les breaks in around the 1:50 mark… I love it! The track also features a couple of other Mission folk stars, Jennie Bice on fiddle and Lana Roberts on piano. Also in the lineup for this song are Chris Murray Driver on drums and Preston Sawyer on guitar, both of whom figured prominently on my first album 'Wisdom of Crowds' (released August 2021). Rounding out the players are Pete Cordalis on synth and myself on bass.

TSWS: I'm hearing a great mix of styles on this song. What are some of your biggest actual musical influences?

Without trying to age myself too much, I grew up on bands like Led Zeppelin, Deep Purple, Black Sabbath and the like, but I also have a love for prog-rock so groups like Genesis, Yes and Rush were big for me too. In the 80's I also started to dig some of the new wave music (and even had spiky purple hair myself for a spell). Bands like Rough Trade, Pretenders and Missing Persons definitely struck a chord with me, and I think that's when I really started to gravitate more to music with female lead vocalists. This definitely translates into my work as I like to work with female vocalists on my songs – including this track of course along with quite a few others from my album 'Wisdom of Crowds' and more to come! An interesting, funny footnote… I once got low fives from Chrissie Hynde (and Martin Chambers) from the stage and was mistaken for a Rough Trade bandmember… both happened at the Commodore Ballroom in Vancouver.

TSWS: So, how did this all start for you guys?

I've been around the music scene for quite some time in one fashion or another, as a bassist, songwriter, manager, live sound guy, you name it… I've probably tried it! Somewhere along the way I had to get a real job, but I stayed connected to music somehow, playing in various original and cover bands. When Covid hit and forced me into early retirement I decided to focus on my music, taking the songs I had written along with the artist name I had always wanted to use, Animal Souls, to the next level. I'm very lucky to have forged many friendships and connections in music, so I was able to round up some of the best musicians here in the Fraser Valley to help me with my vision. I was also fortunate that my good friends, Scott and Mary Anne Boyes, gave me free reign at their studio to record all the tracks for Wisdom of Crowds. It was a very rewarding experience for both myself and my musical mates because I think I inspired a few of them to dig into their own music. It wasn't easy to keep the music going during these difficult times, but we did it – and now I can't stop! 

TSWS: What's next for you guys as a band?

Lessons of Love is the first finished track from my follow-up album, 'Tongue in Cheek'. This record will have nine tracks, all songs from a batch that I wrote during a furious writing spree back in the late 80's. I self produced my first record but for this one I'm working with a co-producer, Pete Cordalis at Green Room Studios in Abbotsford, BC. The plan is to have it ready for release by the end of 2022. I'm also hoping to have a video for Lessons of Love ready for the single release on January 21.

TSWS: Have you played any live shows? Are you planning on it?

Playing my songs live with a band would be a dream come true. Logistically it would be a little challenging though as there were 20 different musicians on Wisdom of Crowds. For Lessons of Love, there are a few returning players plus an additional four new players to the fold! But it's doable if I can come up with a core group of players and the right songs to make a killer set… and I'm working on it.

TSWS: What are you all doing when you're NOT working on music?

Well, some of the players have real jobs, not related to music. Some of the players work full-time in music. And others, like me, don't work but do music full-time 
 When I'm not working on my stuff, I'm working on other music projects. I just joined another great band called 3rd Deck (as the bassist) and we just finished recording our debut 5-song EP at Downe Under Studios in Abbotsford – we're hoping to release it soon. I'm also recording local faves, Random Dander, for their next album. And hopefully when live shows get back in gear, I'll be hitting the stage again with my classic rock cover band, SwitchCraft and doing live sound at shows and festivals.  It's funny - I don't have a job right now, but I've never been busier!

TSWS: Who's in your headphones right now?

'This House Is On Fire' by Broken Social Scene… it's from their upcoming album 'Old Dead Young: B-Sides & Rarities' releasing on January 14. I'm a big fan!

TSWS: Do you guys write the songs together or is there one main songwriter in the group?

I write the songs so when we hit the studio to record them, there is a basic structure and arrangement already in mind… more in the next question….

TSWS: Is this more of a collaboration?

Working with such great players is a treat because even though the songs have a basic arrangement ready to go, we don't do much pre-production, so the musicians have a lot of artistic freedom to put their stamp on the songs, on the fly, so to speak. So, in that sense, it truly is a collaboration. As a songwriter/producer I have my ideas and vision, but I am open to their interpretation and all the better for it… they hear things I don't and vice versa. I think it's very rewarding for us all to hear the songs come to life the way they do.

TSWS: What kind of things really inspire you to write?

Although many of the songs I'm recording these days are from an old backlog, I have been writing some new stuff too. When I write, it's usually from an observational point of view – I'm not necessarily writing about my own situation or experiences, sometimes I am but usually not. Interestingly, although the original demo for Lessons of Love was done in the late 80's I only recently wrote the lyrics for it and they were inspired by a friend who was having some difficult times in a relationship, as I observed it.

TSWS: The single feels like a pretty big undertaking. What kind of advice would you have for up and coming bands out there?

Good question… I think artists can sometimes feel a little insecure about their music and often question themselves, "is it good enough?", "will people really like it?" … It's human nature and I do the same. It may be a little cliché but all I can say is, if you have the music and a vision, just go for it. Life is too short so when opportunity knocks, take it. Somebody, somewhere is going to like what you do… maybe that's all that matters.

TSWS: Before we go, what would you like to say to fans of the music?

Firstly, thank you 'The Sounds Won't Stop' for the opportunity to talk about my music and to everyone else, thank you for listening and taking an interest in my music! If you want to hear more and learn more about my project Animal Souls, head over to animalsoulsmusic.com right now!