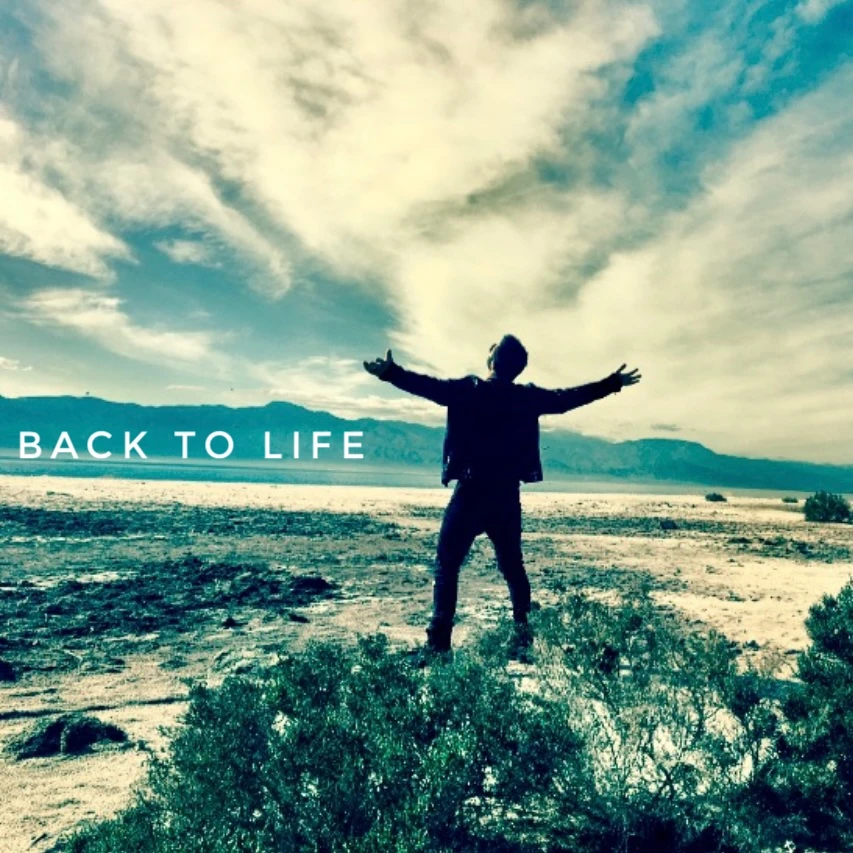 A new single from BAYWUD brings out a gorgeous and inspiring but completely honest soul pop banger that comes with a heavy handed gospel feeling chorus and hook that sticks with you for ages as it feels massively driving and almost empowering even. 

"Back To Life" is absolutely huge and features an array of colorful but slightly edgy soundscapes from instrumentation that feeds the fire from start to finish. 

Guitars that slide and pianos that feel calming and peaceful before things explode into a soulful and lush approach that really works wonders. 

This is the kind of song that makes you think and causes your own memories to just pop in your head but it also gives you this extra energy as well. That inspiring premise of being through a struggle and getting yourself back on your feet for example. 

This release boasts that sort of empowerment. You can draw for those vocals and how they come through with such shine and full-bodied vibrancy. 

The track surely gets under your skin in all the best ways possible. You find yourself humming that hook in your head all day. Even if just the melody itself. It comes back to haunt you and this is the type of track that doesn't stop there. 

You find yourself wanting more of it when it's done. 

This was gracefully performed and boasts a cinematic tonality that you come to love right from the get go. It's infectious and righteous and just feels good to listen to honestly.

You get the feeling that you know the artist better. Like you can understand where he is coming from. You agree with the notion of 'coming back to life'. 

This is what empowerment is all about and why songs, when done in a certain manner can change your thinking at times. Your mood can be altered and moved to a different place because of the inspiration a song can provide. 

A beautiful and impactful delivery from BAYWUD here and luckily this is just a taste as this single is part of a full album releasing in Feb. 

We can only hope for more in the vein of "Back To Life" on the album itself. 

I have high hopes though.
With the release of such a killer single, we wanted to touch base with BAYWUD to see where this one came from and talk about what's coming up.
Here's what happened. 
 TSWS: Let's kick things off with Back To Life. This single had a very beautiful and cinematic undertone!  Where did this track come from?

        -Thank you. I am pretty vocal about my past struggles with drugs and my current struggles with depression and anxiety.  The lyrics in the song are more expressive of my own battles within myself.  It's really a song that's a calling to the universe to help wake me (us) up from our own internal prisons.  I wanted to write something that shared some darkness, but also shed light on the true nature in all of us, which is to survive and hopefully thrive.  

TSWS: When did this all start for you?  When did you fall in love with music?

        -  I fell in love with music from the earliest of my memories.  I remember my dad used to blast records or CD's in our living room, usually from music of his generation.  And me and my brothers would just dance around and it was such an amazing memory for me.  When I was old enough, I started learning the piano and singing.  And It's just been sort of in my blood ever since.

TSWS: What inspires you to write a song?

        - I get this question asked a lot and it's really so many things.  I really can get inspired by anything around me; My own personal experiences, other peoples experiences, stories and struggles.  But I also get inspired by other artists and musicians.  

TSWS: This record has some great styles!  Can you give us some of your top musical influences?

        -  It varies.  I was very much influenced by music that my dad would share.  We'd listen to music from the Beatles, The Rolling Stones, Bob Dylan, and several other artists from that era.  But, I also feel very influenced by artists like Ed Sheeran, Hozier, Bon Iver, Lewis Capaldi, James Arthur.  There are just too many to list.  So much to be inspired by.

TSWS: What are you doing when you're not working on music?

        - I love to paint and create art.  I work with acrylics on canvas.  So, that's something I really love to do in my free time, when I'm not working on music.  I also went to school for film.  So, photography and film are always a part of my days.  

TSWS: Who is in your headphones right now?

        - Funny enough, It's actually ME.  I have a writing session tomorrow with a new producer i'm working with.  So, I've been in my own studio coming up with some new ideas.  

TSWS: Are you doing any live performances right now?

        - I am.  My next show will be Feb 23rd on the main stage  at The Hotel Cafe venue in Hollywood.  

TSWS: This album feels like a big undertaking.  Is there any advice you'd give to other up and coming artists out there?

        -  I"m not sure I'm an expert on this, as I feel that all of us independent artists have our own struggles.   I would say that it's important to stay true to yourself as an artist.  It's easy to get swayed by others' opinions and criticisms about your craft or work.  You really need to trust your gut, but it's also important to know when to listen to your peers and fellow artists/songwriters/producers/etc.  I think it's necessary to keep a healthy balance for yourself.

TSWS: What can your fans expect from you in the near future?

        - I will be releasing a full album on February 23rd that I'm really excited about.  I also have my show, and will be continuing to release more music and do some live shows around the L.A. area.

TSWS: Before we go, what would you like to say to fans of the music?

        - That i'm grateful for all of those that are listening and enjoying my music.  It's a constant battle these days with algorithms and streams, and followers, and all the things that are important, but also frustrating at times.  But when I look at the numbers, or see all of the countries around the world that are streaming, it really puts a lot in perspective for me.  I'm just so lucky and thankful for all of you who continue to listen.  It truly means the world to me.