An Interview With Electric High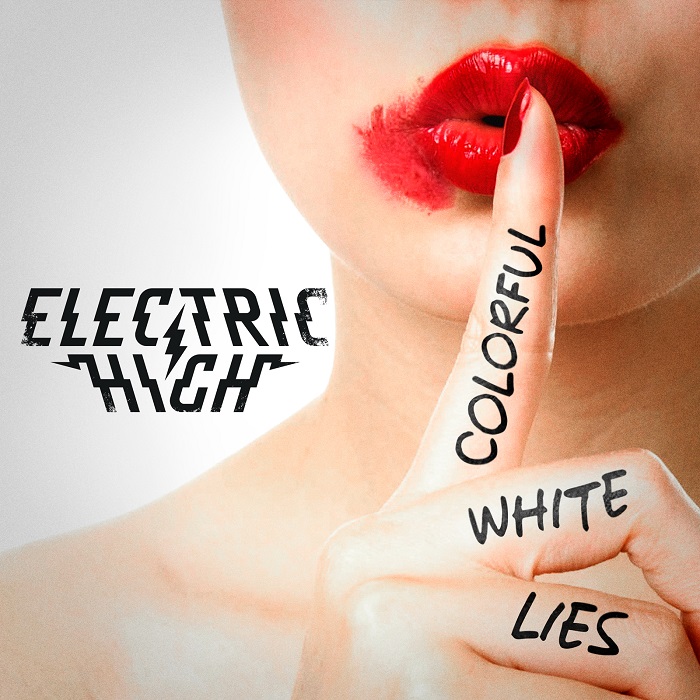 Electric High just hit us with one hell of a rock banger that blends genres together without a hitch with inventive and satiating sets of textured sounds that roll into each other with a sweet aftertaste that leaves you wanting more. 
"Colorful White Lies" is an absolute romp from start to finish with a deep buzztone bass sound, synths and endlessly fun percussion to go along with bright vocals that lay down tasteful melodic swagger on top of southern rock guitars performed with more gusto than you can handle. 
This track is danceable, colorful, vibrant, and a damn good time from start to finish. 
The single brings to mind bands like Death From Above 1979 at times and really presents a crazy character thats portrayed with a lively presence. 
As a matter of fact, you kind of get the idea that these guys put together a badass live show.
The way in which the band mixes purebred pop with classic southern soul rock and more is genius and it fits to stand for what the future of music may just sound like. 
With an addictive tonality and soiree of a single released, we wanted to have a sit down with Electric High to find out where this single popped up from and what may be next for them. 
Here's what happened.
TSWS: Let's start with the "Colorful White Lies" single. This track has a great cross of southern soul rock and radio pop and more! Where did this track come from?

 Marius: Well thanks! The song started out with a guitar riff i had. As a big fan of southern rock, especially that style of guitarplaying, that influence is really coming through on this track. Vocalist and main songwriter, PV Staff, took it from there...

 PV:  Yeah, turned this guitar hook I got from Marius into a chorus. Added a groovie bass, a catchy vocal and Voila!...Colourful White Lies! The lyric is about the thin lines between telling a white lie, and how easy it becomes worse than just one "white lie".
TSWS: Love your whole aesthetic! Who are some of your real influences musically?

 Marius: Thanks again. We all have a broad taste in music, which i would say is the strength of this band. We're not just a bunch of conservative rockers. We dig Billie Eilish, Lana Del Ray and other modern pop makers as well. But we also grew up listening to classic rock like Purple, Kiss, Maiden, Zeppelin and Aerosmith. I know that Beatles was a big inspiration for PV. Me and him are also big fans of Wings.

 PV: We always leave a bit of Rock in the foundation of the music we make. Still we get inspired from all over the place. 
 
TSWS: When did you guys first fall in love with making music?

 Marius: The first record i heard was my father's Beatles record, "Revolver". The moment i heard the guitar riff on Taxman, made a lasting impression on me. And the indian style guitarsolo, which is in fact played by Paul Mccartney, is just mesmerizing. Harrissons vocals is also superb. It's the perfect song in every way. That was the spark that started my love and interest in music. Like how can i make that noise/sound myself.

 PV: When I was 5 years old, I got my first The Beatles album. And I knew right away that this was what I wanted to do.....making songs. In fact.....I started to play guitar because I wanted to write songs. Not because I actually wanted to learn how to play.
TSWS: What do you think is next for you as a band?

Marius: We get more and more attention every day for the songs we have released so far. A lot of nice feedback. Radiopromoters in the US have contacted us and want to work with us, to get our music out there on american radio. So this is exiting. We've been in the studio at least one time a year and will basically continue making music, recording and play live as soon as we get the chance to do so.

PV: Yes, there is definitely gonna be an album from Electric High in 2022!
  
TSWS: This single feels like it was a big undertaking. What advice might you have for other bands out there?

 Marius: Hehe, well thanks! The best advice for any band i would say is to break the rules, take chances with your music by being sincere and be brave. 

 PV: Make music because of what you like.....not because what you think people want to hear. Be brave!

TSWS: What sort of things inspire you all to write?

 Marius: This question i'll pass over to PV! Musically speaking i would say that it is often by taking a break from playing and then getting back to it, that a lot of the good stuff comes out.

 PV: I´m quite picky when I try to find new music/artists to listen to. So I sometime ends up trying to make my favorite songs myself...... I write myself the vibe I´m looking for. That does´nt mean I´m always satisfied with what I make, but at least I tried. The lyrics are more random. Sometimes I know right away what I´m gonna write about, sometimes the story just "ends up this way". Anyway....in Electric High, Olav Iversen is doing a lot of the lyrics as well. We both go through my scetches and sometimes re-writes the whole story.
TSWS: Do you guys write the songs together during rehearsal?

 Marius: Sometimes we jam on an idea during rehearsal, usually based on a guitarriff.  But mostly PV put all the bits, like riffs and lines, together on his own. Olav and PV work out the lyrics together when finnishing a song.   Isn't that right PV?

 PV: Yepp!
TSWS: Do you do any live shows? I know it's not the same as it used to be but are you working out performances?

 Marius: We are putting together a setlist for future liveshows right now. We've just had a change of drummer and just started rehearsing with the new guy, Tor Helge Opdahl. He's been a longtime friend of the band and fits   in perfect.
  
TSWS: If you won an award for your music, who would you all thank?

 Marius: ... It seems a bit unreal right now. But i would first and foremost thank those who support the band.  
TSWS: Who are you all listening to right now?

 Marius: Lately i've been listening to Albert Bouchard's "Imaginos" album, Charlotte Gainsbourg, Bobby Conn and also the cult soundtrack to "Lucifer Rising" (art movie) by lifetime prisoner, Bobby Beausoleil. Very interesting and great instrumental stuff. Our bassplayer Einride, said he's listening to new Wovenhand record Silver Sash.

 PV: The new Spoon record and Faster Pussycat.

Olav: Wovenhand, Årabrot and the new Electric High mixes (which sound amazing) and our neighbors having sex.
TSWS: What are you all doing when you're NOT working on music? 

 Marius: Most of us have day jobs, but for PV it's all music. Our drummer, Tor Helge, i know, is brewing his own beer in his spare time. Trying to have a good time while we wait for the new Ice age, probably summun it all up.

   Olav: Enjoying alcoholic beverages and getting high up on mountain tops.
TSWS: Before we go, would you like to say anything to your fans?

 Marius: I can promise that we have a lot of good music on our way, so stay tuned!!

 PV: Get electrified!