DOUBLE CLICK TO EDIT TITLE
An Interview Failing Exploration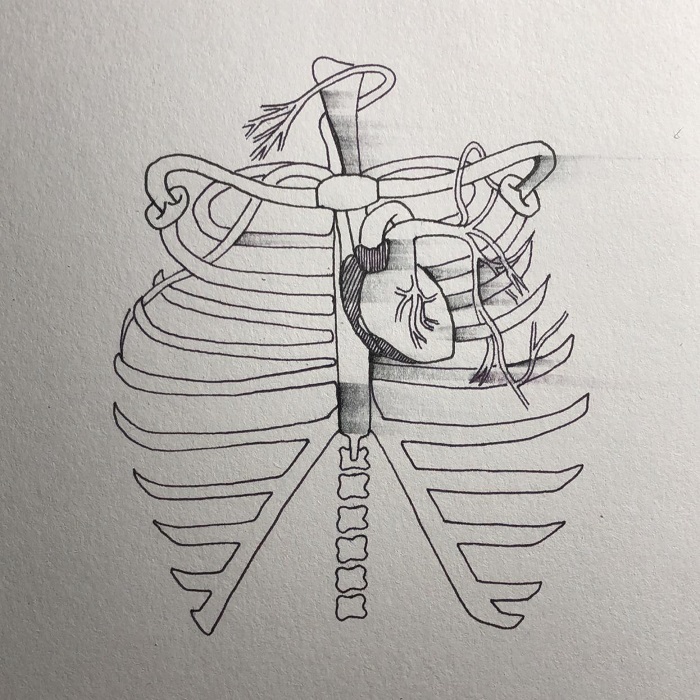 A new single from Failing Exploration brings a lush and full bodies rock tonality to an experimental and slightly psychedelic palette to create a very embracive and engulfing atmosphere. 
"Internal Bleeding" is ambient and melodic and when the full band kicks in, the rhythm of the song really takes place and it melts into a grugy oriented profressive rock track that bares all. 
The song is certainly personal and touches on classic alternative rock of the 90's and this gives it an added life. 
This track has a ton of energy and indeed has a way of pushing the envelope that bounces back and forth between alt-rock and gunge, and a space rock sound that swims aroundyou. 
It's outstanding to hear the song evolve and change and you find yourself getting pulled into its infectious sonic presence pretty damn fast.
What's even more impressive is the way the song surprises you. When those drums kick in it's all over. 
You just let it take you away and the feeling changes with it.
It's really cool to hear a song go through a change that takes you back for a second and then you just start gettin gino the groove of it. 
The tripiness doesn't really go anywhere. It's still there but it's got more of a grunge rock feel and it's damn good.
The release is completely progressive in it's own way and really showcases the band's ability to to make a song sound so big in just under 3 minutes time. 
You don't always get that.
A shorter song usually seems quite short. But these guys pull it off without a hitch. 
With the release of "Internal Bleeding", we wanted to have a chat with Failing Exploration and find out exactly where this single came from and what may be next for them.
Here's what happened.
TSWS: Okay so let's start with "Internal Bleeding". The song has quite a psychedelic grunge intro and brings together some classic alternative sounds ! Where did this track come from?

- When Marks, our guitartist, and myself started to just have fun and experimenting with different effects and sounds and really got into Shoegaze, we ended up with a lot of heavy, long songs and a whole lot of slowcore-ish, dream pop-ish ballads, so Internal Bleeding was really born out of that conscient decision to have a proper introduction, an opening track, if you will, that lived right in between and could really set the stage for both sides of our band.

TSWS: I'm hearing several styles on this release. Who are some of your biggest musical influences?

- My Chemical Romance and The Smashing Pumpkins are some of my biggest influences for sure, I grew up listening to them, but "Infinite Granite" by Deafheaven came out just at the right time last year and it just had a huge impact on me as a songwriter, and you can definitely ID some of those things on this one and pretty much all of the songs that are coming out after it.

TSWS: So how did this all begin for you really? When did you fall in love with making music?

- We both started playing guitar pretty late in life, we were around 18 when Marks saw Slash playing live and I watched blink-182 playing an acoustic show for their California album for BBC Radio. When we played music together for the first time some 5 years ago we just fell in love with the chemistry and the energy that emerged from playing with each other and how instruments can feed off each other for something bigger. Every decision we've made since then, learning how to record out own music, how to use different guitar pedals, learning how to sing in my case, has all come out of that.

TSWS: What's next for you as a band?

- Internal Bleeding really is the beginning of a new chapter for us, we have new music lined up for the rest of the year and we are recruiting some new members to start playing live very soon, which has us both excited and terrified.

TSWS: What inspires you to write a song?

- Lyrically, I write as a form of catharsis, so themes of isolation, uncertainty and struggles with mental illness will probably have a home in our lyrics always. At the same time, stuff that happens in the world around us is impossible to ignore, stuff like the pandemic raging on and governments around the world, ours included, looking for ways to discriminate and repress marginalized communities even more, really is unnerving and something I just can't shake off either when I'm working on my own lyrics.

TSWS: What are you all doing when you're NOT working on music? 

- For now we work 9-5 desk jobs. Being addicted to guitars and pedals can get really expensive really quick.

TSWS: Who are you all listening to right now?

- For me, "Hospice" by The Antlers and Nova Halo haven't left my playlist for a while now. Marks has Pierce The Veil, "Mesmerize" and "Hypnotize" by SOAD and "Drones" by Muse on it

TSWS: Are you putting any thought into live performances? 

- Definitely, and we couldn't be more excited, right now it's just me on bass and vocals and Marks on the lead guitar so our focus is to find new people to expand our line-up and we hope to have some shows going sometime around June this year.

TSWS: Do you have a home studio where you track your stuff? 

- Yes my bedroom in Guatemala City! Pretty simple rig, we have a microphone in my closet, an interface to plug in our guitars and bass into my laptop and we record everything digitally, it's what we can afford at the time but we're quite happy with what we have made here.

TSWS: This single seems like a big undertaking. What kind of advice might you have for other up and coming bands out there?

- I think the best piece of advise that has been given to us is to consider our band and to treat it as if it was a small business if you want to someday succeed and be able to leave your job to focus on music, definitely make sure to follow Damian Keyes' advise to get the right idea of how to do that

TSWS: Before we go, what would you like to say to fans of the music?

- Huge thanks, there's really no words that can describe what it means to us that someone takes time out of their day to listen to what we do. We definitely want anyone who listens to our lyrics to know that these often come from dark places, and if you ever feel identified with these lyrics, if you feel down, depressed or anything along those lines, you need to remember that there's always someone who cares about you that you can reach out to, and there's absolutely no shame in looking for help, we all need it from time to time.