DOUBLE CLICK TO EDIT TITLE
An Interview With Fingerless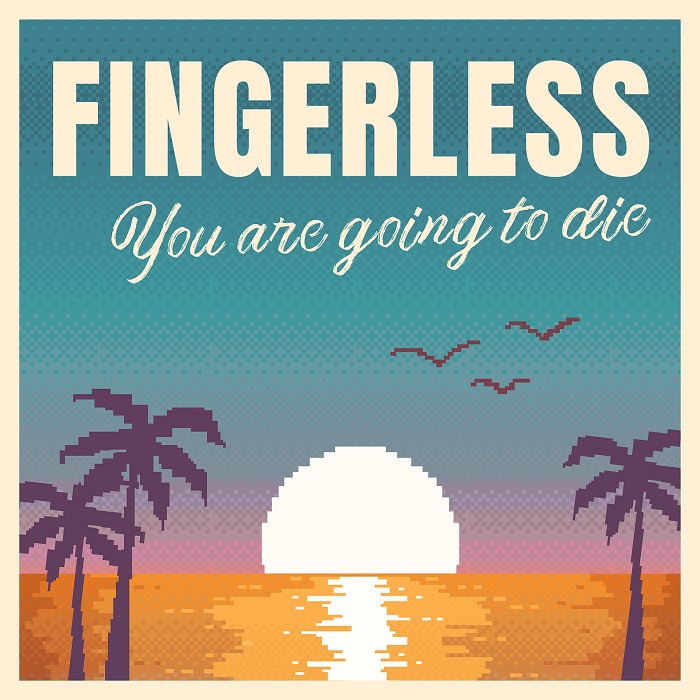 A new single from Fingerless boasts a wonderfully woven and incredibly clever genre crossing style that takes elements of indie-pop, folk, singer songwriter, and classic rock and blends them all together in a youthful and brutally honest and straightforward track that sticks to an interesting topic and does with a touch of humor just beneath the surface. 
"You are Going To Die" is a track that feels cinematic and powerful with all kinds of outstanding acoustic guitars, synths, and vocals that swim around you and let you get sort of washed away with the whole thing. 
The theme is daring and the approach is perfected as the artist really takes on a certain character almost like something of a dark comedy.
The title says it all. You are going to die. And fingerless is here to remind you. But what's cool is that it actually does remind you. And if you watch the video that accompanies the track you get more of a sense or living life in the moment rather than a sense of urgency. 
Again, it's all quite clever and very well executed. 
The music is really engulfing as you can hear influences like Elliot Smith in the chorus but it drifts into something else all together. 
The synth break down-ish part in the middle of the track beckons Pink Floyd at times and gives a little extra haunt but that kind of psychedelic element is key to the song's posture. 
This was really goddamn cool. It's the type of song that makes you want to hear more from the artist. Or reach out and ask questions.
Luckly, we got to do just that. 
Here's what happened. 
TSWS: Okay so let's start with "You Are Going To Die". This track put forth quite an interesting blend of indie pop and with such a pungent subject matter. Where did this song come from?
This song was a response to one of our friend's songs. They wrote a song about life, I can't remember the lyrics – something about living while you're still alive – and I just thought it would be better to say something a bit more direct, like 'well, you're going to die... possibly soon.. remember that'
TSWS: We have to talk about this video. It came out eerily perfect with the track itself. Was this all your idea? Did it come out how you wanted or even expected? 
I'm glad you like it! No, it had nothing to do with us. We asked a friend of ours, Jenny Fox, to make the video. She's a design/visual artist type – she's done a bunch of Brisbane band artwork as well as other stuff (@jennyfox.design). I just sent her the lyrics and the master and she sent back the video a few weeks later and was like 'is this ok?' We were really happy with it! it's a perfect blend of creepy and funny.
TSWS: So how did this all start for you as an artist?
It just started with playing in bands. The first band I was in was a horror punk band back in 2004 i think.
TSWS: What are you performing on this track aside from vocals?
Sitar, guitar (acoustic, electric, 12 string), I think I did some percussion too. This song was recorded here at my house, so I did all of the recording and demo mixes for the track too.
TSWS: Do you collaborate with anyone on the creation of these songs? 
Yeah, for the past few years there's been the four of us working on Fingerless songs. Warwick Epiha on bass and vocals, Jonny Pickvance on drums/percussion and vocals, and Zara Bennett on keys/synth and vocals. Although Zara recently moved down to Melbourne so 'you are going to die' might be the last song that we release with her on it.. For a while at least.. We've also been working with Darek Mudge (production/mixing) for a while now, he did the final mix for this track – and made it sound actually incredible!
TSWS: I'm hearing such a cool array of styles infused on this song. Who are some of your biggest musical influences?
Ween, Air, the Beatles, the Moody Blues, the Brian Jonestown Massacre, Love, Broadcast, Princess Chelsea, Michael Land, etc.
TSWS: What are you doing when you're NOT working on music?
Feeding my cat. Washing dishes. Reading for pleasure, and reading for pain (studying/working).
TSWS: Do you ever perform live? Are you planning on it?
Yeah, we've been really lucky (so far) with covid in Queensland – we've been able to play a bunch of shows over the last 2 years. Our most recent show was a few months ago at our label's (@4000records) birthday party. There's a really nice review here: https://bit.ly/32v48m5
TSWS: What sort of things inspire you to write?
Anything really.. Turns out the last two songs that we've released have been about death or mortality in some form.. So there you go. Last year (2020) we released a song about the idea of teaching artificial intelligence to understand love (Sympathetic Love), and a song about subjective perception (Truth). We're also about to start working on a new song about being lost in a really big cemetery with the wrong map.
TSWS: Do you have a home recording set up that you work with?
Yeah, I've got a pretty basic setup that I use at home – mostly for working on demos. For 'you are going to die' we had planned on recording it ourselves from the beginning, and I had a few different demo versions of the song recorded. So we just picked the ideas that we liked from the demos and got started. I've just got a presonus 68c as my interface. We used an alesis sr18 for most of the drum/percussion sounds (can't play acoustic drums at my place unfortunately). I used a Tascam 4 track preamp to get some of the distorted guitar sounds in the slow part of the song, and ran an old casio VL5 through my guitar pedal board for some parts of the track (the kookaburra noise at the beginning, etc.). We just tried heaps of different sounds and chose the ones that we liked.
Actually, Sympathetic Love was also a home recording. But that was recorded back in 2017 i think, using my old gear (which has since died..), and again Darek did the final mix for that song and made it sound incredible!
TSWS: This song and video feel like a pretty big undertaking. Is there any advice you'd have for other up and coming artists out there? 
Collaborate. Work with other people. I guess it probably seems like an obvious thing, but it took me ages to realise that that's where the real fun is – and you also get a chance to push things further, and in different directions, than you would probably go by yourself. Well, that works for me anyway.
TSWS: Before we go, what would you like to say to fans of the music?
Firstly, thanks! If you have taken time out of your day to listen to our ridiculous songs—thank you! That's all I really want to say.. Thanks a big ol' bunch of bananas!
Oh wait there's one other thing – be kind to each other. Life is hard enough as it is.