An Interview With Heigh Chief.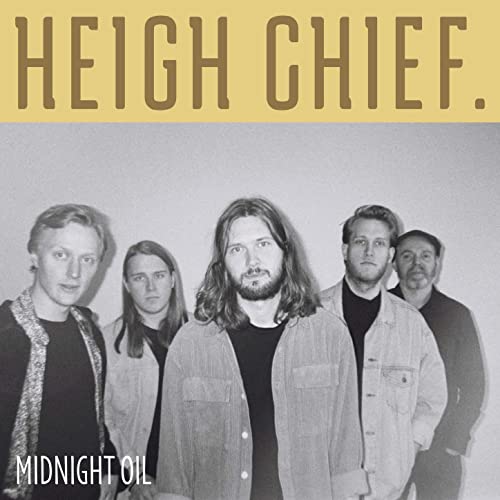 A brand new album from Heigh Chief. brings a refreshing southern soul to rock and it breeds an impactful and powerful set of songs that all have something to bring to the table. 
The Midnight Oil album is complete with belting and smooth vocals, organs and piano that flow throughout songs and bring added atmosphere along with absolutely tasteful guitar work all around. 
The record has some beautiful melodies and loads of hooks all without losing and of that passion or warming soulful vibes. 
This release almost sounds like watching a great band perform live as the players seem to feed off of each other's energies most of the time. Drums are performed with gusto and it all comes together like a seasoned band should.
The record isn't without acoustic ballads that touch on their Americana undertones and it sounds like a classic rock band you have been listening to for years and years.
The guitars on this album have such a rock twang its hard to ignore. It gives the songs such a tasty and sweet tonality and really gives the band plenty to jive with. 
Everything about this record is genuine and just when you thought you heard it all, the next track has a little new flavor to showcase. 
You do end up wanting to see these guys live cause you just know it would be outstanding all in all. 
This was a honey dipped, sweet southern soul classic rock release and you just feel complete when it's over. 
You feel good. We need more of this in music today. Bring those influences and raw soul to the music. 
With such a great and full release, we wanted to have a chat with Heigh Chief. to find out where this record came from and what may be next for the band. 
Here's what happened. 
TSWS: Okay so let's start with the Midnight Oil album. This record has a soul fueled feel and some classic southern rock tones. Where did this record come from?    
This is the third HC record and it has felt natural for us the direction the sound and songwriting has taken.
TSWS: I'm hearing loads of soul vocally and some great styles throughout the album. Who are some of your biggest musical influences?  
The main musical influences are mainly gitarists. Ry Cooder, Blake Mills, Joni Mitchell to name a few. 
TSWS: So, how did all of this start for you all?  
Heigh Chief started out of a friendship for each other. Out of that came respect for each others musicality and mastering of their respective instruments. 
TSWS: What do you think is next for you as a band?
An upcoming fourth studio album and getting back to Europe for that tour that got cancelled due to Covid.. 
TSWS: Have you given any thought to live performances anytime soon?  
There are a few concerts here in Norway before the end of the year and hopefully a tour of Germany in the spring of 2022. 
TSWS: Can we expect any music videos from you this year?   
There's a few right around the corner!
TSWS: What are you all doing when you're NOT working on music?   
The whole band has day gigs to get them through the pandemic :-)
TSWS: Who are you all listening to right now?    
Madison Cunningham, The Wood Brothers, Jim Croce, Terry Reid
TSWS: What kind of things really inspire you guys to write?  
Every day life.  Every where you look is an inspiration to a new song.
TSWS: How do you write your songs? 
Is it lyrics first or guitar chords? 
Do you write together? How does it work for you?    
Bjørn and Marcus tend to start their songs on their own and then meet later for a potential collaboration with either each other or with the band.
Almost always start with a guitar or a mandolin and it is working great so far.
TSWS: This album feels like it was a big undertaking. What advice would you have for other up and coming bands out there?   
Write and write and then writesome more until all the bad songs are out of your mind and soul. And always keep your ear tuned to new ways of creating the sound you are hearing in your head. 
TSWS: Before we go, what would you like to say to fans of the music?
Looking forward to seeing you all on the road without restrictions! And remember, Christmas is right around the corner and your closest friends and family could use a Heigh Chief album!