An Interview With Jacob Giaimo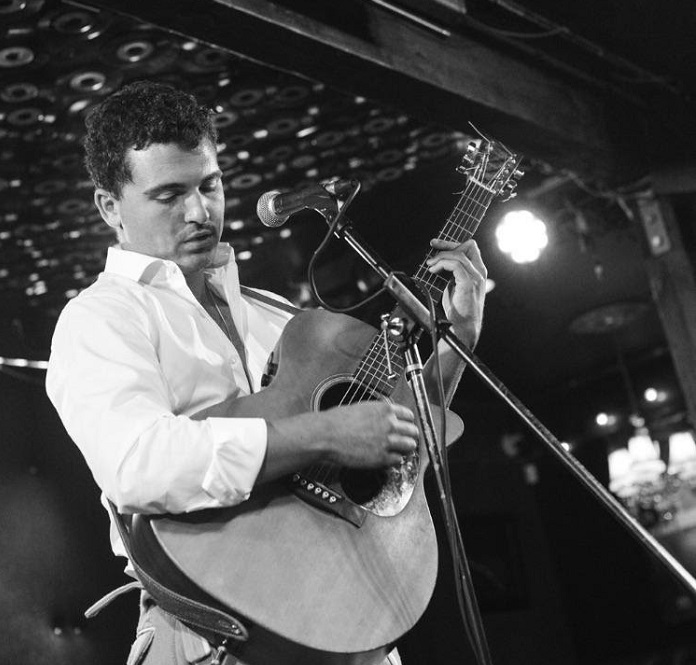 Jacob Giaimo just released a gorgeous folk song that's absolutely heartwarming and has a way of hitting that sweet spot that boasts a crisp and cinematic tone from start to finish. 
Take Care" is a love song of sorts and really touches on those aspects that are hard to talk about but we all feel at one time or another. 

The track is lush and robust with acoustic guitars and slide electrics that swim around the song's atmosphere giving it an even more impactful style and approach. 

The single is a late night, staring out a rainy window type of song that has the ability to cause memories of your own to flash in your head. 

This one can engulf you and the tonality of it all will let you just get washed away with the sound of it all. 

It floats and as it does, it keeps you afloat just above ground thinking of your past. 

The release breathes and takes on a life of its own and it really digs deep. 

This is what folk songs are really all about. Emotionally driven, from the heart, all out storytelling and the honesty of saying things you can only say in song. 

Giaimo has that thing. That classic Nick Drake undertone that he brings into a current platform and it works like a charm. And it is all quite charming indeed. 

With such a beautiful single, we wanted to have a chat with Jacob to find out where this all actually came from. 

Here's what happened.
TSWS: Let's start with "Take Care". The track has such a warm and cinematic tone to it! Where did this single come from?
Thank you! I think with some songs, and especially Take Care, they just come to me unexpectedly. But once they're finished, I realize that the lyrical message is usually something I really need to hear at that time. The writing process for this song was special to me and I look back on it very fondly.

TSWS: I'm hearing some great styles on this release. Who are some of your biggest musical influences?
I'd say my biggest musical influences are George Ezra, Bob Dylan, Sam Fender, Coldplay, and Kings of Leon.

TSWS: So how did this all begin for you really? When did you fall in love with making music?
I've always had a passion for music, and it's always been a prominent feature in my life. When I was very young, I sang frequently in church and I knew even then that it was something that I cared about and believed I could do it well. When I was around the age of 10, I learned how to play guitar and that honestly became such an obsession for me. The idea of being able to sing and play an instrument in unison really drove me. However, it wasn't until my first semester of college that I began writing and taking music more seriously. I was lucky enough to study that semester in London and I felt very liberated being there. I think I saw it as an opportunity to really go for something new and I haven't looked back since.

TSWS: What's next for you as an artist?
I'm working on a third studio album that will be released by the end of this year. I'm always performing and playing gigs locally in Los Angeles so if you're reading this, I'd love for you to come to a show!

TSWS: What inspires you to write a song?
Love, sadness, joy, and sex.

TSWS: What are you doing when you're NOT working on music? 
I work during the day as an IT recruiter for a software staffing company. Apart from that, I love spending times with my loved ones and friends.

TSWS: Who are you listening to right now?
To name a few, I'd say Sam Fender, Dijon, Cannons, and Harry Styles.

TSWS: Are you doing live performances? 
Yes!! My next two shows in LA are Saturday, May 21st at The Viper Room and Friday, June 10th at Federal Bar.

TSWS: This album seems like a big undertaking. What kind of advice might you have for other up and coming artists out there?
My advice would be to write honestly because when you're honest with yourself, your audience will resonate with the music much more. My next piece of advice is to not be afraid to write bad songs. Writing bad songs is inevitable and the more you fail, the greater you will succeed in the end. My last piece of advice is to play live.

TSWS: Before we go, what would you like to say to fans of the music?
I'd just like to thank anyone who's taken the time to listen really because it means the world and that validation gives me the self-belief to keep improving. I hope that you all love my upcoming album.