DOUBLE CLICK TO EDIT TITLE
Am Interview With Kay Soul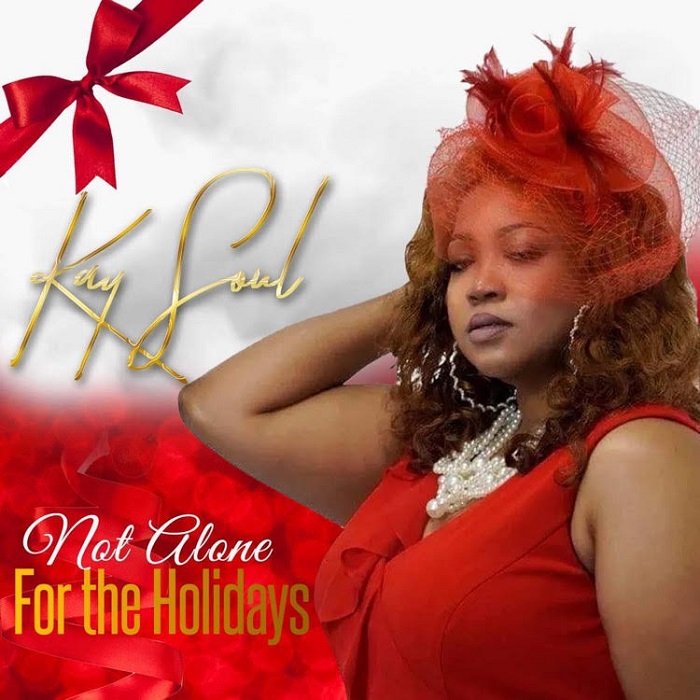 The return of Kay Soul is a passionate and sultry one with her new single hre in time to celebrate the Holidays Kay Soul style. 
"Not Alone For The Holidays" is an absolute classic that brings a new life to holiday ballads as the track utilizes a jazz undertone and a retro beat and keys to bring in an almost nostalgic feeling. And that is part of what we want when we think of the holidays for sure.
Guitars pluck, drums slam with power, and bells and keys fill the space with an undertone of merriment and soulful glee. 
This is an incredibly colorful performance that is done with a beautiful tastefulness that gleams with class but that's also jst Kay Soul's style.
It's quite nice to hear a holiday song that gets personal and also touches on such an alluring side of things. 
It feels like Christmas and it's great to have this type of song work the way it does as a holiday song. 
The single happens to come with a very well put together music video that incorporates a wonderful blend of black and white and color keeping focus on the reds. 
You can see that there is a love theme going on and it all somehow makes you think of those classic jazz singers like Billie Holiday at times. 
Now Soul's voice has an amazing reach and comes through with a delicate but powerful presence that is all key to her music standing out. 
"Not Alone For The Holidays" is no exception. 
With such a great single released, we wanted to have a chat with the artist about the new single. 
TSWS: Welcome back Kay! Let's begin with talking about "Not Alone For The Holidays". This one has a super smooth and sultry feel to it! Where did this song come from? 
Kay: The melody and opening lyrics came to me over a year ago.  I eventually sent the voice note I had created to my producer.  I knew that I wanted something that had some old school flavor but with my own twist. 

TSWS: The video was so good! Did it come out how you expected? 
Kay: Yes! I am very pleased with the video.  I wanted to capture the contrast between old school and new school and create a feeling of nostalgia to really bring out the story behind the song. 

TSWS: I love how the video is part black and white, and part color especially the reds. Was this your idea? 
Kay: Yes this was my idea.  The Black is supposed to represent this old school vibe but the red, being a classic holiday color,  represents a vibrant and sultry attitude like that of the song. 

TSWS: Who do you collaborate with on these videos?
Kay: Iworked with Brandin America films out of Atlanta, Georgia for this music video.  He has a great eye and really brought my vision to life. 

TSWS: Seeing this is a holiday song, is it safe to say you are a big fan of the holidays in general?
Kay: Actually the holidays have always been a time of mixed emotion for me.  I wanted to create a song that spoke to those feelings of loneliness that I know many people struggle with especially during the holiday season. 

TSWS: What do you do for holidays? Spend it with family?
Kay:  I'm definitely traditional in that I believe holiday is the time to spend with family.  I love to cook and have family over to watch movies and just hang out. 

TSWS: Is this song a taste of what we can all expect in 2022?
Kay:  In 2022 I will continue to bring a sound that combines multiple genres and tells stories of love and inspiration.  You will for sure continue to see the sultry side of Kay Soul. 

TSWS: Will you be putting together any tours for next year? 
Kay: Yes I am looking to put together a tour for the summer. 

TSWS: Who is playing in your headphones these days?
Kay:  I'm listening to a bit of everything.  Mainly some holiday favorites like Boyz II Men "Let it Snow" and Rascal Flatts "I'll Be Home for Christmas". 

TSWS: This was a big year for you in terms of releasing new music! Do you plan on keeping the ball rolling next year as well?  
Kay: Thank you and yes I do.  I will be releasing the full Connections "EP" that will introduce 3 new songs to go along with "Strong Connection" and "Lost Connection". 

TSWS: Is there anything you can share with us about what you've learned as an artist in the past year? 
Kay: This year has been a year of major growth and clarity.  I've learned that you have to be willing to flow with the unexpected and have faith in all the years that you have put into your craft. Confidence is a big part of surviving in the music industry.
 
TSWS: Do you find that your passion is more in the studio than live?
Kay: I really love and I am passionate about both.  There is nothing like the process of being in the studio and working on a new song.  However, the adrenaline rush I get from then bringing those creative ideas to life on stage is a feeling all it's own. I need both!

TSWS: Let us all know what we can expect from this song.
Kay: I expect that "Not Alone for the Holidays" will provide listeners with comfort and leave them wanting to love and be loved. I am hoping listeners will reach out to friends and family so that they don't have to spend the holiday season alone.