King Goon Drops A Full Length Album Packed With Fun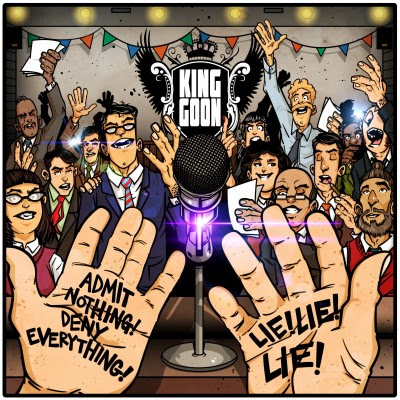 A fresh release from King Goon brings a refreshing and crisp yet super fun blend of surf, funk, and folk rock that all touch on this eccentric and addictive presence that makes most of these songs border on psychedelic rock and bring several classics to mind. 
These songs have a way of bursting out into climactic rock when you least expect it and the best part is that a lot of these tracks come off quite personal and relatable lyrically. 
The Admit Nothing! Deny Everything! Lie! Lie! Lie! album is packed with unexpected instrumentation, and a killer drive that makes it alluring and insanely danceable. 
That's the thing with this record. You can't really help but get into the grooves of these songs. 
They all have a quirkiness, a humor, and a seriousness undertone and they manage to balance all of those with the greatest of ease. 
It's all quite fun. These guys are the type of guys you want to see live. Upon listening to this record you actually get a slightly live performance feel at times and it's mainly because it feels like the players feed off of each other's energies half the time. 
Punk rock bass tones, delay dripped guitars, funk packed riffs, and touches of ska and rockabilly all come together in a colorful and super vibrant way.
It certainly sounds like the band had a great time making this record and that shows clearly throughout its course. 
Also, this album never ever gets boring. If you love one song, you're bound to love them all and that's something to strive for. 
The tracks have surprises left and right and the sounds are built with layered textured and rhythms that make you wanna jump around the room. 
Fans of ska, jazz, rock, and more should really dig the crap out of this one.