An Interview With Marc Oliver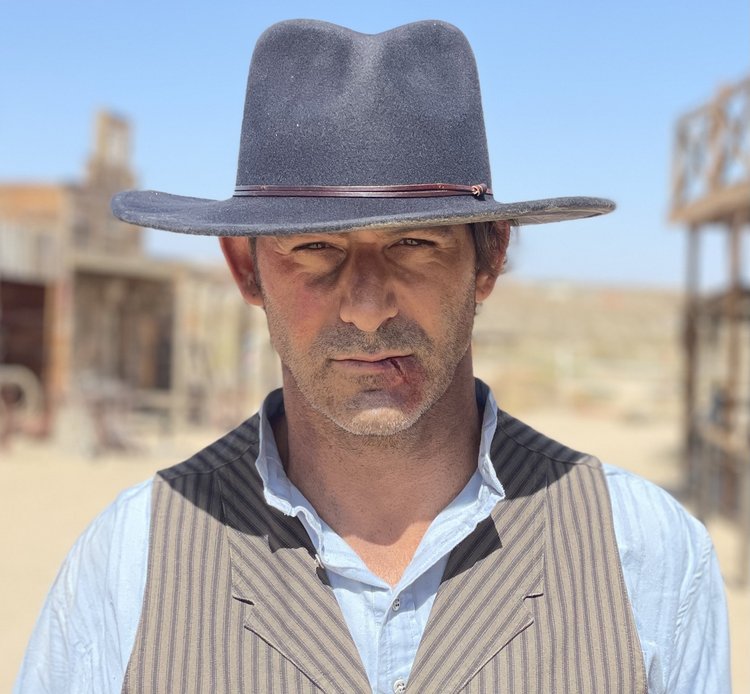 A new single and video release from Marc Oliver brings two worlds together with a bright and colorful indie-pop style of songwriting and brings it into an old western setting as the track tells a classic story that really grabs hold of all the right aspects of vibrant pop and vocal character.
"Outlaw" is an outstanding and huge track that breathes and builds into each chorus and even brings a quirky breakdown into play that you don't really expect along with incredibly lush percussion and a youthful energy. 
This single boasts all kinds of gusto and a variety of styles all rolled into one action packed track that takes you for this mini-musical journey and it totally works. 
The song is badass and has the right attitude the whole time vocally while the music just keeps getting bigger with each hook.
The song is danceable, fun, has its crisp and twangy guitars flowing through the back end, and it all fits like a charm. 
Even though the song speaks for Oliver well, it's the music video that really brings that whole other aspect to the table. 
It's a completely action packed, well shot, and genuine feeling old western video. The acting is great and it fits the song so well by the end it's crazy. 
So, the song is killer but it's that video that really puts it all together in full the way it was meant to be. 
Did this start as a concept? Was it all Marc's idea?
We decided to find out by sitting down with him to find out where it all comes from and what may be next for the artist.
Here's what happened.
TSWS: Okay so let's start with "Outlaw". This single has a colorful and vibrant pop feel to it.
Where did this track come from?

Well, it came from my head. I was just feeling the move of it. I started with playing some drums
and then looped it a bit, grabbed my guitar and just went with it. It felt good, and it just made
itself.  

TSWS: I'm hearing some great styles on this song. Who are some of your biggest musical
influences?

Thank you! I bounce around a bit on music. I love the rhythm of hip hop, like Biggie-smalls to
Jay-Z to Beastie boys. The sound of stuff like Green Day to Sex Pistols to The Black Keys. I also
love Elton John to Phil Collins, The Beatles. I'm all over the place when it comes to my musical
influences. I guess that's why my sound spreads. 

TSWS: So how did this all begin for you really? When did you fall in love with making music?

I have played the piano since I was 3 years old. It was a task for a long while, until I was about
12 or 13. I started to hear my thoughts as songs, my ideas, and words with melodies. I was kind
of secret about trying to write music, because at that age it was just something I started to
explore. Around 16 I found myself in situations that when I played, everyone listened and really
liked it. I saw the world move while I played and from then on, I fell in love with what I could
do. So, I just kept going. 

TSWS: What's next for you as an artist?

Everything is next. Keep on going. I'm going to continue to release new songs every 6-7 weeks
and put out videos with those tracks. I plan on playing a ton of live shows, bringing my
experiences to everyone who enjoys my music. Looking forward to hosting Saturday Night Live
and playing on it one day. This can be a fun life through music, that's how I find it. I welcome
everyone to jump on with me and see where this ride goes.

TSWS: What inspires you to write a song?

 Life. Everything. I've been through so much, as we all have. I find ways to interpret my
world, your world, and write about those feelings, experiences, and dreams. It's my way to
cope with all the things in my head. I hear so much every day, it all sticks, writing about
anything and everything becomes my therapy.

TSWS: What are you doing when you're NOT working on music? 

I have two beautiful daughters that bring such joy to my life, I surf, and I box.  

TSWS: Who are you listening to right now?

This morning I was listening to Biggie-Smalls 

TSWS: Are you doing live performances? 

Yes, I love performing live! I can't wait to jump back on stage.  

TSWS: This single seems like a big undertaking. What kind of advice might you have for other up
and coming artists out there?
Just keep going, no matter what. Find what you love and just move forward. Don't wait for
anyone to do anything for you. Make basic decisions on what you are doing and just do them.
Love, passion, and belief in yourself will drive you, the ones around you, and the world to
support you through and through. It's that belief that others can believe in. Just go!  

TSWS: Before we go, what would you like to say to fans of the music?

Thank you for riding with me!! The energy that you give off while enjoying my music brings me
life. All I ever wanted was to know that what I do can touch, help, and excite the people who
enjoy it. You make this real. Thank you.