An Inerview With Melotika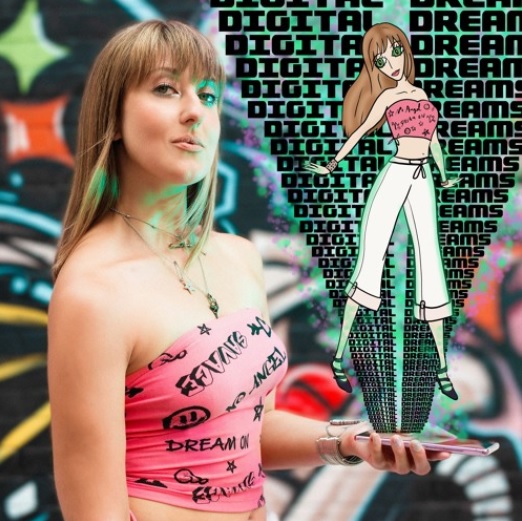 Melotika returns with a future pop banger that drips with ambient undertones and a bright pop overtone that brings with it all the color and energy you know and love from the artist.
"Digital Dreams" is an alluring and sultry single with a killer dance backbone and a danceable and endlessly fun feel from beginning to end. 
The track is riddled with distant and spacey synth pads, a 90's style beat, and smooth vocals that touch on some outstanding hooks throughout the song's course. 
This song has a gorgeous and lush palette and feels like a breathing composition and the more it plays on, the more you get hooked into it. 
"Digital Dreams" is an absolute party club track but also boasts some dream-like undertones that let you sway with it and just feel the waves of sonic presence take over as they come at you.
We're no strangers to Melotika as she has been releasing singles for quite some time and during the course of that has established herself as somewhat of an underground pop queen. 
She's got an alternative edge to her songs and style that are completely addictive and you find you can play her songs super lous, or at a more calming volume level and enjoy them just as much. 
Melotika has depth to her songs and her performances are always on point. You can hear the love she has for her craft with just about any of her songs. 
With "Digital Dreams: comes a great music video that is partly animated and serves as a fun and vibrant accompaniment to the song itself. 
With such a great new release, we wanted to have a chat with the artist to find out where this came from and what may be next for her. 
Here's what happened.
TSWS: Let's start with the "Digital Dreams" single. This track has a heavy dance pop feel with some classic synths! Where did this track come from?
It was written in the middle of the pandemic but unlike the other tracks, I took this literally and to the times we were stuck in. Hiding away in the metaverse, we are so obsessed with being social through our phones and the need to be loved and connected is greater than ever. We all want validation and we all want to be somebody we 'want to be seen as'. You can literally be anyone you want online. Ironically Digital Dreams was supposed to be an outro/B-side track off my Retro Pop EP 'Dancing Without You' that came out on September 17, 2021. The project overall was a tribute to the 70s and 80s with a touch of quirky 90s and dance pop. Produced with Twocann from Arizona, at the time it felt right to add this song to the EP - but the very last minute I pulled it out. The theme of the song did not quite match the EP filled with more melancholic break up and empowering moving on songs. This one sits somewhere completely different...

TSWS: Love your whole aesthetic! Who are some of your real influences musically?
My music influences are always surprising to some! My favorite artist is Maynard James Keenan (singer from Tool/A Perfect Circle). He always just did his own thing and no one sounds like him. That attitude inspired me. Other musical influences that have been more obvious are Madonna, Lady Gaga, Metric, Brintey Spears, and music from the late 70s and 80s.
TSWS: When did you first fall in love with making music?
My mom always said I sang before I spoke, and danced before I walked. I think I've been making music my whole life as far as I can remember. I've always been creating melodies in my head and putting together words. I started writing poems and short songs when I was 8, and continued in my teens. Later on in 2014 I went to school for music production and audio engineering. That program introduced me to all the possibilities and I've been making it my reality ever since.

TSWS: What do you think is next for you as an artist?
I am focusing on making specific songs that really define me. I've experimented a lot in the past bending genres. I want to continue expressing myself through empowering Electro Pop songs and would love to start hitting up new places to perform live very soon. The stage is what's next!

TSWS: The video for "Digital Dreams" is awesome! Did you plan the animated sections?
I did for the most part! Animation artist Amy who goes by alias Toastermind and I had a call about the video. Together we came up with the theme and storyline, it was more of a spontaneous collaboration. The weather was shockingly cold in Montreal right before Winter hit us and I really had to improvise. My goal was to create an honest, relatable, fun music video with a deeper message. I thought it would be cool to have it appear shot by mobile with a lesser quality vibe than the huge music videos you see on YouTube, and have characters from my universe appear everywhere!

TSWS: Did the video come out how you expected?
In a perfect word we wouldn't be in a global pandemic with limitations and obstacles. It's been difficult for artists. I had to cut budgets and prioritize a lot. It's a total DIY type video - I actually made all the cuts, edits, and helped film as well! For the most part I am super happy with the outcome!

TSWS: This whole single and video feels like it was a big undertaking. What advice might you have for other artists out there?
Believe in yourself and trust your gut. No one will invest in you more than you. Sometimes you have to be your own cheerleader, even for a while, before everyone knows your name!

TSWS: What sort of things inspire you to write?
I am a super spontaneous and impulsive person and my creativity does come in waves and in different art forms. I'll go on a writing spree for months and be super invested, and then sometimes I need a break and I do other creative things like developing my singing voice, fashion, media work, and even sometimes painting and photography. I feel like my entire being is just creative. I'm always thinking and creating ideas in my head. What inspires me to write is life experiences that I need to let go of, wanting to revisit old feelings from the past, or eager to step up my game. I often feel like being defeated makes me want to create more.

TSWS: Do you do any live shows?
I know it's not the same as it used to be but are you working out performances?My last official live performance sadly was March 6, 2020 in Toronto before Covid hit us. I've been doing local shows since 2017-2020. It's been very difficult here in Canada to plan live concerts. Often the shows have been cancelled so I stuck with virtual live streams on IG, TikTok, and once on Twitch. This year seems a bit more promising! We postponed a Toronto show for early this summer, and I will be doing a live stream celebrating Digital Dreams on TikTok on February 27.

TSWS: If you won an award for your music, who would you thank?
The Rebelz. My fans online!

TSWS: Who are you listening to right now?
Just looked at my on repeat to answer this! Madonna, Gorillaz, Tiesto, Robin Schulz, Kayne West... so much more!

TSWS: What is someone like you doing when you're NOT working on music? 
When I'm not writing music I'm managing my music career 24/7, cuddling my 2 cats, and I work as a Barista!!! Coffee is another huge passion of mine. I hope to open up my own Café someday.

TSWS: Before we go, would you like to say anything to your fans?
I love you so much and thank you for believing me in and listening to my songs.