DOUBLE CLICK TO EDIT TITLE
An Interview With Miggz The Atlas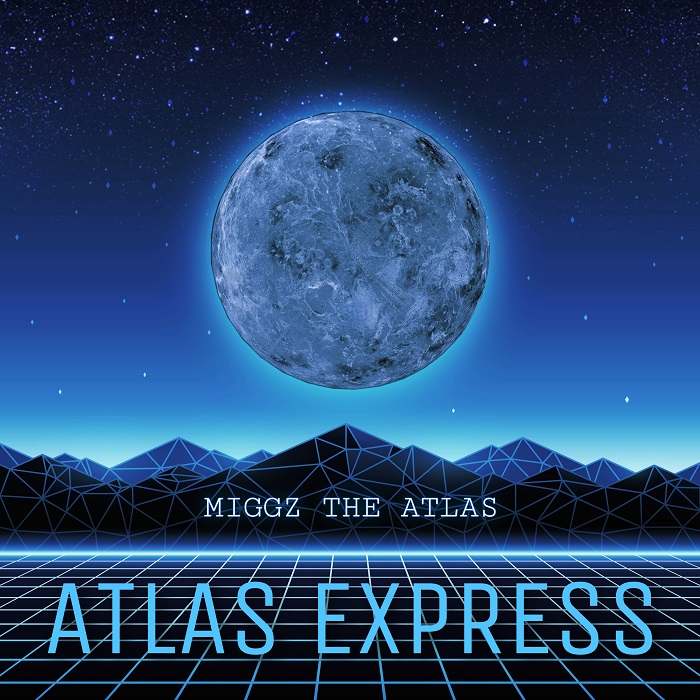 Miggz The Atlas just dropped a full length EP that takes the best elements of a variety of genres and smashed them all together to create something that feels bright, vintage, crisp, new, retro, and vibrant all without losing a positive and clear edginess that is part of the artists character on record. 
The Atlass Express EP is quite a ride indeed from start to finish as it gives off such a killer palette of vivid and colorful pop music that utilizes a series of gorgeously textures, synths, beats, and shining vocals that come through with more hooks than you can handle. 
The record boasts such character that it's completely infectious and it's also insanely relatable and familiar while remaining refreshing and new. 
The  music combines outdrive synth-wave and a future pop along with hip hop elements, R&B, and so much more. 
It really just has its own atmosphere all together and it's been a long time since you've heard something that takes on its own life and embodiment like this EP does. 
It absolutely must be heard as a whole but if you just don't have the time in one chunk, there are some bangers on this that will have you singing their choruses and hooks for days.
Be ready for surprises and outside the box production at times but it all keeps you on your toes quite well.
With such a wonderful release, we wanted to have a sit down with the artist to find out where this all came from.
TSWS: Okay so let's start with the Atlas Express EP. The album has such a killer array of synth alt-pop! Where did this record come from?
 M.T.A: It developed over the last year or so, growing up I was a fan of pop and dance style music. 

TSWS: I'm hearing several styles on this release. Who are some of your biggest musical influences?
M.T.A: I enjoy various styles of music, so its hard to pin point. But I can definitely say BT, Cher and Michael Jackson.

TSWS: So how did this all begin for you really? When did you fall in love with making music?
M.T.A: I fell in love with making music when I picked up a guitar in 2006, later on when I started producing music and having a studio, it shined a new light onto what I could do. Which would eventually lead me out of metal and into electronic music.
 
TSWS: What's next for you as an artist?
M.T.A: Not so much on being an artist but as a producer I would like to work with more pop electronic artist. I enjoy being in a creative space with other people, I feel like the music gets better when two people have a vision. 

TSWS: What inspires you to write a song?
M.T.A: Thats a great question! Most of the time my songs are written from life experiences or sometimes from watching TV shows, I will be spaced out and a random melody hits me and I have to run to the computer or record it on my phone. 

TSWS: What are you doing when you're NOT working on music? 
M.T.A: I tend to keep to myself and a couple close friends but outside of music I am a tarot reader which is another passion of mine and help people with things in their lives. If I'm not doing either Il be home watching some TV show about space with some wine or out on the beach or a park. 

TSWS: Who are you listening to right now?
M.T.A: Currently I have been listening to the Dawn Fm album by the Weeknd or listening to synthwave like The Midnight. I will say most of my music intake now is from chillwave playlist or cinematic electronic music. 

TSWS: Are you putting any thought into live performances? 
M.T.A: Most definitely! I belive I brought it up in our previous interview but at the moment I am still in the midst of deciding if I want to be on stage alone or with a band. 

TSWS: Do you have a home studio where you track your stuff?
M.T.A: yes, the name of my studio is Atlas Sound Arts where I currently record, mix and master not only for myself but I do the same and produce for other artists and bands. Sometimes I will go to my producer and engineer Javi Melo like in the instance for the track shameless where I needed more guidance with the vocals and he took on the mixing and mastering for that song.

TSWS: This EP seems like a big undertaking. What kind of advice might you have for other up and coming artists out there?
M.T.A: I would say to really take your time and not be in a hurry to finish. There were times were I wanted to rush through the process but I suggest any artist looking to write their own album to have a friend or hire someone to over look the final stages. I need to thank Javi Melo for his support and experience in guiding me with mixing and production.

TSWS: Before we go, what would you like to say to fans of the music?
M.T.A: first of all Thank you guys for this interview, it was a great pleasure answering your questions.I would like to thank everyone who has streamed my music and supported me whether it be monetary or just a few words. My goal besides making people dance is to inspire others to do what they love and to break the mindset of "I can't", with things currently going on in our society and globally I hope we can all come together and make our home earth a more peaceful and liveable place. We are one.