An Interview With Mylo Bybee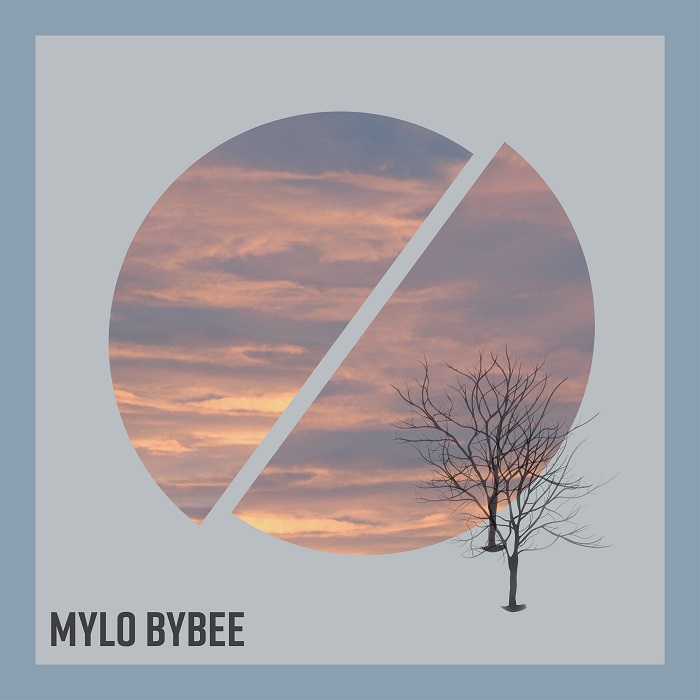 The ever refreshing and bright feel of indie-pop rock band Mylo Bybee brings on such a fun and ultra creative style that blends in with walking bass lines, jazzy undertones, and flowing yet catchy guitar sections that all go right alongside with vibrant vocals that grab at you. 
The newly remastered self-titled EP is brimming with memorable hooks, and an almost live performance feel most of the time that lets the instruments and players feed off each other's energies. 
The songs are super up-front and honest and that truthful apparach really gets your attention. You begin to hear lines that you relate to and then you begin to hear lines that you wish you thought of. 
The whole EP is like this really. There is so much imagery and vivid palettes of tonality and textures that come together to create this really personal and youthful feeling set of songs.
The EP is wonderfully built and performed with heart. You can hear that from start to finish and it's something you want to hear when it comes to music like this. You want it all to come from someplace real and this certainly does. 
It almost gives this early Weezer undertone in terms of just that perfect nerd rock style embraced with open arms and truths.
The EP is clearly performed with a real love for their craft and the remaster they had done really brings out the elements well with a gracious balance and still keeps that vibe the band meant to put out there. 
With the release of this EP, we wanted to have a chat with Mylo Bybee to see where this all came from. 
Here's what went down.
TSWS: Okay so let's start with the self-titled Mylo Bybee EP. This EP has an edgy but seriously catchy rock style to it! Where did this record come from?
Really, this record came from song stems I, Tyler, had written in my younger, indie/emo/punk/hardcore days, that then blossomed into the hard-hitting alternative tunes with twinkly clean guitar tracks and punch-ier distorted, bass line driven tracks that exist today. It is still nostalgic to go back and listen to the tracks from the EP even a year plus after it was finalized because I know where these songs started and am able to witness how they evolved. They really became a culmination of all our musical influences which span the entire gamete.  Lyrically, these tracks came from a place of trying to navigate getting older, experiences life changes and witnessing how people treat everybody and everything around them. I am so proud of what we created and feel that it was just a jumping off point for us. That was really my first experience putting any music out in the world that was my own and now look back and reflect on how my, and our writing as a band has continued to push forward and become more solidified. It's also super fun to see people mouthing the lyrics to these songs at shows!
TSWS: This was remastered at Abbey Road right? What prompted this?
Yeah, crazy to say, this was remastered at Abbey Road. Our original EP had been out on the inter-webs for a couple of months before we started to get some interest from various labels.  Once we finally decided to sign with ZMI Arcadia, who is based in Atlanta and London, one of the first things they asked us was if we wanted to have the EP Remastered at Abbey Road, with whom they had partnered for a long time. To be honest we, and the label, were really happy with our existing EP, kudos to the Tonic Room Recording Studio in Boise, ID, but when you are asked if you want your tunes mastered by the famous Abbey Road studios you say yes…We are fortunate to be able to continue having our music tracked/mixed/mastered by the dynamic duo that is the Tonic Room and Abbey Road.
TSWS: I'm hearing some great styles on this release. Who are some of your biggest musical influences?
I always seem to struggle with this question, because we collectively listen to so many artists who may or may not have a direct influence on what we create, but I do always love to hear who others hear in our music. About 85-90% of the time who listeners tell us we remind them of, are bands who we love!! I tend to lean toward the story tellers such as Jim Croce lyrically. One thing I think that sets us apart a bit or at least allows us to continue to push our boundaries as musicians and further evolve our sound is that none of us are trained musicians in any way, including at our own instruments. Even down to knowing any notes or cords by name on the guitar, we just play what sounds good and figure out the rest. This is something that I don't think could work for all bands but has for us. We have our common "language" that we use amongst the band that others outside would be confused by :) And we are too a lot of the time to be honest….
TSWS: So how did this all begin for you guys? 
On a cold dark night during a worldwide outbreak…...This all culminated from years of playing music and doing our own thing to finally back living in the same place and knowing each other for a long time, or all our lives. I, Tyler, and Wes, bass, are brothers and our brother-in-law, Koji, was our original drummer. We had all lived in different states for years and once we finally all lived back in the same area, the tunes were calling our name. We really started this project with no sort of expectations other than passing the time during the lock-down. We were able to get some songs written pretty quickly and then went and recorded our EP before we ever even played our first show. Looking back, the fact that playing shows wasn't an option was probably beneficial in the fact that we were able to just spend time learning how to play music with one another, since he hadn't before, develop our sound, which is still happening, and get polished enough to feel comfortable recording and putting some tunes out in the world.
TSWS: What's next for you as a band?
We have recently gone through a transition in drummers and are really working to get a super polished sound. During that time, we have been playing a lot of shows locally and regionally and really finding our grooves from that side of the art. Our focus right now is on our brand-new full-length album that will be released mid to late 2023 via ZMI Arcadia Records. We are back in the studio right now working hard on the tracks and getting them to where we want them. This will be our first experience releasing through a label and are very eager to see what is to come. I am super psyched to release this album to the world. We really cast a wide net on this one from heavy, dark, and ominous tracks to light-hearted, emotionally charged songs that take listeners down very different paths. I also feel that we have really lifted our own personal bars on this one.
As far as beyond the album release, the opportunities are there. We would love to put together regional/national tours, play different locations in other states, collaborate with other artists, add additional members/instruments, maybe write a Valentine's Day album….the sky is the limit for us!
TSWS: What inspires you to write a song?
I know for me personally I can draw inspiration from almost anything. I pull a lot of inspiration from watching other artists both big and small, from all different genres. I pull more ideas from watching a small local show probably from artists in a completely different genre than I do anywhere else. Typically, it starts with a melody I get stuck in my head that I work to re-produce on the guitar/piano. Writing lyrics is something that has never been easy for me, so I typically am inspired by establishing an initial melodic hook to build a song and lyrics around. On the EP, the lyrics and overall theme was inspired by anything from the human impact on everything around us, both negatively and positively, to anyone facing adversity in their lives and how they choose or are forced to try to overcome to having something or someone always around that corner ready to knock you down a peg or two. This upcoming album has been a bit more inspired by the negativity that seems to consume people, greed, power, hierarchy in society etc., but trying to see it all through a positive lens. I think society has really shown some proverbial true colors over the last few years and has created a clear separation and further divide among us as all part of this thing. This thread is present in many of the tracks on the new album, but is also paired up against more uplifting, feel good tracks that evoke other emotions because that's what it's all about. If I can make you feel something, anything, then I feel I am providing to listeners what I have been provided by so many other amazing artists.
TSWS: What are you all doing when you're NOT working on music? 
We are quite the eclectic bunch. We have a movie star in the band, Wes, who splits his time between laying down sick bass leads/back vocals for us and then starring in movies featured in the Tribeca Film festival….no big deal…We also have a resident bodyguard aka ninja aka drummer, Lupe, who teaches Jiu-Jitsu on the side while learning our tunes after hearing them one time. Also, we are collectively very nomadic frequenting our favorite spots in the Pacific Northwest working and camping out of vans and traveling and being out in the elements, on purpose. Let's just say some of us know how to use a groover in the backcountry…… (may have to look that one up). We also are all family oriented dudes who don't take that for granted.
TSWS: Who are you all listening to right now?
I've found myself revisiting some of my favorite bands from years back. One band I am really feeling again right now is The Dear Hunter. They have been around a long time and put out an album this year that is really good and very pleasing to the ears because they incorporate a lot of instrumentalists and full orchestras on occasion…. Also, I have been getting more into synthwave lately. Check out Carpenter Brut if this is your vibe, and of course, The Midnight. I have actually been going back and listening to bands that I may or may not have listened to in the past that we have been compared too such as The Decemberists, Circa Survive, Sparta. I have been also trying to become more attune to my local music scene and learn about other bands in the area. We have a very, very good crop of bands in our area who I absolutely love listening to on a regular basis.
TSWS: Are you doing live performances? 
We have been playing quite a bit. As mentioned, we have found our full-time drummer and really working to get the band as polished as possible but have been playing local and regional shows. October is/was a really busy month for us between practicing with our new full band, playing local shows, traveling to play out of state gigs in the region, and getting back in the studio to continue working on our album. We plan to continue the momentum through the end of the year an into next year leading up to the album release. I think our focus right now is more-so on ensuring that we are putting out the best version of the band that we can rather than just playing live to play live. That is really something that I am probably a bit over the top on, polished sound and live performance. I tend to get stuck on a less than perfect performance for too long, especially vocally, but I feel that we are once again hitting our stride as artists and as a collective band. I would be remised if I didn't mention the array of amazing drummers, we were able to find to learn our tracks, very rapidly, and play a show or two with us during our searches. We played with three different drummers in 5 shows and ALL of them were master's at their craft….We are happy with we are at right now and really looking forward to what's to come.
TSWS: This EP seems like a big undertaking. What kind of advice might you have for other up and coming bands out there?
It is ridiculously hard to write, to record, to perform, to promote, to navigate this entire space. The advice I would give for other up and coming bands out there is know what your end game is keep that in mind when you are mastering your craft. If you write music for yourself, write it for yourself. If you want others to hear it, love it, rip it to shreds, then record your tracks and release them to the world. Someone once told me that if you are a band you'd want to listen to, then at least one other person will want to listen to you which I feel rings very true, even if I'm that one person who enjoys the tracks. Truthfully, my goal for the band is to be the best upcoming band in our genre and to allow the music to speak for itself, which I feel it does and will. Personally, for me that is what keeps me putting in the hours of practice, hours of self-promoting, hours of prep, hours of recording, hours of moving gear etc. The payoff, even though 99% of the time in this business isn't in physical $$ form, is worth it….
TSWS: Before we go, what would you like to say to fans of the music?
Go and listen, reach out to us on social media and let us know what you think. We don't care about streaming numbers, likes, followers, any of that jazz. What we care about is the organic emotion, connection that what we are doing has with listeners and other artists.. Follow along with our journey and come check us outlive sometime if we are in your area. We are very friendly, approachable dudes who thrive on the human connection and would love see/hear from you. Support the arts and freedom of expression for anyone and everyone in your communities.
Finally, we will be doing a national release of our full-length album, including some physical distribution and records. Go buy the record….