Nicky Aiken Returns With A New Single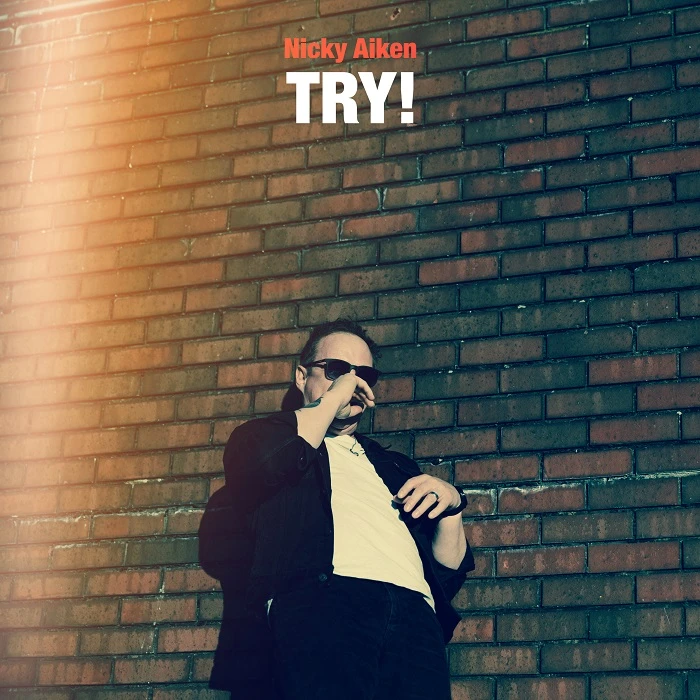 An upcoming release from Nicky Aiken brings out a fresh and anthemic rock feel that embeds a powerful hook in that part of your brain that just won't let go and does it with more character than you may be able to handle.
"Try" is a total rock banger that gets your blood pumping and makes you feel alive, which is what high-energy rock songs should be doing. But Nicky pulls it off with this positive attitude and it all becomes this edgy but colorful and uplifting single.
This track has stomping kick drums and loads of vocal attitude with just the right feel and effect so that it seems like it's almost a live performance right in your face. And I think that's part of the appeal of this track and how the energy actually works.
The song feels great to listen to and that riff and vocal hook are unstoppable and that's also due partially to the actual tone of the guitars and the drums as well for that matter.
All of it has a massive arena rock tonality to it that just overcomes anything else that's happening in the room.
You can definitely hear some classic rock influence just oozing out of every orifice of this track and the artist complements that very well with that riff because it's super memorable.
The vocals follow that riff melody wise and that's what keeps the song stuck in your head for days on end. And it's not forced either, it comes in just the way it's supposed to.
Now, we are no strangers to Nicky Aiken as we've been lucky enough to review some previous singles and can honestly say that this track feels like a big next step in the evolution of his songwriting and even arrangements.
The style of this track steps outside of his box just enough for him to push the envelope and take himself a little bit further than he had before and it works like a charm.
This is one of those singles that should definitely be on the radio and there's some kind of familiarity about it that makes it feel like you've maybe heard it before somewhere.
"Try releases March 24th and with the release of such a killer new single, we wanted to have a sit down with Nicky to learn more about where this track came from and what's coming up next.
Here's what went down.
TSWS: Let's talk about "Try!". This single had such a heavy rock feel to it and really had memorable guitar hooks!  Where did this track come from?
Its an odd one, I was doing washing in the house and I started humming this Riff. And quickly sang it into my phone forgot about it for a week. During that time I had a Reunion with some old Forces mates (I'm an Ex Royal Marine) and during that very Boozy weekend we all discussed the effects Drinking had had on the early parts of our lives, more importantly it was wishing to go back and change things and do things differently. Fast forward 2 days and one of the lads said he was going to give the Booze a break, and he was given full support from all of us and we all took a leaf out of his book and gave it a break. I was Inspired by his heroism and his drive. I sat down with the Guitar and started playing, and accidently sang over the Riff I had come up with a week later. And the song evolved in such a way that it was a lesson from Experience to those who are exploring alcohol and other things. Things can be so much better if you just TRY!
TSWS: How do you record your stuff? Do you hit a big studio or do you have a home setup?
I write things in my home studio, and I have in the past released things I've done in my own home studio. In this case, and for the album that follows I've recorded everything in the House and sent that as the backing tracks to the Producer (Mark Morrow) before stripping back each layer and then re-recording all of it. Giving it a bigger & Better sound.
TSWS: What do you think drives you to write songs?
Its hard to say. It's certainly not to make money Haha I've Made very little online to date. I like the escapism, and I like writing songs that I would like to listen to.   
TSWS: Are you a guitarist first? 
Drummer!! Started as a Drummer at a young age and while trying to get into Uni to do Music I had to have two instruments, so I self-taught myself Guitar. I've enjoyed trying to pick up other instruments, and played every instrument on this track and every song on the upcoming album. Liberating experience.  
TSWS: When you write songs, do you start with guitar chords, or do melodies just come to you?
I seem to come up with ideas when I've not got an Instrument anywhere near me recently. I have to Sing or hum it to my phone and run off to the Home Studio ASAP. I have recently got my hands on a free Piano from the 60's and I've already started writing on it. Was a mega find!
TSWS: Who's in your headphones right now?
Today, Gary Clark Jr. But it was the Track he did with John Legend (Wild). Cracking Song.
TSWS: Are you working on anything else right now?
ALBUM BABY! I've just finished recording the Album, and I'll be releasing it this year.
TSWS: Are you doing live shows and if so do you have a band you perform with?
I'll be doing an In-Store Gig in HMV in March ahead of the Single Launch, other than that nothing planned. I'm trying to look at band members to play with, but it's slim pickings in Aberdeen. Especially for people who are free to tour.
TSWS: Are there any music videos planned? 
I've got a few ideas for a Video, its hard to plan something that'll have a big impact with my budget. I will release something for Try!
TSWS: If you were to choose one other artist to collaborate with, who would that be?
I'd like to Collaborate with KT Tunstall. I think I'd learn a lot from her, and we've got a Friend in Common.
TSWS: Before we go, what would you like to say to fans of the music?
Thanks for listening, I promise to release more videos on TikTok and Insta etc. I really appreciate your support, means a lot to me.