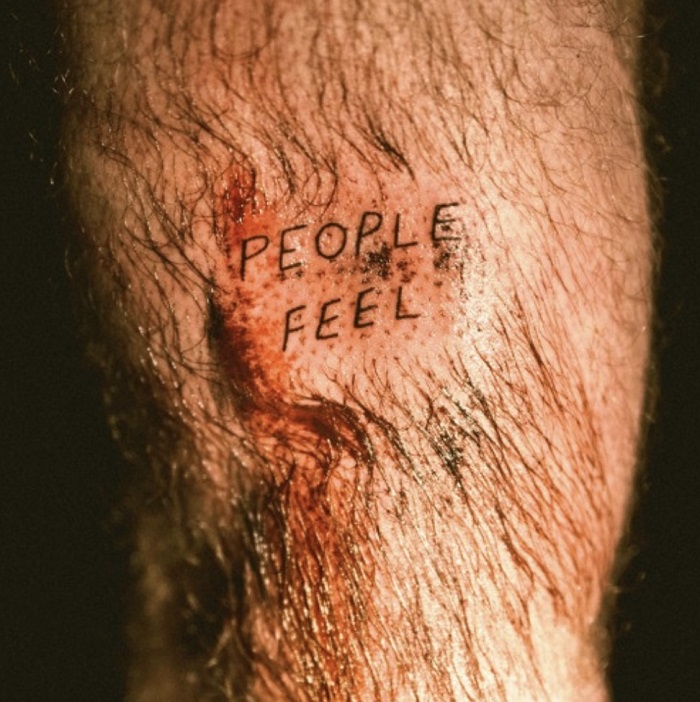 Nixer just dropped an absolute retro-pop bomb on us all with thier new single. 
"People Feel" is riddled with classic synths and beats along with that driving energy and bop-pop vocals that brings  to mind bands like Talking Heads and Devo. 
It's incredibly genuine and feels literally like a song you've been listening to for decades and singing along with in the shower. 
This track has guts and swagger and does it all without losing the aesthetic that brings on the nostalgia. 
A blistering almost three minutes of pure synth-pop bliss and with the sound hits so perfectly on the head, it's almost intimidating.
Where have these guys been and why haven;t they been all over the radio yet? We don;t really know but goddamn if you love 80's pop, you'll love Nixer. 
You can hear the heart and soul of the genre embedded in every note. 
From vocals, chorus lines, beats, synths, bass lines and even guitar sounds. Everything is so well done and insanely danceable, you can;t help but love this stuff.
"People Feel" follows a string of outstanding releases from the band starting in 2020 and rolling through 2021 and it all boasts that classic feel and stay true to Nixer's staple sounds. 
This is all amazing. The band's entire catalog is worthy of every pop playlist you have.
Now, they do have a great grasp on updating that authentic sound and bringing it into today's market. 
The best part is, if you like one song. Any of them. Then you'll love them all. That's the beauty of Nixer. 
With such a killer single, we wanted to have a quick sit down with the band to find out where this all started for them and more. 
TSWS: Okay let's start with "People Feel". This track has a killer retro-pop style to it and it's completely addictive! Where did this track come from?
Peggs: We started writing this song back in April in London when I was visiting Seán to work on the EP and make music. We weren't sure about one of the tracks on the EP and we started to make it in Sean's old apartment for fun and then we decided to make something of it a few days later.
Seán: Thanks! Rude 66 who mastered the track also said there was a very "retro/lo-fi" feel and I really love that. Yeah so Peggs just mentioned that time we spent in London last April. Those two weeks were the first time we were ever in the same room making music together. Without really saying it, we knew we decided to cut the song that was the title track and catalyst for the EP concept at the time. It was the end of an intense two weeks, we were both in a weird headspace and I basically made Peggsy make a beat. I started cooking up the beat first and it was so bad it made Peggsy get up and take over hahaha. In that moment we made 'People Feel' but there was no vocals or guitar yet. When Peggs left London we decided to take a little break from Nixer but I sneakily finished the track and 'People Feel' was born. It completely rejuvenated the EP and made us love it again. Finishing that track was a great moment and it went on to become the lead single/title track.
TSWS: So many great pop styles on this single! Who are some of your biggest musical influences?
Peggs: Bono
Seán: Hahahaha. Ehhhhhh, in terms of songwriting Jamie T is my biggest influence. I was definitely influenced by The Streets conceptual stuff on this EP too, I LOVE a concept album. I was listening to a lot of DIIV and Molchat Doma while I was writing the EP, and those artists definitely influenced my guitar massively. Other artists that influenced the feeling and vibe I was trying to capture were Boy Harsher, Kid Cudi, Dua Lipa for real.
TSWS: How did this all start for you guys?
Peggs: I've always wanted to start a project like this as a producer. When lockdown hit Seán and I were chatting online about my desire to start a new project and Seán said why don't we try it out. He said he could do lyrics, vocals and maybe add some guitar. So I sent him a production I made and he wrote over it and this track became our debut single 'Your Days Are Over'.
Seán: That's exactly how it happened. We're basically a lockdown band and we started online. I had just quit a job I hated, and I hadn't been writing much music while I worked that job. I was very much at a loss creatively and then Peggs swooped in and Nixer was born. I am very very grateful that it happened. I've never been happier.
TSWS: You guys are a duo right? Do you write the songs together?
Seán: Exactly, just the two of us. I like to describe Nixer as a collaboration more than anything. I do my thing (lyrics, vocals, guitar) and Peggs does his thing (production, synths, mixing) and we mash it all up together to get Nixer. Now that we're living in London together I think the song writing process will change and we'll do it as a duo. Up until now everything was written in isolation and we've sent everything to each other as stems over email.
Peggs: We've only actually written songs together a couple of times, most of our work has been remote up until I moved to London in October like Seán said. Most of the EP was written in London and Dublin separately. 
TSWS: Can we expect a music video coming from you this year?
Seán: Oh yeaaah baby baby. More than one! The visual side of Nixer is very important to us. We've been focusing a lot on the creative direction for 'People Feel' and we're super excited to welcome people into the visual world of the EP, as well as the musical world.
Peggs: Yes yes yes, and you might see some people having fun 
TSWS: What's next for you as a band? Anything in the works even now?
Peggs: Play more gigs, play some festivals & write some new music.
Seán: Yeah I back what Peggs said. I'm absolutely dying to get on the festival circuit for Summer 2022. We'll be focusing on our live set in 2022 and I'd also love to get a support slot with an artist that we both love. We'll be working on new music too. Now that the EP is complete, we've been chatting and we are so ready to write new music.
TSWS: Who are you guys each listening to right now?
Peggs: I've been listening to a lot of Irish trad and folk music the last month. Christmas is a big time in Ireland for trad music as a lot of families would get the guitar out and sing songs. I've been hooked on Frank Harte the past couple of weeks being home for Christmas as he would be a family favourite in my family home.
Seán: I've been listening to Boys Noize religiously the past few months, an unbelievable artist. I'm absolutely loving Brutalismus 3000 too, they are siiiiiick hahaha! I'm all over the Irish music scene too Shiv, Kynsy, Odd Morris and Kojaque to name a few, all of these have released great music in the past year. I love the new wave/soviet wave stuff that influences our music a lot; artists like Molchat Doma, Lebanon Hanover, Buerak.
TSWS: What are you guys doing when you're not working on music?
Seán: Exercise and cooking are a massive part of my routine and life. They help me keep a clear head so when I want to get cracking on with the music, I'm in a great headspace for it. I also read books as much as I can, reading books really helps the song writing process. A lot of my song ideas and lyrics stem from books I read. I go clubbing most weekends too and I'm always catching live gigs.
Peggs: Thinking about music 
TSWS: Are you possibly planning any live performances?
Seán: Definitely! We played our first ever shows in Ireland when we were at home for Christmas. They went so well and one of our big plans for 2022 is to go headfirst into the London gig scene. We'd love to throw a headline show in London to coincide with the release of the EP. We'll be looking at April time for that.
TSWS: What synths do you guys use to get those vintage sounds so perfect?
Peggs: I use emulators of vintage synths such as the Yamaha DX7, Roland Juno 106 & the Mini Moog. One day I will own these machines but unfortunately, they cost a few bob!
TSWS: This single feels like a big undertaking. What kind of advice do you have for other up and coming artists out there?
Peggs: Keep making tunes, even if it's for an hour a day, every hour you put in will get you closer to where you want to be as an artist.
Seán: Thank you, means a lot. My advice would be "keep dreaming!". Don't give up on the dream and work as hard as you can. 
TSWS: Before we go, what would you like to say to fans of the music?
Seán: Thanks for listening to the tunes. I want Nixer to be a big community, so welcome to our world. We love yas!
Peggs: Thanks for supporting our music and I look forward to seeing you on the dance floor very soon x