An Interview With Odd City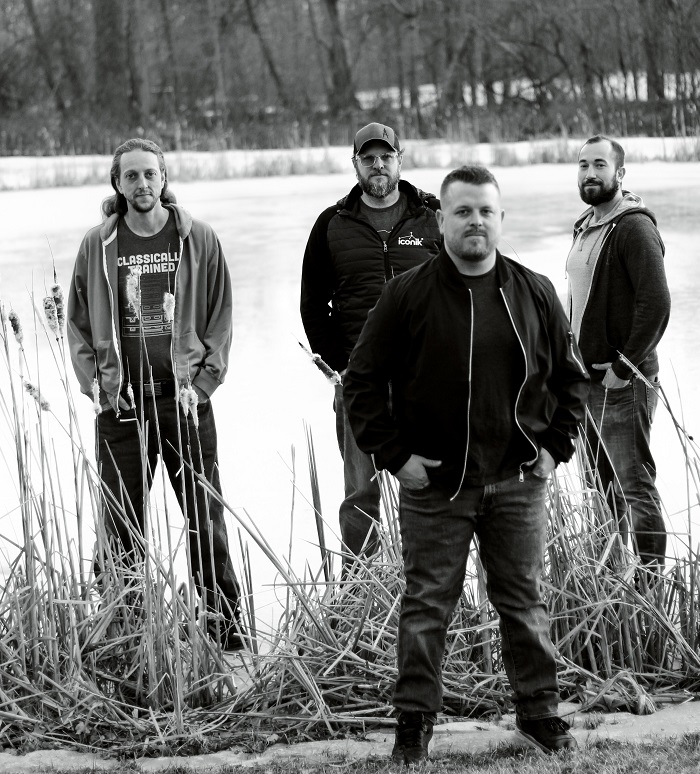 Odd City blasts off with a new single that hits all the alt-rock and melodic metal sweet spots and it's done with a killer energy and outstanding intricacy in the performance and songwriting. 
"The Upside Down" features some awesome guitar work all over it including vicious breakdowns that just pound the ground and melodic harmonies riddled throughout the song's course. 
This track gives off a bit of a classic Deftones vibe crossed with something sharper and heavier as well. A little old school and a little new school meld together and take this track through the damn roof.
This track crushes from start to finish and takes some elements of hardcore, metal, alterntaive rock, and plenty more to create something unique but somehwat comfortable. 
Vocals are perfected just as everything else on this single is. Melodic singing, belting and into screaming sections and the whole thing is built almost like an orchestra.
It's a massive song with a vast soundscape to say the absolute least but it's all so orchestrated that you can;t help but repeat this one as soon as it's over just to soak it all in again.
Brutally heavy but just right on that edge so it's not overboard ever. It's a tasty song and guitar players will love this straight away. Metal heads will too. Anyone who likes really well done, well oiled, and well built heavy music should be all about this song. 
These guys know exactly what they are doing and it shows. 
With such a killer single, we wanted to have a chat with the guys to find out where it came from. 
Here's what went down.
TSWS: Okay so let's start with "The Upside Down". The single has a particular sonic presence and edgy rock feel to it! Where did this record come from?
Brett:  The Song came from Pavel's Riffs in the basement. Kap and I had to put him on pause and repeat. We knew it was the beginning of a good song. The three of us jammed on it until it was done musically. Mike added his magic after. 
Mike:  We had the instrumental worked out with all of its weird changes before the song was even named.  The front half of the song is pretty straight forward, but rhythmically it all starts to become chaotic at the end of the track.  I guess the idea of the name came from being in this known place in the first half of the song, and then re-entering it but having everything be just a little different and uncomfortable.   The finishing touch was aligning the lyrics to it all.  A lot of people don't notice the immediate change in vocal effect right out of the gate as a bit of a foreshadow on where the song is going.
TSWS: I'm hearing several styles on this release. Who are some of your biggest musical influences?
Mike: I listen to a little bit of everything.  On any given day you'll find me playing everything from Guns N' Roses to Mos Def to Primus to the Les Miserables original London cast recording.  I'm still trying to talk the boys into covering Confrontation <laughs>.   I'm also the oldest in the band, so I tend to bring some older guitar sensibilities to the songs from glam rock and grunge.  I'd be lying if I didn't say Primus, Rush, and Pink Floyd also weren't giant influences of mine personally.
Kap: Here is a few favorites off the top of my head: Helmet, J.S. Bach, Easy-E, Sleepytime Gorilla Museum, Jethro Tull, Sam Cooke, Pantera, Faith No More, Oingo Boingo, Outkast, Death, Wu Tang, Deftones, Johnny Cash, and Between the Buried and Me. And OMG, do you know Carbomb? Those guys are amazing, I just discovered them recently and been hooked.
Pavel: I love heavy guitars and melodies. Some of my influences would be Incubus, Rage Against the Machine, Ozzy, Queen, System of a Down, Deftones, The Doors, Gorillaz. A Day to Remember. 
Brett: We all love a tons of stuff. Deftones, Nine Inch Nails, and Queens of the Stone Age are bands I really like a lot. 
TSWS: So how did this all begin for you really? When did you all fall in love with making music?
Kap:  Brett and Pavel had been playing together for several years, and knew each other from high school. A mutual friend, Jeff Robinson (of the former Third Monk Records) put Brett in touch with me when they were looking a new bass player back in 2010. I had been playing in bands since I was about 14 years old, and my previous band recorded an album with Jeff in 2007, but we never released it because the band broke up first. I guess Jeff could no longer bear the thought of me wasting all this talent, so he sent Brett to me <laughs>. The first night we three jammed, we had a lot of fun and had a good discussion about music, so I kept coming to practice. But I refused to sing without another lead vocalist in the band, so we just played instrumentals for years. Adding Mike S was the last puzzle piece. Once he got to know us a bit, I asked him to record some demos for us, and then waited patiently for him to fall in love with our sounds and become a full member. Mission accompt.
Mike: I met the rest of these guys through mutual friends.  I was having a back yard BBQ where a band I was in at the time was playing and asked them if they wanted to open up for us.  Somehow I haven't played with that other band in 4 years and these fellas just sort of never left.
Pavel: Back in high school Brett and I jammed a few times right once he got his drum set but we both weren't good and that was it. Few years later…Brett walked up to me at a Halloween party many moons ago and asked if I still played my guitar.Fast forward a few years later and  here we are making this record.
Brett:  Music blew my mind when I heard Pearl Jam's 10 album as a 4 year old. I started really playing music when I was about 17 and could just keep a beat on the drums. When I got that down it became my release. 
Mike: Man…I bought Pearl Jam's 10 with my own money I earned mowing lawns on my first High School out of state trip <laughs>
TSWS: What's next for you as a band?
Mike: Since I'm relatively new to the band, it did take us a bit of time to find where everyone fit as a four piece.   Now we are learning who has strengths in which places and it allows us to actually compose new songs in a more regimented way.   We'd hope everyone reading this likes what we have so we can keep making music at this quality.  We self funded this whole thing with no labels or backing.  If you guys listen, we'll keep making more.   These songs are also pretty fun to play live, so we'd like to get out in front of a few audiences in the near future.  The pandemic really limited our ability to just get out and play shows, but thankfully live music is slowly returning to the world.
Kap: At least a few live shows around Detroit and Michigan, and another album are our immediate goals, but our approach won't change much. We'll keep challenging ourselves and trying to get better, and hope people keep supporting us and spreading our music. We all have to work day jobs, so getting more time for each of us to write practice together is another short term goal.  
Pavel: We have a few new songs we have been working on and also a few written that we haven't finalized lyrics on but we are getting ready for the second album and as well to play live shows this summer and fall.
TSWS: What inspires you to write a song?
Brett:  Inspiration for the songs on this record is all about getting musical tracks mostly done and feeling out the vibe of the tracks to derive the lyrics and melodies. We chop up things that feel too standard. I am confident there is a lot of life left to explore in Guitar driven music and I want to find it.  
Mike: Honestly, I'm like a little built in producer - Brett and Pavel often come up with the skeletons, and Kap and I tend to be the chiropractors and therapeutic masseurs that get things all lined up right.  Did you like that painfully drawn out metaphor?
Kap: In this band, it's often the other musicians who inspire each other. Someone will get something from the ether, maybe its a slick drum beat or a fat bass line, or some crazy beautiful guitar part from Pav, and then that inspires the others to start adding and crafting. Mike S is great at overall producing, checking us on the theory, and adding absolutely mind blowing, Dave matters approved guitar solos (note: Dave Mattews approval is assumed). We have all found an important role in writing. 
Mike:  I paid Dave Matthews enough in concert tickets in college that I'm sure he approves of anything I do.
Pavel: We all take part in crafting and molding our songs into music. Brett and I craft and the Mikes mold. We have a pretty good understanding of each other and the style of music. We are always trying to create something that isn't normal or doesn't follow your typical song rules. When you bring it all together it creates the sounds you hear in our single and record that's coming out very shortly.
TSWS: What are you all doing when you're NOT working on music? 
Mike: My main hobby outside of music is working on cars.  I buy old stuff, fix it up, drive it.  Who doesn't like rock 'n' roll and fast cars?  Or maybe I really am showing my age.  We all have day jobs too.  They are going great.
Kap: Each one of us runs at least one business, so no one in this band is ever bored. I love the crap out of my wife and my 2 dogs, sometimes literally. Otherwise we just try to survive and stay alive.
Pavel: I'm married to a very beautiful loving wife and we have an amazing super cool daughter. We just recently got a cavalier spaniel so our hands are full. If I'm not running my business I'm at home with my family and if I'm not with my family I'm with the band. That's about it.
Brett:  When we aren't playing or making music we are caught up at our jobs in Tech and construction. Busy times. Motorcycles weather permitting. Spending time with family. And honestly hanging out as friends from time to time. which is important for us as friends to maintain that relationship. Its not always just about the music. 
TSWS: Who are you all listening to right now?
Mike: I tend to go deep on artists and I'm always late to the party when it comes to new music.  Lately I've been doing a bit more exploring of Chris Cornell's solo work outside of Soundgarden/AudioSlave.  I also just can't get enough of Moon Tooth's Crux record.  Looking forward to their new one next month.
Kap: I put on NOFX this morning, it had been too long. Bryce the Third is a Michigan based rapper and his album "Internal Revenue" has been getting a lot of plays from me. It's just awesome. Also, I've been listening to the band Car Bomb quiet a bit, trying to slowly wrap my mind around their sounds. Amazingly good.
Pavel: Ghost and Paramore are the last 2 bands I've listened to.
Brett:  I've been Listening to The Armed A lot. Saw them live at El Club in Mexican town (Detroit) it was great. They are intense. I always find new songs and bands/artists to get into.  
TSWS: Are you putting any thought into live performances? 
Mike: Most certainly.  With our full length hitting in a few weeks, we would like to get out and in front of some crowds to see if what we are doing sticks.  For now we'll likely be sticking close to home, but if you are in MI keep an eye out this summer.
Brett:  Yes, Live shows! We rehearse the new record regularly. We are working on ins and outs of the set for live performances. Making it more of a show. We greatly value the audience's time and energy which is the greatest thing they could give us so we're going to give it back hopefully three fold.

TSWS: Do you have a home studio where you track your stuff? 
Mike: I have a reasonably decent recording set up in our main practice space.  It allows us to roll isolated recordings in practice and throw sloppy mixes together so we don't forget new ideas.  We also do a fair amount of pre-production before hitting the studio in the home studio.  That means when we hit the studio we are ready to set up, mic up instruments, and hit the record button.
Brett:  Two of us have "studios".  Mike can record the full band live and it's awesome.  I myself have a lil lil set up for writing. Hard to write with 4 guys with instruments in hand. 
TSWS: This single seems like a big undertaking. What kind of advice might you have for other up and coming bands out there?
Mike: Don't do it because you think it'll make you famous.  Do it because you love it.  Also, don't overthink it.  Let a song be "done", not everything has to be re-worked.  It is really easy to work a song to death and make it so complicated that it isn't interesting anymore.
Kap: I hope, in all seriousness, that the age of rock stars is dead. Make music because you want to, and make it how you want to, and let it be what it is. Then you can't fail. 
Brett:  For us it's really about personal standards. I've been working on this band for 10 + years.  Did it take a while?  Yeah,  but when it's ready it really has to be ready. Take your time to release yourself as a recorded band or artist. Play live, try things, develop, meet people you want to play with. When you really feel your own voice, then record. Too often I see bands tripping over themselves to get to an imaginary finish line. Don't do it. Find out who you are musically and understand what you have to offer. 
TSWS: Before we go, what would you like to say to fans of the music?
Kap: If you like what we are doing now, I swear, we will try to not get worse in the future, so keep listening!!! And thank you for your investment of time. 
Mike: Thanks for listening.  These songs just came from a place of us wanting to share them.  We never had any notion of making anything further than something we'd be proud to share with anyone.  I wanted to be able to give this album to mom, a business colleague, or my best friend and know that I'd feel good about it.
Brett:  To fans of this single I would say buckle up for May 6th, I feel like the single is a landing pad for the record floating in the middle so if you like it then it will be a fun record for you. 
Pavel: We really appreciate anyone who takes the time to listen to our music!