DOUBLE CLICK TO EDIT TITLE
An Interview With Rockwelz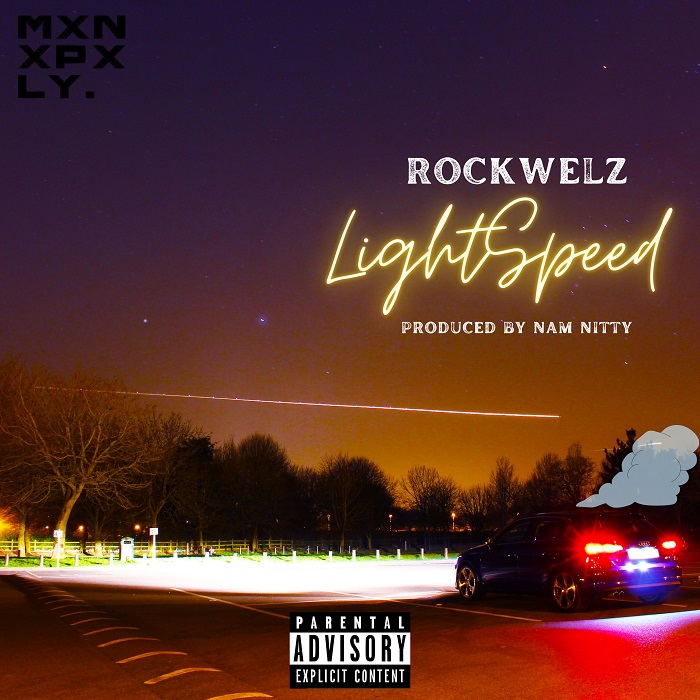 A fresh new banger from Rockwelz hits hard from the get go and hits with a fiery energy as it delivers heavy handed hooks at the top of the song and gets you reeled in quickly. 
"Light Speed" is a proper title for this track as the flow is smooth and alive with a bright style and an endless energy surrounded by a cross between classic and new school beats and feels. 
You can hear the classic influence twisted into a fresh approach and it all comes together without a hitch. 
This track hits like whiplash and doesn't let up for one second. This is exactly what you want from a hip hop track. 
It feels like you just watched Rockwelz perform this live in person. That presence is right there on the track and its like a sucker punch to the gut.
The rapping style has flavor and the music has a clean sheen to it that makes this track stand out for sure. 
This artist for fans of rap and hip hop old and new for sure as Rockwelz knows exactly how to touch on that nostalgic undertone while keeping things crisp.
The best part is that once you get sucked into this track, you want to hear what else he's got and the good news is that there are a number of outstanding singles to be pumped out loud. 
This demonstrates a youthful and talented artistry combined with a pure genuine love for his craft and we just need more of that in all styles of music honestly. 
Let Rockwelz be an example.
With the release of "Light Speed" we wanted to have a talk with the artist about hte track and where it came from along with what may be next for him. 
Here's what went down.
TSWS: Let's kick things off with "Lightspeed". This track has an absolutely killer flow and energy. Where did this song come from? 

My partner Nam Nitty produced this beat and sent it to me a while back. I got inspired during a trip to Miami with my family. After being locked inside so long during this pandemic I just wanted to have a good time. So I rented a drop top Porshe with the sun shining down and there was no better feeling. I wanted my listeners to feel the same way I did at the moment.

TSWS: There are certainly some different styles on this track. Who can you say are your biggest musical influences? 

I love hip hop and music as a whole. I feel like I'm a student of it. I honestly have too many teachers to name. I grew up on 90s Era hip hop so you already know what it is. I take pride in every song I put out.

TSWS: When and how did this all start for you as an artist? 

I feel like the music was always in me. I started recording myself in high school. Mostly freestyles. Then I started going to a studio on School Street in Yonkers where DMX is from


TSWS: What else really inspires or influences you to write? 

Life. I use my life experiences from what I've been through and the things I've seen. My kids inspire me because I want good music to be available for them so they're never afraid to be themselves. You don't have to kill anyone in your music or pretend to be something you're not. It just has to be real.

TSWS: Will we see any videos this year from you?

Definitely. Just wait until you see what I do with these Lightspeed Visuals. It's only right I inspire the people once again.

TSWS: Are you performing live right now? Are you planning on any shows soon?

Yes this year my Mxnxpxly Family group and I are headlining a show in Austin TX SXSW. Also performing with a live band in Dallas the same weekend. 3/17- 3/18. I'll be throwing a sick album release party for Blue Chips 2 as well. This is just the first single.

TSWS: Who are you listening to right now?

There's alot of good music. I'm a underground head so I listen to the peers I work with and are featured artists on my projects. John Jigg$, Nam Nitty, M.O.U.F, Nems, Rim, Skyzoo, Reks, Ren Thomas, Skanks the Rap Martyr, Scrooge Owens.. to nane a few.


TSWS: What are you doing when you're not working on music?

Typically networking with other artists, supporting their shows and merch. I'm also COO of Mxnxpxly Family Publishing Company so I do administrative work for the other artists and producers on the label. I'm a busy bee. I'm a partner in 3 other unrelated businesses. Music is the career path thats the most fun but my lifestyle has upkeep expenses.


TSWS: What's next for you as an artist?

God willing more shows. We may have some upcoming European tour dates so it will be nice to get back over there. Expanding the clothing/ merch line. I have 2 solo and 1 group project to release this year. Whoever is paying attention can see we haven't stopped climbing but we have a way to go.


TSWS: This song feels like it was a great undertaking. What advice would you have for other up and coming artists out there?


Thank you. I'd tell then to be yourself, if you're doing what everyone else is doing it's too late. The trendsetters are who people gravitate to. Expand your horizons and get away from the neighborhood. The more you see is the more creativity you will have in your music. Oh yea, also stop rapping over your lyrics lol.

TSWS: Before we go, what would you like to say to fans of the music?

Thank you for supporting timeless music. Doesn't have to be me but sharing our content or purchasing a shirt or CD means the world to us. We spend countless hours on the creation, and presentation. Not to mention the money it takes to keep the quality of work worthy of your attention and the promotion to get it in front of your eyes and ears. If you are tired of hearing the same songs on the radio it's time to broaden your horizon. We're here and will be as long as you're here with us. It's the mighty Mxnxpxly!