An Interview With Roxanne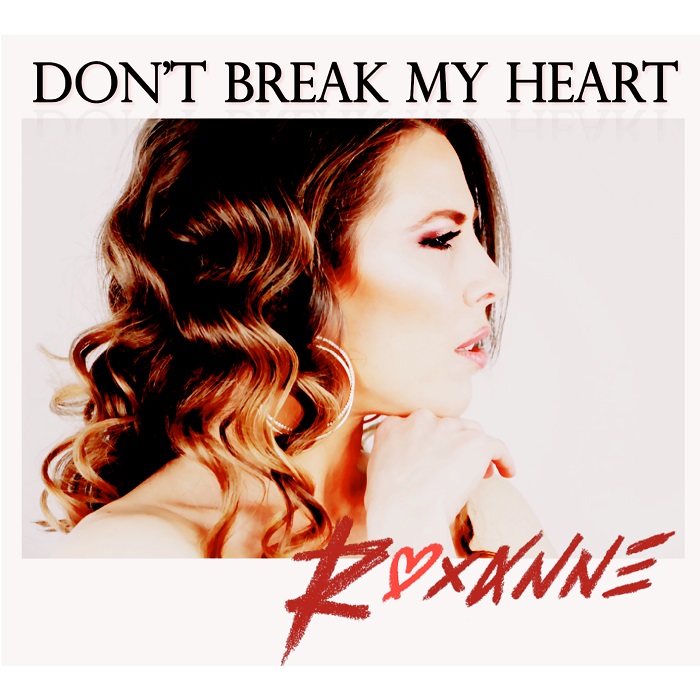 A new single from Roxanne touches on a beautifully performed early 90's power ballad style with classic beats and synths, keys and vocals that shine with soul. 
"Don't Break My Heart" is an instant classic with a real deal pop feel that crosses into an ambient undertone with synth pads and a lush soundscape. 
The track feels heartfelt and features sounds that feel nostalgic and perfected. 
Roxanne's powerful vocal approach is tasteful and graceful as she belts out sweet melodies and the whole thing really keeps you afloat and lets you just get washed away with the sound.
This single has a freedom to it that showcases the artist's ability to write songs that have their own style yet feel familiar and warm. 
She has this brightness about how she performs that makes you crave more and more. 
The beats and textures build such a full and boistrus palette and the song ends up getting embedded in your head as you find yourself humming the chorus long after it's ended.
If you grew up in the 80's and 90's you'll totally get that classic retro-pop tonality we're talking about here. 
It's completely nailed and also brought into a current setting making it refreshing and breezy in a way. 
This track is cinematic and has such a wonderful amount of love that comes through its awesome. 
Roxanne is known for her performance vocally and her songwriting style as well. 
And we're honestly not surprised at all.
She has quite a killer catalog to jump into as well so if you have some time, we suggest taking a deep dive into the rest of it. 
In the meantime, with such a great release, we wanted to have a chat with the artist to find out where this track came from and what may be next for her. 
Here's what happened.
TSWS: Okay so let's start with "Don't Break My Heart". This track has a very soulful R&b and
pop undertone to it. Where did this track come from?

As all my music creations are spontaneous, I'm not always sure where the ideas come
from, but I can say that my music is created out of whatever strong emotions I'm feeling.
"Don't Break My Heart" was inspired by the intense feelings of falling in love, being
simultaneously moved by the feeling of love, and scared of it. I think that the R&B
elements capture the more vulnerable side of me dreaming of the possibilities that love
brings while countering with the pop elements showcasing the more extreme expression
of both the excitement of experiencing love and the fear of losing love.

TSWS: I'm hearing several styles on this release. Who are some of your biggest musical
influences?

As a versatile music artist working in multi-genres, I have so many music influences.
However, to highlight my top female artists in the genre of pop and R&B, I'm a huge fan
of Madonna, Annie Lennox, Taylor Dayne, Witney Houston, Mariah Carey, Rihanna,
and Lady Gaga.

TSWS: So how did this all begin for you really? When did you fall in love with making music?

For me, music is an expressive outlet. When I create music, it becomes a space where I
feel that I can forget about the world and just be the real me. I always experimented with
sound as early as I can remember but fell in love with creating my first songs as an
adolescent. Through that early song writing journey, I learnt a lot about myself as I
explored my feelings and felt that I could be honest in my song writing about what I felt.
The creative process helped me navigate those feelings and express them
constructively. It ultimately made me feel empowered to discover and own my emotions
and celebrate them through the beauty of music.

TSWS: What's next for you as an artist?

In addition to promoting my new single "Don't Break My Heart", this year, I'm focused on
releasing an upcoming single and an upcoming video as a solo artist this summer.
As I'm also the lead singer-songwriter of "Nile Groove", my Ottawa-based reggae band,
I'm currently recording and producing our third album and will be releasing a single from
the album in the Fall.

As a performer, I look forward to performing live and reconnecting with fans.
As an artist, I love what I do and want to do more of it on an even bigger scale. As I
release new music and keep on creating new material, I hope that my music will reach
new ears and hope to have the chance to meet new fans. Although I've set goals for
2022, I'm open to whatever other opportunities come my way.
TSWS: What inspires you to write a song?

Feelings of all kinds inspire me to write music. When I write a song, the song elements
come to me organically. The song writing experience and freedom of exploration itself is
inspiring. I really enjoy not knowing where the song will take me and just go with the
flow of whatever creative expression comes out building on that until I feel that the song
is complete.

TSWS: What are you doing when you're NOT working on music? 

I love to read books and write poetry and stories, be physically active doing yoga and
going for long nature walks and socialize. It's a great reset to my everyday. I'm also an
accredited life coach so I have the chance to get to help others reach their own goals
and dreams, which is a humbling experience.

TSWS: Who are you listening to right now?

My playlist is very eclectic but I'm listening to top 40 pop artists including Dua Lipa,
Justin Bieber, Ed Sheeran while also going back to the 90's with Robin and Cee Cee
Peniston, and the 70's with Sister Sledge.
TSWS: Are you putting any thought into live performances? 

Absolutely! I have upcoming shows and I can't wait to get back on stage and perform to
a live audience again.

TSWS: Do you have a home studio where you track your stuff? 

I have a home studio where I create my music then record, mix, and master my tracks
in a professional studio. "Don't Break My Heart" was recorded and mixed at
Metropolitan Studios in Ottawa by recording and mixing engineer Jason Jaknunas and it
was mastered at PHS Studio in Toronto by mastering engineer Waleed Abdulhamid.
TSWS: This track seems like a big undertaking. What kind of advice might you have for other
up and coming artists out there?

I've discovered many gems along my music journey. Here are some of the biggest
one's:
-Write the song you want while being open to constructive criticism.
-Make sure to put together the best team that's the right fit for your song or project.
- Remember that bringing a song from its conception to its release is not a sprint but a
marathon. So, while working towards the end goal which is releasing and sharing your
song, it's important to enjoy and celebrate every part of the journey to not only create a
great experience and great memories but also to maintain the love and motivation of the
project.

TSWS: Before we go, what would you like to say to fans of the music?
I want to say "Hi" to everyone. I'd love to get to know you so make sure to connect with
me and follow me on my social media to know more about my next releases and
upcoming projects!