An Interview With Sheva Elliot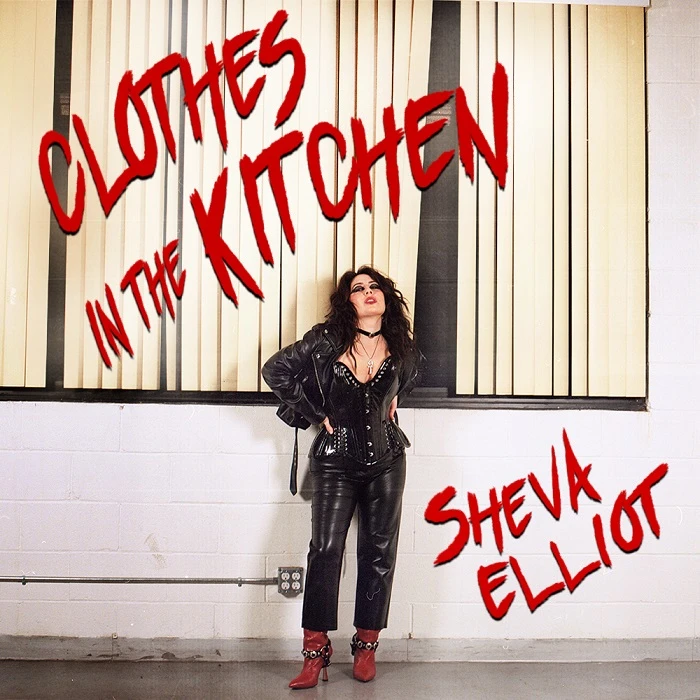 A new release dropped from Sheva Elliot has a way of delivering a hell of an attitude with an impactful and edgy Soul Rock single that hits with more personality and presence then you might be able to handle.
"Clothes in the Kitchen"  it's a real Banger and displays the artist's ability to deliver a performance with swagger and style that all becomes insanely addicting.
This track is incredibly infectious and has a way of sticking with you in true classic rock form as it really gives off that genuine appeal of a rock song that you've been listening to for years.
This track feels awesome to listen to and showcases Elliot's personality in such a way that you want to know her more when the song is over.
Guitars are righteous and the blues tonality is ever so present as is her outstanding vocal delivery from beginning to end.
This track has that aesthetic and essence of a real deal Radio Rock single and it makes you want to see her life in person.  You want to see if she's got that kind of attitude and impact in a live show setting which she most likely does judging by this track.
And that's the thing, it's hard to get that kind of energy on a recorded track the way that she does it.  But I think that kind of thing just comes naturally for her as an artist especially.
This track really has a way of bouncing around your head long after it's ended and you immediately want to find out more about her.
One of the best things about this whole thing, is the music video that accompanies the single because it just reinforces everything.
The attitude, the style, the swagger, the presence.  All of it's there and just explosive.  This is what you want after hearing the song.  You want to see that massive style and attitude visually and she pulls it off without a hitch.
Everything about this single from music to videos is absolutely nailed and the best thing about it is that she does this with a charm. 
You literally get charmed by Elliot and her approach for this whole single.
I would suggest watching the video is the first time you hear the song because again, the full delivery is right there in your face but if you can't, make sure you listen to this track loud as hell.
Now, with such a badass single and video, we wanted to have a sit-down with Sheva Elliot to find out where the song came from, what it means to her, and what may be coming up next for the artist as well.
Here is what happened.
TSWS: Let's kick things off with "Clothes In The Kitchen". This single had a super classic rock feel to it and loads of soul!  Where did this track come from?
It was inspired by a man I briefly…dated? (You know how it is in LA, very non-committal) He was a screenwriter, and as I'm also a writer, we weren't often in reality together. He spoke very quickly, chain-smoked, used dated language - he really was like a film noir character. His studio apartment was so small that he had to keep his dresser in the kitchen. And there you have it…Clothes in the Kitchen.
TSWS: When did this all start for you musically? When did you fall in love with music?
I started singing when I was four years old. It's my second language.
TSWS: What inspires you to write a song?
It depends on what I'm going through. I often turn to music to heal any difficulty I'm experiencing, or to better understand a situation. Of course, I also write in celebration, or pen open letters to my younger self from my higher self. That's just how I work through & witness my life. Ultimately, I believe that music is Divinely inspired, and I can't always explain it. I'll dream of a melody, or I'll start singing lyrics. It's magical.
TSWS: This song has some great styles! Can you give us some of your top musical influences?
Thank you! This song was definitely an homage to the days of the MTV music video, where lipstick, leather, & hair metal reigned. I think of this tune as a little bit Rolling Stones, a little bit Great White. (For those who don't know Great White, I recommend starting with "Once Bitten Twice Shy".)
In general, my influences stem heavily from Motown & soul music, and of course, classic rock. Aretha Franklin, Donny Hathaway, Stevie Nicks, Led Zeppelin, The Allman Brothers, Carole King, Elton John, Free.
TSWS: What are you doing when you're NOT working on music? 
Daydreaming, of course! But also – meditating, flowing on my yoga mat, cooking, starting and not finishing numerous books, connecting with friends, re-potting plants.
TSWS: Who's in your headphones right now?
Actually just listened to Marvin Gaye's iconic divorce album "Here, My Dear". And for modern artists, one of my go-tos is Chris Stapleton.
TSWS: Are you doing any live performances right now?
I do have one coming up on February 24th at The Silverlake Lounge!
TSWS: This single feels like a big undertaking, is there any advice you'd give to other up and coming artists out there?
I would advise against dwelling too long on one single or album. I know from experience how painful perfectionism can be. It's my work now to remember that this won't be my last song, and it's important to move forward. We change so frequently, and our music might change with us. Get it out there, don't deprive people of your magic!   
TSWS: What can your fans expect from you in the near future?
A new single! Different vibe than this one – more soul & doo-wop.
TSWS: Before we go, what would you like to say to fans of the music?
This ride is exhilarating and exhausting. I have many moments of doubt, often wondering why the hell I was both blessed and cursed with the desire to chase music. In those moments, your love & support helps me to push through & keep going. So, thank you.