An Interview With Simon Oakley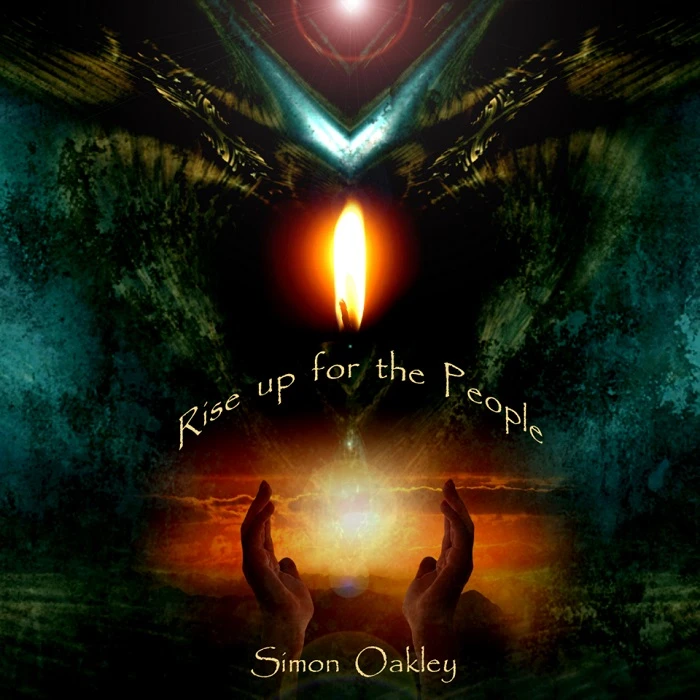 A new EP release from Simon Oakley delivers a set of heartfelt and emotionally driven rock Singles that are inspired by some of the great classics and have a way of showing the artist's personal side as the tracks are honest while telling stories at the same time.
The Rise Up for The People EP consists of a set of full-bodied and cinematic undertone rock songs that each have their own two legs to stand on but as far as the record goes, it should be listened to from beginning to end in one shot.
This release plays through almost like a concept record would and the stories have a strange way of sort of connecting.
Throughout the EP's playthrough, you get an array of vibrant and impactful songs and progressions that come together to create a certain atmosphere that's very easy for you to fall right into.
There's something very cinematic about this EP and because of that when it's done, you have to almost shake it off to find your footing back to reality again.
That kind of escapism in music is something that you don't see that much anymore so it's really refreshing to get that again.
You can tell a lot went into the creation of these songs and that Simon has an absolute love for his craft because everything comes through with a certain level of passion and heart.
This was a powerful release that has a way of sticking with you for days and the only way to satiate that is to go back and listen to it again.
You get a great array of classic rock influences peeking through during the release and the elements of how this record creates an atmosphere are all very evident.
The vocals are delivered with a soul and you have some organs that fill the space in the background floating around The Ether of the songs giving them an even more impactful backing.
Everything about this record is driven by something genuine and authentic.
This is something that you can hear with almost every single song on the EP and the ones that are incredibly clear are the ones that just give you these messages to listen to.
These songs were clearly a way for Simon to get things off of his chest and I think when it comes to songwriters this can be a cathartic thing.
It would be for me anyway.
The important thing about this is that it actually connects with the listeners and resonates in a way so that they feel like they're not alone in their thought process on certain topics.
With the release of such a wonderfully built and woven EP, we wanted to have a sit-down with Simon Oakley to talk about where this all actually came from and what might be coming next for the artist.
Here's what happened.
TSWS: Okay, let's start with " Rise Up for The People"! This single had this anthemic feel to it that was massive! How did this single come about?

All the songs off the EP were written during the 2020 lockdowns in the UK. It was obviously a very intense time and every song on the EP was inspired by that period of time. Rise up for the People was written on my acoustic guitar and conveys my feelings towards the unnecessary fear, lies and pain that were being inflicted on the general public....I think I've been vindicated in those feelings but unfortunately the fear, pain and lies continue. I wanted the song to sound as big as possible in a true 1980's style.
TSWS: How did this all start for you as an artist? When did you fall in love with music?
I'm a bit of late starter as an originals artist but have always been in and around music and entertainment for as long as I can remember. My first musical memories were Adam and The Ants and The Sex Pistols, I fell in love with the intense tribal sounds.
TSWS: What kind of things really inspire songs for you?
Ok, here goes!......Social injustice, government overreach, the mainstream media, technocracy, transhumanism, the natural world, the paranormal, Sci Fi, space, aliens and the mystery of life.
TSWS: What are you performing on this single exactly?
Vocals and rhythm guitar 
TSWS: This single has some great styles on it! Can you give us some of your biggest influences musically?
Being a child of the 70s and 80s I was lucky enough to he bombarded with some of the best music ever produced. My main early influences (in no particular order!) were The Sex Pistols, Adam and The Ants, Joy Division, PIL The Cure, David Bowie and The Cult. I was also a big fan of the grunge era bands in the 90's such as Soundgarden, The Screaming Trees and Alice In Chains 
TSWS: This track will be part of a full EP of the same title, correct? When will that release?
The full 5 track EP is due for release on Friday 5th May 2023.
TSWS: What are you doing when you're NOT working on music? 
Looking after my close family and partner, I have twin teenage boys who are also musicians.
TSWS: Who's in your headphones right now?
The Cult - Under The Midnight Sun
TSWS: Are you doing any live performances right now?
I have plans to perform these songs live in the near future. Watch out for some live online sessions.
TSWS: Did you record yourself or hit a big studio for this?
The demos for the EP were recorded at home on my acoustic/electric guitar and macbook then taken to my producer Kevin Jones here in the UK who has a professional studio called Eastriver Production Studios. Not only did he produce the EP but also played some guitar, bass and keyboards on the tracks.
TSWS: What can your fans expect from you in the near future?
New songs are being formed all the time, I hope to release another single in the coming months and release another EP towards the end of the year. 
TSWS: Before we go, what would you like to say to fans of the music?
Thank you for taking the time to listen to my music. It comes from the heart and I hope it provides some solace, truth and peace to the listener.