An Interview With Slackerman and Company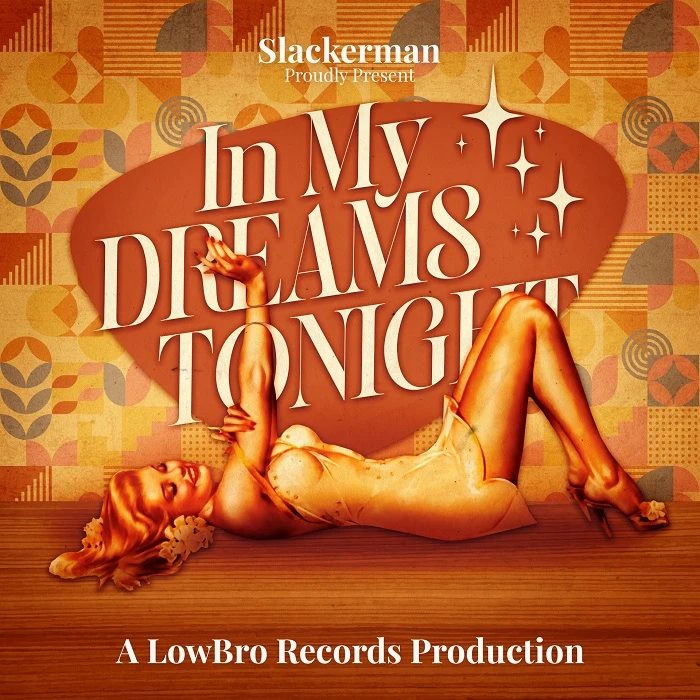 If you're not too familiar with the workings of Slackerman then you're truly missing out as the latest release was put together with a series of collaborations from the likes of Flora Lin and Daphne Cerez who both had their particular flavor to the series of songs dropped on the new EP  called In My Dreams Tonight.
This is the latest release in a long line of them from slacker man and with each release, you get a new flavor and a new style that gets Incorporated with the influence that is undertaken by the artist.
With this particular release you get a lot of heart and a sultry allure due to the vocals along with this contemporary pop undertone that can really sway you in different directions.
The EP consists of six tracks and each one stands on its own two legs in terms of being a single; however listening to the release as a whole is the best way to go.
There's something that feels interconnected between these songs and perhaps this is a bit of a concept album in the end.
Either way you get a wonderful and lush array of colorful instrumentation that each create the song's atmosphere and in turn build the EP into something that you can dive into and swim through.
It's a really cool combination of production that has a subtlety to it and a softness but still hints towards bits of edginess along with vocals that add their own staple feel and these are the things that really pull you into the world of Slackerman to begin with. At least for this record.
You can tell that there was a lot of attention to detail going on during the creation of this record and I'm sure we can owe that all to Slackerman himself; however, there is still this great sort of soul that exists within the tracks as well and this is part of what drives them.
There's something about this EP that serves as a form of escapism unless you step into a different world for a little bit and forget about your own reality which is an attribute that I've greatly missed in music itself no matter what the genre.
There's also this infectious allure and gracefulness that is true throughout the course of the release and that is something that has the ability to wrap itself around you and keep you right where it wants to.
These songs are written in a smart way in terms of arrangement and even the track listing itself lets the record flow a certain direction and all these things come into play in the mind of the artist I'm sure.
You can also clearly hear a pure love for the craft with each and every track on this record which is something you can just appreciate when you listen to it.
There was a lot of love here and that's something you don't always get.
With the release of such a well-woven EP, we wanted to have a sit down with Slackerman and friends to find out what inspired this release and what might be coming up next.
Here's what happened.
TSWS: Okay, let's start with "In My Dreams Tonight"! This EP had such flowing singles and felt dreamy and contemporary! How did this release come about?
Slackerman:
After my last release "The Beautiful Impossible." I had some residual songs that I don't know what to do with. I also saw some videos on YouTube with the title: "Steal these chord progressions." Then I went through some emotional distress and was looking for a way on how to get over it.

In a way, every song I made in the EP was a chapter of something really personal that I was going through. I just let the emotions and the stories take control and let the EP write itself.

When I finished the songs, it felt like it was not connecting the way I wanted them to, so I decided to make it a collaboration album with female singers.

I've had the songs for close to a year before I finally found the courage to approach both Daphne and Flora. And I couldn't be more grateful for them jumping on and for their valuable contributions. I know these lovely ladies may be tired of hearing this, but they made these songs 100x better.

The most difficult part was finding someone who would say "Yes" to join the project. I think I approached 3 other artists for it… 1 said no, 1 said yes, but they changed their mind. Another one said yes, also recorded a song, but changed their mind at the last minute. There's a version of "The Distance" that will never see release.


Flora:
I am very grateful for this collaboration, I hadn't written a love song in a long time. But with Slackerman's instrumental, thinking of the vocals was effortless. Made me think of really good memories to immortalize in a song!
Daphne:
Collaborating with Slackerman was on my wishlist for a long time, as I had fallen in love with his previous work already. So naturally, when he asked me to work on a few tracks with him, I knew vibing with the songs and thinking of the words would be easy and that the end result would be something wonderful.

TSWS: How did this all start for you as an artist?

Slackerman:
I grew up in a household where almost everyone is doing something creative. My Mom sings, My Dad was a craftsman, my siblings are either painting or drawing. I had an uncle who plays amazing piano. In high school, I learned guitar. I realized I cannot do riffs like Metallica, so I tried making stuff up as I learned.

I would try to learn songs from artists that I like, but I always end up stumbling on something else and it would just snowball from there. I would always focus instead on prioritizing writing a song over what I was trying to learn.
Flora:
I grew up as a music lover, thinking I wasn't a creative person, just an observer. Then I moved to the UK and it changed everything. Seeing musicians everywhere, rehearsing at the uni, playing in pubs, busking... I thought it was my last chance to at least try to make something.

I also met my great friend JJYY there (from our bands OK Feather and Cosmoose), she taught me a lot! After starting a few collaborations, I never stopped writing songs.
Daphne:
Singing has always been something I adore doing and as my brother played guitar in a band, I too wanted to join a band as the lead singer at the age of 13. I learned so much doing that for 7 years and met many great other musicians that inspired me to start writing my own songs. Nowadays, I cannot imagine processing my feelings, thoughts and dreams any other way than through songwriting and singing.

TSWS: What kind of things really inspire songs for you?

Slackerman:
It is mainly life experiences for me. Most of the songs that I write are based on something I have experienced that I want to share with people. Whether it's something goofy, personal or vague. Other works from other artists inspire me as well. Sometimes I would play a song or an album on repeat, that I would eventually develop a resolve that I would want to make something similar.

Flora:
It's a mix of fresh sounds and life situations. When a funny situation happens some lyrics come naturally, then I'll hear some music and it could be pop, metal, soul, country... Then I'd think of how to blend the lyrics with some melody or beat. Oh, and listening to great beats from DHXP (of Cosmoose) and JJYY are also super inspiring!
Daphne:
Any kind of feeling can inspire me immensely. Other songs, stories and personal situations that evoke a spectrum of emotions will usually make me write a song about it. It's not only feelings I am feeling naturally at that moment (like I mostly do as Daphne Cerez), but I also love to come up with crazy imaginary scenarios and the feelings that would come with them (like we do at Cosmoose!).

TSWS: This record has some awesome approaches to it! Can you give us some of your biggest influences musically?

Slackerman:
My main influences are Matthew Sweet, Lemon Jelly, New Radicals, White Zombie and Gorillaz.

I also listened to a lot of Alternative and Filipino bands from the 90's.

For this record, I drew inspiration from Texas, Billie Myers and Zero 7. I'm pretty sure that there's also some Madonna in there somewhere…


Flora:
Before this project I had been listening to a lot of Kacey Musgraves' album Golden Hour, also quite nostalgic and felt good. More generally my main influence would be Fiona Apple.
Daphne:
Among many many others, my biggest influences (especially for this record) would be The Killers, The Script, Taylor Swift and Owl City.

TSWS: What are you all doing when you're NOT working on music?

Slackerman:
I work for a small group of companies. We develop our own FNB and E-Commerce brands. I have a creative, advertising and marketing background. I also have a lot of interests outside of work and music, but I think I always prioritize goofing-off and taking a nap more than I should.

Flora:
What do you mean NOT working on music??? Hahaha, well just like Slackerman, our projects also involve a lot of visual aspects. We've done a few games related to our bands. For our project Cosmoose, every collaborator creates an alter-ego, so we think about their designs, and write stories revolving around these characters. Occasionally there is a bit of time left for our day jobs. 
Daphne:
Haha indeed, I will breathe music throughout the day and try not to start writing lyrics during my day job. Luckily my job is very interesting (I work for a company that develops and sells research equipment that can measure brain and muscle activity), so I usually have no trouble staying focused on it. In my free time however, you will likely find me singing or dancing to some music if I am not writing it.

TSWS: Who's in your headphones right now?

Slackerman:
A friend introduced me to Gatlin. I just discovered Transplants. I've also been listening to Cosmoose. But those damned kids are criminals… 

Flora:
Arbor Atlantic just released their album "The Horizon Wears a Mask" recorded in 2020, I've been listening to the album non-stop and particularly to "Witch". If you like alternative music with epic guitar melodies and powerful vocals, I definitely recommend you to check out this band.
Daphne:
Any

TSWS: Are you doing any live performances right now?

Slackerman:
I wish! I thought I had an opportunity to play some songs from this EP live a month ago, there were some rehearsals. But communication from the organizer of the event was not clear, so we had to back out. Now the people I have been rehearsing with, also kind of have other priorities.

Although playing live is never off the table. I am still actively pursuing it. It's just that, I live in a place where people appreciate music differently. Hopefully soon or hopefully I get to meet both Flora and Daphne in person in their hometowns and I can play guitar for them.

Flora:
Not at the moment, although we've been thinking about it with Daphne and Cosmoose. And as Slackerman mentioned, we'll definitely try to organize that when we meet.
Daphne:
That would be a dream come true. I have been doing some open mics on my own, but nothing beats standing on stage making awesome music with your friends.

TSWS: Do you record these at a big studio or do you have a home studio set-up?

Slackerman:
Again… I wish I had either one of those! My current setup is just a laptop that is hooked up to a PC subwoofer that I bought over 10 years ago. I've barely used my interface. I would either write songs while experimenting on the DAW, or while noodling my acoustic guitar until I stumble on something. 

Flora: I have a home studio, I record in an awesome vocal booth my partner set up, with lots of foam and a microphone arm.
Daphne:
I have a home studio as well, it is nothing special; just a room with my pc and a microphone setup! I plan on building a vocal booth but I would rather be recording so I haven't gotten around to it yet…

TSWS: What can your fans expect from you in the near future?

Slackerman:
There will be an animated music video for "Ghosts." It is coming. I already started it, but my current laptop just decided to start performing slower than advertised. I am slogging to finish creating the assets for it. Music, there will be more, I just don't know when for me.

Flora: New music! From Cosmoose, also new characters, new stories! We also just released an album of remixes that I've listened to too many times to admit. Slackerman did an awesome remix of our song "Cosmoose Gang", which also features Daphne and I.
Daphne:
Lots of new music! Apart from Cosmoose, I collaborate with many other musicians who have loads of cool things in the works. I cannot wait for them to be released!

TSWS: Before we go, what would you like to say to fans of the music?

Slackerman:
Thank you so much for listening to the EP. Spin it. Share it. Play it loud. There will be more coming up, and we hope to catch you all on Another Day. 
Flora: Thank you very much for checking out this EP, we had so much fun making it. Slackerman's chill optimistic vibes were a great mood booster for me in the not-so-good days.
This was our first collab with Slackerman and we are looking forward to the next ones!
Daphne:
Every single listen means the world to us, and if we can make your day a little better with our record, we have accomplished all I hoped for! Let me know your favorite song and what it means to you via social media or email! Thank you!