An Interview With Spencer Jordan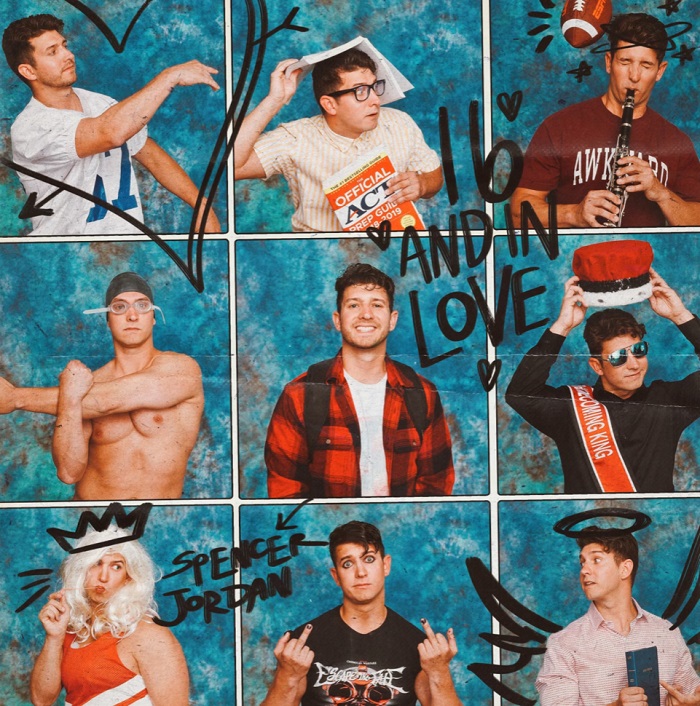 A smooth and catchy pop single from Spencer Jordan marks his return with a summer toned and colorful song that breeds jazzy feels, a youthful vibe and lively vocals that melt perfectly into the acoustic guitar backing. 
"16 And In Love" is a wonderfully warm and fun track that boasts musical and instrumental hooks that create a cinematic and refreshing style and the approach is so laid back that it all feels effortless for the artist.
The release has this sunet on the beach, carefree feeling to it that just calls out to the inner child in you. It beckons the feeling of being alive and really enjoying the moments you have. 
With very hooky choruses and passionate performances on all parts, this one seems to fit with anyone anywhere.
It's subtle and soft with this sense of being able and willing for whatever comes next. 
This is all part of why this song is so addictive. It's that feeling it gives you. It's the way it makes memories pop into your head.
Very well written and we're honestly not surprised as we're no strangers to Spencer Jordan and if there's someone to keep an eye out for, it's him. 
With the release of this new single, we wanted to have a talk with the artist to find out where it actually came from. 
Here's what went down.
TSWS: Welcome back Spencer Jordan! Let's talk about"16 and In Love". This track has an honest and crisp
pop feel to it! What's this one really about?

I think this one definitely speaks for itself! When I got the initial idea, it was after a few conversations I'd recently had
about how queer kids, especially before gen-z, didn't really get the same middle and high school experience our
straight peers did when it came to romantic relationships. I got a few of my favorite co-writers together who could
also relate to my experience, and we came out with something cute but melancholy at the same time. I really wore my
heart on my sleeve with this one, and putting it into the world was a very vulnerable moment for me.

TSWS: This song feels honest and real. Is music a way for you to talk about things you normally wouldn't?

I'm kind of an open book without a working filter in my day-to-day, so there really are no taboo or off limits topics to
me (much to the frustration of my friends). That being said, what music does for me is to allow me to process my
feelings into something constructive and tangible, that I am then able to hand over to people like me, who may need
to know that they aren't alone. I'm articulating something people may not even realize they've been trying to do
themselves.

TSWS: Who are you listening to these days?

Quinn XCII, Matt Maeson, Jeremy Zucker, The Band Camino, and all of my friend's unreleased music!

TSWS: Have you been putting together any tours or live shows?

For me, the first step is getting a live show together that I'm proud of, which means I need a team. I'm moving slowly
but surely in that direction, but right now I think its gonna isolated shows and acoustic sets for the time being!

TSWS: Do you collaborate with others on the production side of these songs?

I don't do anything on my own. To be transparent, most artists don't. We are collaborating on writing, we are
collaborating on production and mixing and mastering. It takes a village, and to me that is an incredible and
beautiful process.

TSWS: Have you been working on new stuff since this release?

Always, I just need some songs to cross the finish line before I can confidently start promoting them.

TSWS: How about any music videos? Can we expect anything like that on the way?

OOF interesting question. I feel like the music industry has shifted in a way that makes the tour and the music video a
product of a song's success rather than a precursor. So now, you almost need to gauge interest to see if a video will
even get seen if you're putting the (sometimes a few thousand dollar videos out into the world. Promotion is not what
it used to be.

So, short answer? Probably not until we have a viral moment on our hands, I'm broke haha.

TSWS: What is next for you as an artist?

Building my live set, finishing some songs I've been holding onto for way too long, and hopefully releasing them by
the end of the year.

TSWS: What's your favorite part about what you do?

The writing, hands down. I love creating things and the possibility of what may come of it. Everything else gives me a
ton of anxiety and I wish I could just hand off a lot of the logistical release details to someone else. But alas, I'm an
independent artist.
TSWS: How do you write your stuff? Chords first or lyrics? Melodies maybe? How does it work for you?

Yes.

I don't think I've ever followed one distinct process, but I can say I'm probably more lyrics & concept focus than chord
or production.

TSWS: Can you give your fans anything to expect from you in the coming months?

Painfully repetitive Tik-Toks, 2 more releases AT LEAST, existential dread, and maybe a few shows outside of
Nashville if they ask nicely :)