An Interview With Strommasten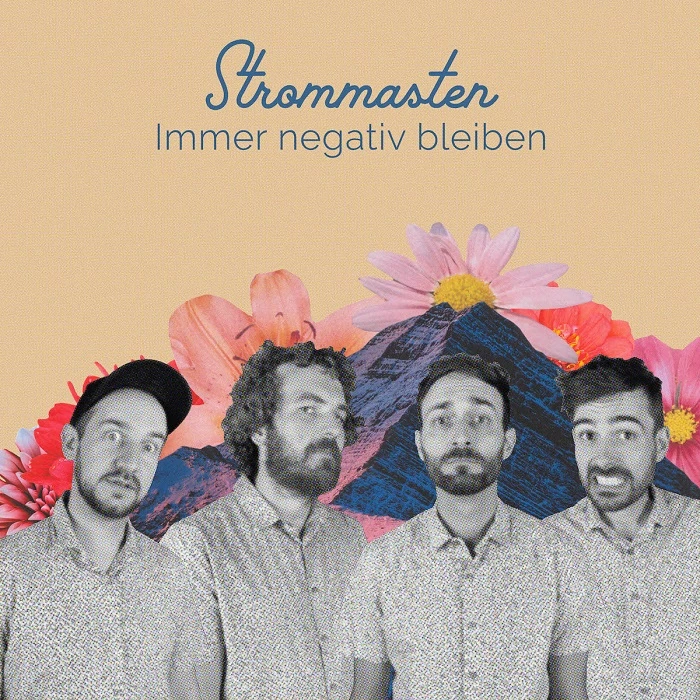 A new EP release from Strommasten Blends a unique variety of Indy and alternative rock with a refreshing alt pop undertone that takes some really catchy tones and hooks and makes them their own.
The Immer negativ bleiben release is packed to the brim with memorable choruses, super fund danceable breakdown sections and some quirky production that makes everything a little bit envelope pushing and that in turn makes it fun.
There are definitely a number of surprises behind a lot of corners of this record and there's more than meets the ear at first as well as there are layers to be peeled back here for sure.
These guys definitely rock but they also incorporate such a great use of synths and keys in their material which brightens everything up quite a bit.
The other great thing about this release is that the band themselves have such a cool knack for using fun effects that they take in a light-hearted tone to make the songs even catchier.
So, this is definitely a pop record, it's just one that incorporates different forms of rock music in with that so you get little touches of edginess in with everything else.
The release definitely boasts a ton of grooves and it's really hard not to get up and start moving to this record because that's what it was meant for.
You're supposed to get off your ass and start dancing to this record, singing along with your hands in the air, or at the very least shaking your butt in your seat as you listen in the car.
Plus the character that this release portrays is just so robust and full-bodied and this makes it even more addicting.
These guys have a really incredible way of feeding off of each other's energies on the recording itself to the point where it makes you wonder what they're like live in person.
A live performance from these guys might be incredibly fun. And likely is.
The formatting and arrangements of these songs are spectacular and you can tell these guys are not only seasoned musicians who know how to write songs and perform them, but they also have a love for their craft and put heart into what they're doing.
This EP is a damn good time and with its release we wanted to sit down and have a talk with Strommasten about the record and what might be coming up next for the band.
Here's what happened.
TSWS: When did this all start for you guys as a band?
Simon and Dennis started writing some tunes for a new project back in 2014. When we began to realize it would probably be a dumb idea to just settle for the three songs that would later be released as the ep called "Maracujaschorle", two more persons were needed to complete the line-up. The first show finally took place on 1st October 2017 and marked the release of Strommasten's first full-length "Allerzweite Sahne".

TSWS: What inspires you to write a song?
We are permanently demoing new songs although there is a constant shortages of lyrics. We have dealt with a lot of topics in the past and the urge to not repeat ourselves puts a lot of pressure on the writing of lyrics. Moreover, the lyrics always feature a generous dash of irony, satire, and tongue-in-cheek attitude. Typically, a certain situation sparks up a few lines that flow into more and more lines. However, the easiest writing derives from talking full-blown nonsense with someone suddenly snorting, "We need to jot this down!" This is always a good quality indicator of a text to come.     

TSWS: This release has some great styles! Can you give us some of your top musical influences?
We all love listening to loud and low guitars. From classic rock over indie to skate punk, the full Monty. But our listening habits have evolved and expanded over time and also include a wide variety of other genres. Who knows, maybe Strommasten will turn into an low-fi-ambient band in 2032?

TSWS: What are you all doing when you're NOT working on music? 
As there are mouths to feed and rents to pay, we all have normal day jobs. Strommasten have always been an integral part of our lives but never monetarily. Apart from that, Dennis is into lino printing and appearing creative to the untrained eye, Thomas is to be found the woods riding his mountain bike, Micha is either cooking or traveling and Simon is always busy in his private practice space plunking his guitar or tweaking and twiddling on effects. Or both.

TSWS: Who's in all your headphones right now?
Thrice – The Artist in the Ambulance (Revisited), Betterov – Olympia, Brockhoff – Sharks, Architects – The Classic Symptoms of a Broken Spirit, Fallout Boy – Love From the Other Side, The Pixies, Rio Reiser, Bon Iver, Neck Deep, Kraftklub and Stand Atlantic.

TSWS: Are you guys doing any live performances right now?
There are always occasional shows, so it's always a good idea to check our social media to be up to date. 

TSWS: This EP feels like a big undertaking, is there any advice you'd give to other up and coming bands out there?
We indeed put a lot of effort into "Immer negativ bleiben". These are our best songs, yet and probably the most elaborate ones in terms of musical craftsmanship. As we don't have any booking or promotional agency that backs us up, we do everything ourselves, from the first song idea to the e-mail asking if anyone would be willing to review the finished release. The best advice we can give is to always stay hungry for more and better output. Don't get stuck on a formula and don't get to comfy inside your boundaries. Another important thing is to communicate your plans and goals among your band mates to avoid misunderstandings, frustration and diverging images of where the band is going.
 
TSWS: What can your fans expect from you in the near future?
Some new tunes, some new shows. 

TSWS: Before we go, what would you like to say to fans of the music?
Thanks for reading this interview and your attention. Your support means a lot to us. Spread the word and tell all your friends about this revelation!