DOUBLE CLICK TO EDIT TITLE
An Interview With Stuntdriver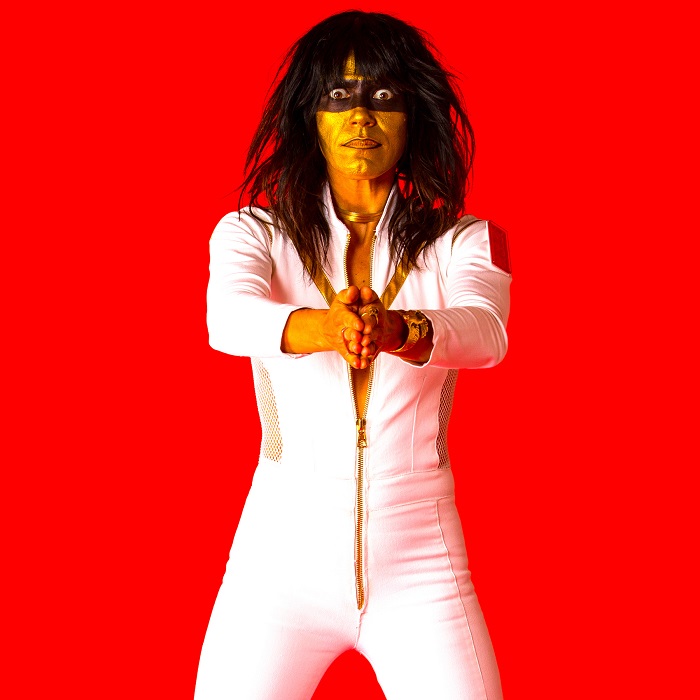 Stuntdriver returns with a blisteringly anthemic and powerful alt-rock powerhouse complete with all the fun and danceable edge you know and love about the band already. 
"Trapped In A Body" borders on epic with neon lit guitars that fly around the air creating memorable atmosphere and style as crew vocals chant and drums pound in an almost tribal rhythm until that chorus hits and everything lights up. 
This track has a great polish and oozes with character in true Stuntdriver fashion. 
The band steadily releases outstanding singles and each one blends different genre attributes and brings forth a hard hitting sound that really sticks and has quickly become the staple for them. 
One of the most important aspects of this is the lead vocalist and songwriter who shines in every aspect of the word.
Creating impactful hooks and cinematic tones and drive, not to mention some outlandish and exciting music videos that always leave a mark. 
That's what Stuntdriver does. They leave a mark. You know when they've been there. You remember those songs and can picture those videos.
This is the type of band that puts their all into the music and creation of all aspects of what they do. 
They should make a documentary on Stuntdriver. 
Well, until then, we decided to have a sit down and talk shop to find out where this all started and where it's all going, what inspires them and more. 
Here is what happened.  
TSWS: Okay so let's start with the "Trapped In A Body" single. This track has that Stuntdriver anthemic swagger we all know and love! Where did this song come from?
Awww shux - thx! Welllllll, I had been observing my Dad's struggle with advanced stage Parkinson's and how his brain was having issues sending a signal to the rest of his body.  So the title was born from that then I started writing some stuff on bass. Now, keep in mind, this is an extremely conceptual project based in a very specific world of two main entities of Light and Dark (The Drivers and The Influencer) battling one another. So how did this song fit into that? Well, I took that springboard of my Dad's situation and weaved it into the absurdity and whimsicality of STUNTDRIVER, aka STDR. I guess it can have a little bit of the Star Wars thing in it - a lord who gets 'sick'. Darth Vader. Sick with a dark disease - in Vader's case, the overwhelming need for power, evil power… for my Dad, just some independence of his own body + mind. So it's abstract for sure - but life is not just or another - Light & Dark are always both present. 
In the original live version of this show, the audience crawled thru a transformation tunnel. Later on in concert versions, I did this for a different song, Funeral for a Fantasy, because it logistically made more sense! Come to a live show to see what happens now! 
TSWS: Between this song and your other singles, we can hear so many pop and alternative styles! Who are your actual biggest musical influences?
Siouxsie Sioux,  PJ Harvey, The Distillers, Iggy Pop, Peaches, John Carpenter, Nightsatan, Fugazi, Death from Above, Lori Anderson, Nine Inch Nails, Hot Snakes, , Tina Turner, Ozzy, Heart, Donna Summer, Grace Slick, David Bowie.  Maybe that was a bit heavier  than you expected…my background is really in more punk/rock/metal stuff but with this project, I wanted to go into a more ELECTRO DANCEY (maybe a bit industrial) sonic world. 
TSWS: How did this all start for you? 
At first it started off as a solo project idea, then as I wrote the songs (many of them I finished up in a small RV out in the desert ) , I somehow had the idea to debut the whole thing as a full-on immersive production complete with improvisational actors , full band and a yellow-brick road-like set in a theatrical warehouse-type space in LA. I wanted it to be a kind of living album experience in which the audience was a part of the story as they roamed throughout the set. Whimsical. Absurd. The battle between light and dark. Pee Wee's Playhouse meets Rocky Horror meets Star Wars. And it happened ! Then concert versions came along and that's where we're at now! 
As far as recording goes, I had originally sought out friend Joby Ford from The Bronx as I've wanted to work with him for years. But he wasn't around, so he introduced me to John Avila (bassist from Oingo Boingo) and his biz partner, Anton Söder to engineer, mix and produce the album! And voila - they also became both live and recorded players. ;) Super lucky! 
And the act has been done in every mode possible - solo + duo + trio + five-piece! 
TSWS: What's next for you as a band? 
The full concept album that this song is a part of - SAGA - comes out 9.24.21 on Rock Hand Records. Also in the midst of nailing down deetz for the record release show in LA which will be a return (and first show back) to the original concept including immersive actors roaming about the venue while we (the full band) plays onstage. Will also have backup dancer/singers. (Then of course working on a tour and/or NYC residency for
2022 & the writing of another record .) 
TSWS: It seems like you use your music as an outlet. Is this true? 
HAAAAAA. Always!  All my art is ;) I feel as artists, we are really lucky in that sense - we can absolutely use art to process our lives (whether autobiographical or not), questions we have, curiosities and the like! I am forever indebted to my art. 
TSWS: Tell us a little about the music video for "Trapped In A Body". Did it take long to put together? Who comes up with the ideas for the videos?
The videos are my crazy brainchildren, yes. As far as the "Trapped" video goes… Well, I actually thought I had edited a full video a few months ago for this but apparently, I had just made a little teaser. So when I sat down to make it happen last Tuesday (a few days before the release,) I honestly did not know what I would do. I looked at the teaser and I wasn't interested in expanding it. SOOOOOO….. Not that I had time to go out and shoot something. I was like ok, this song is a tribute to my Dad so he should be in it!  I found this footage from a few years back when he was running in the sand with his cane (for an exercise show I was doing at the time) so I decided that would be the bookends of the video… sadly, it also sorta points to the cycle of birth & death.  THEN I found some footage of my Dad playing the buckets with drumsticks (apparently something great for PD patients, taught by my partner who's a drummer and actually playing on the album). It was kinda crappy footage, to be honest, shot on my phone, so I effected the hell outta of it and threw it into the trippy bridge of the song. Next, I took a look at some footage the first time I ever workshopped the idea of this song at an artist retreat in Florida. So I started cutting that up along with footage from the immersive and concert versions, respectively. And voila! Took about 8 hours ;) Felt really right with seeing my Dad in it. 
TSWS: What are you doing when you're NOT working on music? 
Swimming! (Anywhere) Roadtrips. The outdoors. Camping. Exercising. Making up characters. Writing. Reading. Teaching acting at a studio. CHILLING OUT ! (Downtime can be hard to do sometimes - so I literally have to put it in my calendar - and it's something that echoes in my mind from my dad - all my life , he's said in his Texas drawl, "Kym, you gotta have downtime." Easier said than done! But I'm getting better at it ;)
TSWS: You guys have been cranking out singles and videos non-stop! What  kind of advice would you have for other up and coming artists out there?? 
Well, lemme be totally honest with you here. This album was ready in 2020 but I kept delaying it all b.c of the pandemic, obviously. So the stuff was ready. BUT I will say this - PLANNING IS KEY!!! 
If you want to generate momentum for a record, put out a few singles from it every 4-6 weeks, have all your admin (assets - press releases, photos, videos, uploaded to a digital aggregator like CDbaby) done waaaaay in advance, then you can just enjoy promoting it. This way you can also create a story around it all. 
But If you don't have the year to get it ready like I did — don't just rush putting out a record because you just wrote it — have a strategy!!! 
PATIENCE IS also KEY, so I've learned hahaha. 
TSWS: Who are you all listening to right now? 
IDLES, Billy Nomates, Brutus (the Belgian metal one), CAN (Stuttgart sessions), Stevie Nicks, Nirvana, Peaches, Motley Crüe,   Donna Summer 
TSWS: Do you think you might be performing live anytime in the near future? 
Record release show November!!! Deetz to come. (Maybe an outta town warmup prior ) —  Possible mini-West Coast tour but most likely incorporated into Spring tour 2022 to SXSW ;) … Working on a return to the immersive production as well for 2022
TSWS: Before we go, what would you like to say to fans of the music? 
Thank y'all for paying attention. Watch the videos. Pre-save or Pre-order the album SAGA on Bandcamp . 
https://stuntdriver.bandcamp.com/
Keep supporting music!