DOUBLE CLICK TO EDIT TITLE
An Inteview With The Margaret Hooligans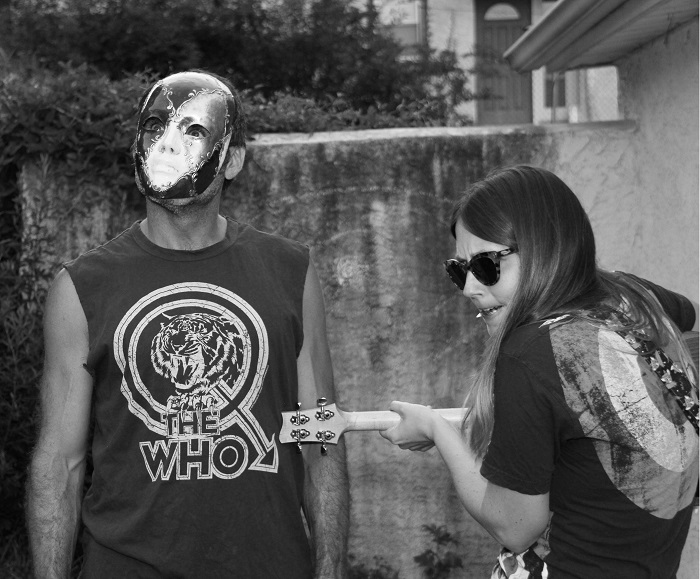 The Margaret Hooligans just dropped a gritty and endlessly fun roots garage rock single that just oozes heart and feels like a good time all the way through. 
"Oh Lord Hit It" is a damn blast and you can hear the amount of energy and output they have for creating music with a cathiness and a freedom seldom heard these days. 
This release will absolutely smack you right in the face and leave you with a mark, and we mean that in all the best ways possible. 
The drumming is envelope pushing and the layered guitar textures are fuzzy and vibrant to go along with the loose and fun vocals that never seize to surprise. 
The best part of this track is its nearly manic creativity just destroying everything in its path. 
You just can't compare to it. 
It actually sounds almost like a live recording in a way. Even though there are tracks doubled up and layers of added guitars that pan left and right, all sorts of fun backing vocals and fiery percussion.
You kind of just want to catch them live cause you know the energy is going to be infectious as all hell. I mean, it is on the recording even. 
When it ends off you have this extra urge to jump around or get things done.
You can't help but let this track give you that drive. Because it just does that. It grabs you up and snatches your attention and doesn't let go.
Not to mention the band has this amazing backlog of music that really shines and shows the band's presence as a whole.
If you want to have a good time, check this out right now. 
In the meantime, we wanted to have a chat with them just to see where this track came from and what may be next for the band. 
Here's what happened.
TSWS: Okay so let's start with "Oh Lord Hit It". The track has such great energy
and fuzztone to it! Where did this single come from?

We started with a that powerful uke riff and then the drums followed naturally. Lyrically,
this was a weird one. Sometimes when we have a really good groove, it's hard to come
up with a melody as you're playing it, and the only thing that kept coming out was,
"fucking it up, you're always fucking it up". We built the lyrics around it and used the
character Sue Ellen Ewing from the iconic Dallas drama as the inspiration for the lyrics.
I'm hearing some great styles on this release.
TSWS: Who are some of your biggest musical influences?

The Who is a huge one for many reasons. James Brown and his innovative drummers
are all-time killers. Meg's vocals were largely influenced by 90s female singers Tori
Amos and Fiona Apple.

TSWS: So how did this all begin for you really? When did you fall in love with
making music?

Mr. Strontium has always been a drummer and started in an original punk band at 19.
He has known that one of the few things he gave a damn about in life was drumming
from the age of 13.

Meg has not always been involved in music, but has always been musical, from singing
songs to her cereal as a child, to writing original songs as a teen to perform at open
mics, she sang in the choir, tried her hands at the piano, flute, guitar, penny whistle, and
finally found the ukulele as the perfect instrument to explore her rage. The juxtaposition
of such a happy sounding instrument carrying the weight of her anger was so absurd to
her that it made sense as the perfect song writing instrument.

TSWS: What's next for you as a band?

We are releasing numerous singles every month as a lead up to the full release of our
second album Turntable Tribulations in October, which features the 11 minute mini rock
opera Psycho Diapers. Our next single, Red Rider, is due out on June 3.

TSWS: What inspires you to write a song?

Honestly, we rarely work off inspiration. It's a bit of a myth in the creative world that
artists always have inspiration. The truth is we just go to work. We jam and record
what we come up with, let it sit a bit, and then Strontium will have marathon listening
sessions to decide which sounds most interesting musically, and then we pare down the
structure by playing it a bit. The lyrics usually come last, though sometime a line or two
that Meg screamed out during a jam takes hold and we build it from there. It sometimes
feel like the song is writing itself in that case, with regards to the lyrics.
TSWS: What are you all doing when you're NOT working on music?

Meg sells her patented ukulele straps at www.thehugstrap.com. She also teaches
ukulele and pilates (simultaneously!), and keeps up with the urban duck lifestyle.
Strontium solves crosswords on the toilet (where he does his best thinking), teaches
children and adults how to throw balls, and tries to mishmash the best of Christmas and
nude beachery.

TSWS: Who are you all listening to right now?

Meg can't escape Wet Leg, her 11 year old daughter is obsessed with the adorable
alternative pop duo. In addition, she likes to support her fellow indie band friends The
Qwarks, 9o'ClockNasty, Molosser, I Am the Unicornhead, Golden Plates, Everything but
the Everything, Bones in Butter, Avresa, and Otara.

TSWS: Strontium is listening to Lou Reed, 60s garage and 70s country funk.
Are you doing live performances?

We have avoided performing live because of Covid the last two years, but Meg has
been performing at ukulele festivals solo recently. Mr. Strontium is still considering the
future of humanity and hasn't decided if he can face the world.

TSWS: This single seems like a big undertaking. What kind of advice might you have for other up and coming bands out there?

Make sure you have the right chemistry with your bandmates, you should feel free to
take chances and know that they'll have your back. And find a teenager to teach you
how social media works, promotion is a bitch.

TSWS: Before we go, what would you like to say to fans of the music?

First of all, we are so happy that a few humanoids have found pleasure in what we've
done. That alone is amazing to us. Please clone yourselves and share our music with
everyone you think might like it. Really, we made this in a basement during a pandemic
and we're crap at marketing.