An Interview With The Petty Saints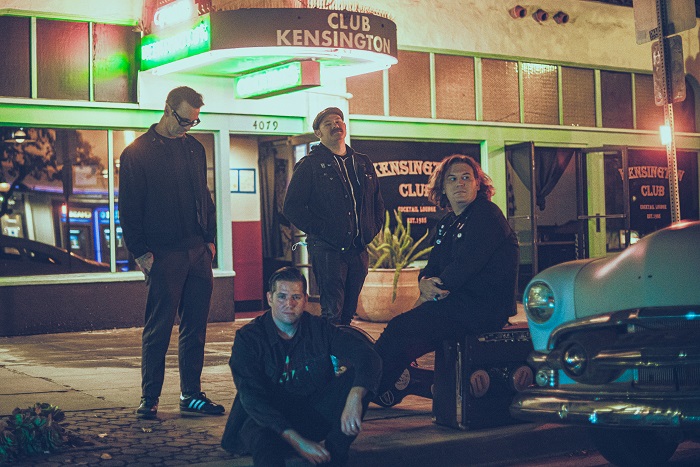 The Petty Saints just dropped a new single that screams cinematic pop-rock and with a nearly perfect alternative edge, the track boasts an anthemic and powerful backbone. 
"Clean Hands and Guilt" beckons 90's alt rock durings its melodic sing along chorus that's enough for you to put your fists in the air and belt it out loud. 
The track features some driving guitars and a youthful energy and personal tonality that helps build its connective arena-rock feel. 
This single is bright and vibrant with hooks you can't get rid of if you tried your best.
The song oozes with passionate performances by everyone and really gives off an almost summer vibe (and just in time). 
The Petty Saints have an outstandingly addictive sound and it all feels incredibly genuine. You can clearly hear the love they have for their craft and why they do it.
The video for the single is also excellent as it showcases the band's presence and character even more and with the live shots it also makes you realize this band would be awesome to see live. 
"Clean Hands and Guilt" is indeed the type of song you'd want to see performed in front of you.
A wonderfully and tastefully done rock song that gets you thinking as much as it gets your blood pumping. 
The whole thing is infectious and with such a great release, we wanted to have a talk with The Petty Saints to see where it all comes from really. 
So here's how it went down.  
TSWS: Okay so let's start things off with "Clean Hands and Guilt". This track has such an anthemic rock
feel and blends some great textures together! Where did this song come from? 
Ciaran: There is a series of poems by William Blake called 'Songs of Innocence and of
Experience', I've always found that title and the themes within it fascinating. So I wanted
to write a song that played on that title. The song itself explores experiences of anxiety
and how self-destructive it can make you become.
As a band I think we all knew this song needed to have a big sound, and at the time we
were all listening to wildly different bands and music so that played into the overall
sound of the record as well as this song.
TSWS: The video was outstanding! Did it take long to create? Did it come out how you
expected? 
Dan:  We did the recording of the video in the studio where we were worked on the
record and it only took about 2 hours to set up and shoot everything, it was super quick!
Mikey from Dark Horse Coffee is the one that filmed everything for the video and he set
up a simple green screen behind us and put an X on the floor for our mark and told us
"you have a foot on each side to move around" and we just went with it. The video
definitely came out a lot better than I thought - movie magic rules!
TSWS: There are more than a few rock styles peeking through on this track. Who are all of your
musical influences really?
Ciaran: I'm influenced by everything and anything that hooks me, but for this record that
has included Turnpike Troubadours, James McMurtry, Stiff Little Fingers, U2, The
Killers, Bruce Springsteen, The Replacements, Oasis, the Foo Fighters…and there's
even a little of the Eagles in there.
Dan: My influences are all over the place. I grew up playing guitar in punk bands and
playing the bass is something I've only been doing for a few years. I think some of my
biggest influences in the way I play Bass would be John Entwistle from The Who, Peter
Hook from New Order/Joy Divison, Tony Lombardo of Descendents, I guess I just love
playing with octaves on the bass and being present in the melody and complimenting
what Ciaran and Brett are doing on guitars.
Brett: Tom Petty will always be my gold standard, I'm a sucker for some good
Americana, I love 90s alt, Shoegaze, Gin Blossoms, Pumpkins, I grew up on punk, and
my dad's records basically.
TSWS: How did all of this begin for you guys?
Ciaran: The band initially formed shortly after I moved to California from London. I had a
vision of starting a band that played arena songs, even if it was just on the dive bar
scene. I met Brett through my wife and then Brett brought in Dan. Matt joined the band
a little bit later after a couple of line up changes. Everyone had the same idea of what
we wanted to achieve, which was great because that doesn't often happen in bands.
We cut a demo of our first Ep Wild Young Love and Dark Horse Coffee Records got
ahold of it and wanted to work with us on finishing the record and putting it out. After
that we played a bunch of shows and were just trying to build a following. We had our
eye on doing a full length album the whole time though and were continuously writing.
That's been a pretty long process given that it was largely recorded during an
international pandemic, but we're glad we've had that time to get it right.
TSWS: Are you going to be planning any shows now that everything is recovering? 
Ciaran: For sure, we're looking to play anywhere that we can. After a year not being
able to do anything live we just want to play every night!
Dan: Absolutely! We are looking at some local stuff in San Diego and we are also on the
line-up for the Born-Free Motorcycle Festival in Irvine coming up in August which we are
super excited about. We are also currently trying to plan some shows outside our local
scene in Oakland, L.A., Vegas, Arizona, so we will see where this record takes us!
Matt: Yes, we are. A few bands (In San Diego and in LA) have asked us to play with them
already. We've got a pretty cool show coming up in late august in Irvine. So with that being said,
we are in the process of booking a mini tour, 4 or 5 shows up and down the California coast. If
this works out there, we will continue to do these extended weekends more often and prepare
for a national tour and then a world tour!
TSWS: What's next for the band? 
Ciaran: We plan on touring this record and getting it out to as many people as possible.
I'm incredibly proud of what we've achieved with this album and I want to make sure it
gets all the exposure it can get. In the meantime we're still writing and have half of the
next record written already.
Dan: We are writing more songs and working on another record already. We were busy
with this record starting in late 2019 and had intended for this record to come out last
year in 2020 so in 2021 we were already in the process of writing more songs for the
next album with Dark Horse Coffee Records and just putting the finishing touches on
the new album. 
Matt: Well, our video release for "clean hands" is going to be at the end of this month and then
the full album shortly after. And then get out there on the road to promote this amazing record!!!
What are all of you doing when you're not working on songs or music? 
Ciaran: I really love going to the movies, that's a place where I go and just relax and let
go off everything the outside world is bringing in. Most of the time if I'm not with the
band though I'm either at work, spending time with my wife and kid, watching Arsenal
FC lose or sitting on the couch with an Acoustic guitar trying to write the next song!
TSWS: What kind of things inspire you to write? 
Ciaran: Everyday things like conversations I'll have with people, or things I read and
lines from movies, stuff like that. I really like to try and reinterpret those things that
inspire me through the lens of how I see the world. Sometimes that works, sometimes it
doesn't.
Dan: With how we write our songs I find that most of the time I'm inspired by what
Ciaran's bringing to the table with his lyrics and vocal harmonies. I believe that a lot of
music is so sort of predicated on giving sound to emotions and vice versa so I would
say I am inspired to constantly find the emotion in our writing.
TSWS: How do you write your songs? Is it during rehearsal? Chords first or lyrics? It's different
for everyone.
Ciaran: Mostly the songs start with me at home on an acoustic guitar. I try not to think
too hard when I'm writing, it tends to get in the way and stop any good songs from
coming out. So I'll just pick up the guitar and if nothing comes out in the first 5 or 10
minutes I'll just put it away. If I get an idea though I just follow that down the rabbit hole.
It could be a chord progression, or a melody that I've thought of, or sometimes even just
a line that I've heard someone say during the day that stuck with me. We have written a
couple of songs more collaboratively recently though which has been fun.
Dan: Typically Ciaran will have a basic chord structure and some lyrics and we will get
these in rehearsal and start cultivating the songs out of the basic blocks that he brings
in. Interestingly enough "Anymore" was the first song that we did with Matt and that
song came about from Matt and I jamming a simple droning riff on the bass and drums
before practice and Ciaran heard it and started writing words and we just magically had
a song!
TSWS: Who are all of you listening to right now? 
Ciaran: That's pretty different depending on the day. But the last 3 albums I listened to
were Tom Waits 'Mule Variations', The Killers 'Day & Age' and Ian Noe 'Between the
Country'.
Dan: Lately it's a wide range of stuff - Creeper, White Reaper, Eliot Sumner, Hobo
Johnson, U2, Liily, Marvin Gaye; it's honestly all over the place.
Matt: The stuff I've been listening to lately is Beck-Sea Change,Lucero-Tennessee, Failure-
Fantastic Planet & The Dwarves-Are young and good looking
Brett: Lately I'm listening to way too much 80s sad boy music haha lot's of shoegazey
dreamy stuff
TSWS: Can we expect more videos from you in the future? 
Dan: Absolutely, we are super eager to make more videos for a couple of the songs on
this album and I know Mikey from Dark Horse Coffee loves doing the videos so
hopefully we can get another out in a few months!
TSWS: Are any of you influenced by other forms of pop culture? Like films?
Ciaran: definitely old movies…one of the songs on the new album is called 'rebel
without a cause' so that probably says a lot!
Dan: Absolutely, I love 80s movies, there's something about the hopeful romanticism
and naivety of youth clashing with jaded and out-of-touch morals of status quo that just
bled through in a lot of the films that came out. I know that is a sort of timeless idea, but
lately, it feels like those issues are front and center, and being in my late 20s/early 30s
it's strange being sort of in the middle and understanding both sides. I feel that much of
our music feels like being lost in the current age, even our music feels different from the
mainstream.
Brett: I love film, I'm a sucker for anything horror and spooky! It's probably why I wear
so much black 
TSWS: Thansk for taking the time to talk with us guys!