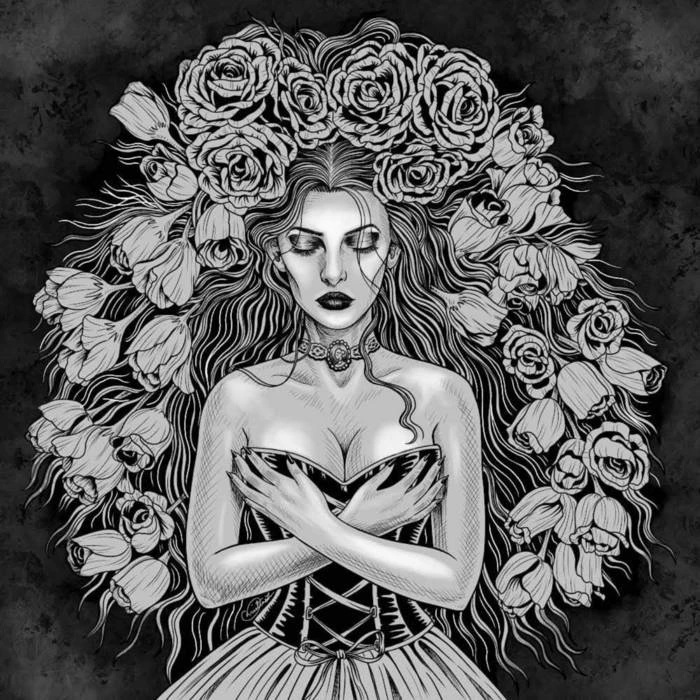 Seeing the name of this artist, Vickis Dream, I pictured a gentle, dream-like EP — even when I saw the dark artwork of a woman lying on a floral bed, I still wasn't fully prepared for the scorching energy of this hard-rock/metal banger.
This self-titled album Vickis Dream opens with an intriguing spoken piece atop an apocalyptic electric guitar riff and booming drums. This intro track, entitled "Awakening," has stark lyrics that forego subtlety and explicitly reveal blunt truths about a fractured world. I had to give it a second listen just to cover everything from the female-spoken passage — a passage from the band's fictional character, Vicki. Primarily, it covers her dream — a dream possibly inspired by reality, given the mention of a global virus, but it stays firmly in the realm of fantasy. Vicki talks of a dying world, being visited by several guardians, a last hope and a quest to save Planet Earth. It fills me with the same tenseness and excitement as War of the Worlds. If you love storytelling in music, this intro should intrigue you.
We journey onwards, transitioning into "Deja Vu," which has energetic, chanted vocals. The lyrics are, unfortunately, a little hard to decipher, but I love this track from a sonic standpoint. The furious drums and metallic power chords create a raucous energy, and there's a fantastic lead guitar solo towards the end of the song. There was also a spoken passage in an intriguing tone of voice that felt fun and bouncy, yet a little disconcerting; unfortunately, as mentioned, I couldn't really distinguish the lyrics, but it was a brilliant track, musically. But no track is quite as breathtakingly heavy as "Desert Punks," with the most mind-melting guitar solo towards the end of the track; but I also love this track for its unbelievably catchy vocal refrain in the chorus, chanted by a male-female duo. "We are the desert punks / We are the desert punks." What an earworm.
"Vandal Hearts" is a sudden blast of punk rock fire. Throbbing drums, sizzling power chords and chants from a chorus of men serve as a backdrop to scorching female vocals. The raw energy of this track really brings this band's character — Vicki — to life. It definitely feels as if we, the listeners, are traversing an apocalyptic landscape with her. And yet, there's a vibrancy to the darkness; it's electrifying music, but it isn't always sinister. It's music that makes you want to move your body. There's a mosh-worthy, head-banging aesthetic to this sizzling collection of tracks.
And "Priscilla" is a scorching closer to Vickis brief journey through a post-apocalyptic wasteland. It mirrors the intro in that there's an engaging spoken passage, begging Vicki to wake up — as the track progresses, the incessant demand for Vicki to wake up only escalated. What I enjoyed about this closer was that it maintained the apocalyptic darkness of the rest of the record, but it utilized eerie synths, rather than guitars. It was a creative artistic switch-up to end the album.