An Interview With Waycool Junior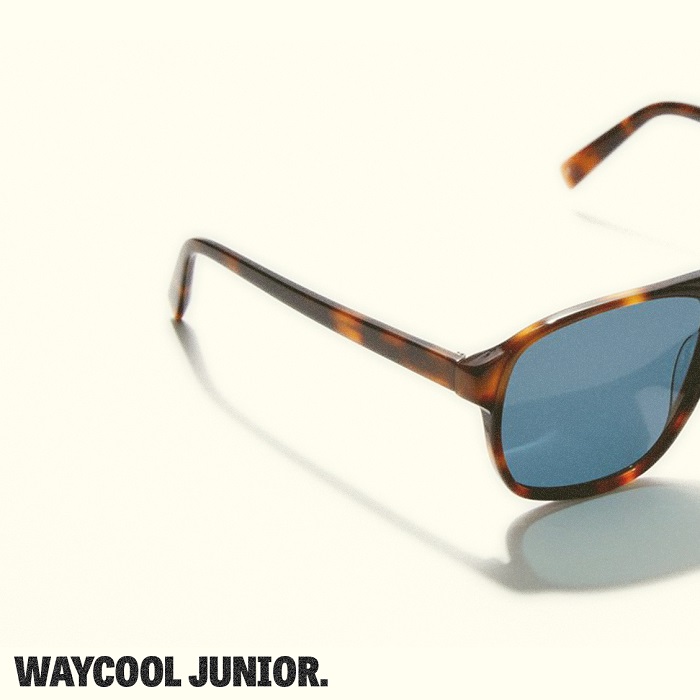 A fresh new EP release from Waycool Junior brings a tasteful melnding of classic dance, techno, synth-pop, and more with this all out colorful and vibrant record. 
The self titled EP is packed with subtle vocals, sharp kicks and growing beats. The songs build in intensity and new sounds are scattered throughout the ether's of the songs giving them added life. 
These are dance all night style dance songs that keep to that real deal feel that gets you pulled in and hooked. 
They have that nostalgic undertone that makes you think of raves when you were growing up and how tracks like these kept you going for hours on end. 
There is a crisp european electronic tonality to it at times especially in the synths at times and each track has a sort of life of its own really. 
These are changing and breathing songs that get your blood pumping and make you want to jump up and down with your fists in the air.
Waycool Junior has encaptured a certain sound that we'd thought we'd lost. 
It's refreshing and invigorating to hear an EP like ths one cross our path. 
It's pleasurable, danceable, fun, addictive, and has a vast soundscape that sticks with you.
With the release of such a brilliant EP, we wanted to have a talk with Waycool Junior about the EP and where it actually came from. 
Here's what happened.
TSWS: Okay so let's start with the self titled Waycool Junior EP. The EP has such a great dance pop feel to it and blends old school and fresh styles together! Where did this record come from?

I'm glad you think so, that was certainly the goal! I had no plans for the longest time to release an E.P. but after several months of making strictly house tunes, I realized that I had a pretty good base to show not only my own personal producing style, but resonate with the tracks that I like to play while I'm DJing. Pretty quickly I put together some paperwork to start Waycool Records Inc. , set these for release, and here we are.

TSWS: I'm hearing several styles on this release. Who are some of your biggest musical influences?

There are way too many to count, but it differs for DJing and Producing. As far as DJ's, pretty much the entire J.E.S.u.S. crew (Jackmaster, Eats Everything, Skream, Seth Troxler), and musically would have to be easily Kerri Chandler, Point G, Lorenzo Chiabotti, DJ 3000, Dennis Ferrer, and Nasser Baker. All of these I feel like are required reading, they bring so much to the table.

TSWS: So how did this all begin for you really? When did you fall in love with making music?

I actually used to play violin as a kid, and started that in the first grade. I never really started listening to electronic music until late high school and into college however. Back then soundcloud was a bigger thing so lots of great remixes and genre-less electronic music would get put out on there. Then when I joined a fraternity in college, I started to pay attention to what one of my friends was doing as they would DJ all of the parties. At a certain point, I would start going to listen to him practicing in his room just sitting there and seeing how he would mix between tracks. It was fascinating for me but my own endeavors wouldn't start for a bit longer. This was before the pandemic, so when the pandemic hit, I was graduating from school, which meant no parties, no live music. But shoutout DMT because without him there would be no WJ!!!

I moved back home, but every day would walk outside (pretty much the only thing anyone could do), and started listening to and collecting more house style tracks in my own personal playlists. This is when my taste started graduating from more EDM style tracks to the likes of Kerri Chandler and other, deeper and more organic sounding DJ's and producers. I knew that I wanted to get involved somehow, but had no producing knowledge, and had never tried my hand on the decks either. After moving back to Philadelphia after the pandemic was winding down and things were opening back up again, I had toyed with the idea of buying a small set of decks just to get my feet wet. I was online one day and saw a clip of a Skream Boiler room from 2013 or so where he drops "I Enter" by Secondcity and Tyler Rowe. The energy from watching that was infectious and I think that I bought a small Pioneer DDJ almost immediately after that. 

I started producing within only a month or so of getting the decks, and now it has been probably a year and a half of consistently making tunes. I did not like producing at all at first however. The frustration that can arise from not being able to get your tracks sounding like those of the artists you look up to the most can be a huge barrier to entry. I tried to put into words however what it was about my earlier tracks that I did not like, and then used the power of the internet to increase my knowledge about sound design, processing, arrangements, etc. by searching "how to not make (blank) sound (blank)". There is some misinformation out there but the thought process has worked well so far, and I'm still learning as much as I can. I also now have some connections with other DJ's/Producers that I can send my tracks to, to get their take on things which is amazing. 

TSWS: What's next for you as an artist?

Besides this last release, to celebrate the start of the label I have a release coming every Friday of April. Not for any reason other than I have way too many unreleased tunes, and also just to show that I can get down in a couple of differently styles. Playing more club gigs however has been a huge focus for me this year especially. I have been able to play a couple local shows/raves, but in May I am opening for Laidback Luke which is going to be huge. As every DJ knows the transition from playing in your apartment to your friends to playing in a club environment is totally different ballgame. I have been lucky to have access to some great events listening to both world class DJ's as well as friends of mine and the experience of going to see these shows has totally reshaped my sound, and helped immensely with the process behind creating this E.P. Keeping this in mind, I also want to continue to make and release tracks that have a bit of texture and flair so that the listeners eyeballs don't glaze over, but with enough beef that they can punch their way out of a club sound system.

TSWS: What inspires you to write a track?

Now that I think about it, I don't actually think of anything specific that propels me to sit down and write a track. I feel like there is a sort of cycle that I go through where I will collect and listen to a lot of music, practice DJing with it, gain a new understanding of what my sound is, and then sit down and write tracks until I tire of it and then start looking for new tracks again because I haven't heard anything new in a while... When I am in the seat however and trying to put something together, the process is always the same. I usually think to myself, sit down for an hour and see what happens. If it's trash I can always switch entirely or get up and come back, there isn't much attachment there and I don't spend ever more than a night making a track, only coming back to mix and tweak as necessary. That is not a flex btw, I never have understood the hype around making tracks quickly, I just have terrible ADD so if I don't make something happen pretty quickly the energy starts to dissipate. I have a template with a lot of the processing plugins loaded to mixer tracks so it can start sounding crisp and beefy right away. Then I am usually either step sequencing or looking for some sort of percussive backdrop to layer together to get into a groove. It can be quite aimless but as long as there is movement behind it, then I can get in the mood to write a melody or bassline. I have no idea how to play the piano, so this usually consists of me surfing through sounds in various plugins hitting random keys until I do something by accident that catches my ear. From there the rest is just building it out and making subtle FX changes, looking for adlibs and a good vocal, pretty normal stuff. As much as I would like to think that some of it is random and a happy accident, the songs I have been listening to recently definitely play into how a track I am working on comes out. Because I may pass up on certain sounds, or subconsciously write the melody or bassline in a similar way to something I have been really into.

TSWS: What are you doing when you're NOT working on music?

I do have a day job but I would rather think of it as I am a DJ that is moonlighting as a businessperson! When I have free time though I love eating out, DJing and listening to music of course, and even just going out to places that are not club environments with my friends or my girlfriend. Watch a good bit of movies and TV as well but that has gone down definitely since I started my music career... And I have also begun to collect and incorporate some Vinyl records into my sets, both house and non house stuff.

TSWS: Who are you listening to right now?

Not any artist in particular, but one thing I have been focusing on recently is the 2008-2014 era of house music, which I listened to a lot of leading up to the creation of the E.P. Around this time you have DAW technology already at the point where people can basically make a radio/club ready track with just the use of a laptop, so a lot of different artists start popping up. Additionally, we start seeing "Indie" music dominating cultural discussions and gaining the popular vote of teens and early twenty somethings. So as almost a rebellion against the prevailing EDM sound, most of the "House" releases during this time have a sort of indie flair to them, and served no master. It is hard to explain, as a lot of these tracks don't share in the actual "Indie" sound that is easier to identify with singer/songwriters and bands. The the best way to pick them out is the intentional downsampling of drums, strange spoken word vocals which while not new, get stranger with the increased use of FX over them, and also sometimes even the complete rejection of the use of melodies. More layered, they don't rely too heavily on any one element to present the full package. Even the most percussive of these tracks can feature aimless synth pads and ambient soundscapes. And rather than leaning heavily on samples of older tracks for a full 8-16 bars, samples became more prevalent as stabs, words losing their meaning in context as their syllables become reduced to ear candy or even pseudo-drum sounds. They were darker, moodier, yet the use of the modern production techniques would make the overall sound clean and palatable, certainly boomy enough for a club but maybe too underground for the Vegas pool party, so this music started to make its home in underground clubs. Maybe today a select few can have the honor of saying that they were into this stuff "before it was cool", but without the prevalence of streaming and Instagram at the time this music was largely dismissed and is still not far enough in the rearview to be observed as a period of house music. The reason why I like them particularly is because they are hard to box in. They strike a delicate balance between solely artistic expression and the sort of brute utility necessary for a club track. Additionally, as should be expected of music from a transitory period, you can switch between decades with them quite easily. I can play a newer track, and before switching into some Mood II Swing or Todd Terry, by playing a song from this era I have a nice bridge that lends to a smoother mix. This is not to say these tracks are in any way an "ugly stepchild" of house music, and this style has not yet disappeared. Many of the artists from this time are now label bosses, major headliners, and haven't overly commercialized the style... yet. But instead of picking up a record, or downloading an MP3, maybe grab a... CD? Or at best download a mixtape album from the time, and you will surely find what I am talking about. My biggest mistake starting to DJ was listening to these and thinking that they were just meant to be thought pieces or intellectualized headphones-only "selects". Put them on a pair of speakers and turn up the volume, and watch how they change into something completely different the louder you go.

TSWS: Are you putting any thought into live performances? 

Live performances are all I can think about nowadays! But seriously, I am trying to play out basically any chance I get. This includes everything from the nightclub opener for Laidback Luke and a house party this weekend at the infamous Trash Heap.

TSWS: Do you have a home studio where you track your stuff?

If you consider the home studio a midi keyboard hooked into my computer and my decks over by the window, then yes. I also have a Behringer Pro-1 and a Zoom Rhythmtrak RT-123, but I still need to figure out what on earth I'm doing to get those hooked into my audio interface... if anyone has any tips let me know.

TSWS: This EP seems like a big undertaking. What kind of advice might you have for other up and coming artists out there?

Not sure that I am qualified to be giving any advice but there are a couple of boxes that I wanted each track on the E.P. to tick that hopefully others can take something away from. The first is obviously that they are authentic and have my own sound. Through the combination of certain processing technique and sample selection, I felt all of these tracks, while heavily influenced, were not a direct emulation of anything I had heard before. The second was that I made the tracks exist outside of the sound of today's house releases. I have some releases coming that definitely fit the "now", and there is nothing wrong with that. But for my first E.P. , even if the flavor of the month changes these songs I felt had qualities that made them durable for more than just the now. More than anything though, I made each track and chose these ones specifically because they give a good window into my mind as a DJ as well. Each one tells a different story of the kind of tracks I might play and what my idea of "house music" is and what it should be. I have made plenty of songs that will probably never see the light of day just because they were more art projects for me than anything. And the other releases I have had were all either really direct sub-genre specific emulations, remixes, things of this nature. These are the first batch that I feel tell a lot about me.

TSWS: Before we go, what would you like to say to fans of the music?

If you like what you hear, there is way more coming. And if you like house or electronic music AT ALL, the best way you can support is by getting involved in your local scene. Places here in Philadelphia like Warehouse on Watts, The Dolphin, The Barbary, are great for a night out. And these spots and others like it don't just open their doors for business every weekend. They rely on organizers to create a party, DJ's to provide the music, a whole cohort of support staff to make sure the place is working, and of course the patrons to show up and enjoy themselves. Other than that... don't take anything too seriously!