An Interview With Yan Simon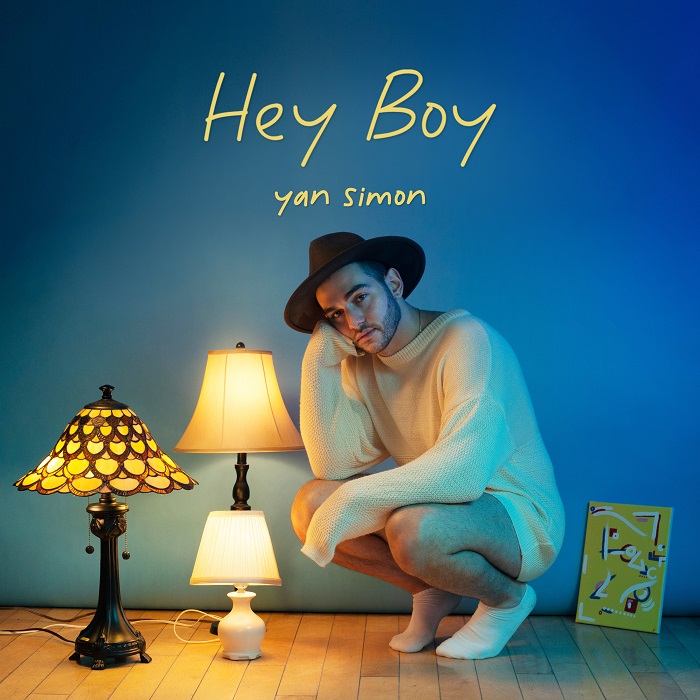 A fresh single release from Yan Simon gives off a colorful and crisp pop feel complete with a bright sound and an array of instrumentation to go along with the honest lyrical approach and endlessly fun vocal style. 
"Hey Boy" is a danceable single with keys and horns that build with layers of pads and amped up percussion that give the song an added depth but leave enough room for the tasteful vocal harmonies and hooks belted out with each chorus. 
This track gets you hooked and does it with the quickness. 
The release has a ton of elements that show the artists knack for writing pop singles but it's the vocals that really shine on this one. 
There is a youthful gusto and energy that makes the song feel alive and breathing and it certainly leaves an impactful mark especially for anyone that has a real love for pop music. And let's face it. That's everyone. 
This track showcases several sides to Simon in one go but also shows his presence as an artist which is enticing and enjoyable to say the least. 
This is an infectious song and everything is performed with a certain tastefulness that allows you to really get into it. 
Nothing's really overdone. It's all just right and it comes through with such a vibrant flavor that it makes you want more.
"Hey Boy" has a way of sort of sticking with you for quite some time after the song has already ended and it's that chorus. 
It's a huge chorus and hits with a robust and clear love for the craft.
With  such a killer release we wanted to have a sit down with Yan Simon to find out where this track came from and what may even be next for the artist. 
Here's what happened.
TSWS: Okay so let's start with "Hey Boy". This track has an edgy but fun and a colorful pop vibe to it. Where did this track come from?

-Thank you! 'Hey Boy' is inspired by my boyfriend, actually. I live in Toronto, and he lives in Ottawa for school. We don't always get to see each other as often as we'd like, which can be difficult. 'Hey Boy' is about how we make it worth it. He's been asking me to write a song about him for a while, actually. I told him that I only write songs about people if they've hurt me, so we've been joking that he'd have to do something really bad. But then I realized that I was ready to lean into a feel-good type of sound and create something that was joyous and positive. Most of my other music has a lot more dark undertones, but 'Hey Boy' is this fun, bright love song. I'm glad that it comes across the way I intended it to! There is a lot of light in this relationship.

TSWS: I'm hearing several styles on this release. Who are some of your biggest musical influences?

-I always say that Lady Gaga is my number one musical influence, though I don't know if that comes across in 'Hey Boy'. I've been a Little Monster since I discovered her in 2010. Everything about her, from her theatricality to the way she uses her voice is inspirational to me. She's the most versatile artist of our generation, in my opinion. I wouldn't say that 'Hey Boy' is necessarily influenced by her or any other artist, though. When my producer Dima Graziani and I were creating the instrumental for 'Hey Boy' we were mainly chasing a feeling as opposed to a specific sound. I wanted it to be light and fun so as not to weigh the song down. There's also not as much drama in my voice on 'Hey Boy' as in some of my other songs, like 'Hero'.
My other musical heroes are ABBA, Elton John, Miley Cyrus, Queen, Muse, and Ninet Tayeb. 

TSWS: So how did this all begin for you really? When did you fall in love with making music?

-It all goes back to my mom. She taught me the basics of piano when I was just five years old. When I was six my parents enrolled me in music school where I studied classical piano, music theory and history. I also performed a lot as part of the curriculum, so music and performance have been ingrained in me from a very young age. 

I started writing songs in grade 11. They were mostly about being queer and closeted, falling in love with the wrong person, and also about depression. Some of those songs actually ended up on my debut studio album 'Are There Any Rules?'.
In 2017, while in university, I was a cast member in a community theatre group. One day I was asked to write a soundtrack for an original musical. This was my first taste of professional songwriting, and honestly it was such an exciting moment for me. Being a part of the cast and performing the songs I wrote on stage together made me realize that storytelling through music is what I am meant to do. You can actually find those songs on streaming platforms if you look up "The Old House (Original Cast Soundtrack)".

TSWS: What's next for you as an artist?

-Everything. There's never an idle moment! First of all, I'm constantly writing new music, and always conceiving the next music video idea. I am currently preparing to shoot a music video for 'Hey Boy!'. Also, now that the lockdown has eased in Toronto, I try to perform live as much as I can. I've been doing open mics, paid gigs, and talent shows in Toronto's Kensington area for the past six months. I've also been building new relationships with other artists and performers, and I've done numerous collaborations already. There are a few in the works right now!

My aspirations as an artist is to have my music reach as far and as wide as possible. I am literally buckling my seatbelt and going full speed ahead.

TSWS: What inspires you to write a song?

-It can be the most random thought, or a thing that somebody says, or a line in a movie that turns my world upside down. I have this folder in my phone called 'Material'. Every time some random thought strikes me I type it immediately. I get those moments about two to three times a week. Then, whenever I sit down at my piano for a songwriting session, I open that folder and browse through those thoughts or phrases that I wrote down and expand them into songs.
For the past few months I have been inspired to write songs about my own mental health. It feels good to be able to put something into words and melodies that can hopefully make someone else feel that they're not alone. A good example of that is my previous release 'Clear Lines', and this new song I'm currently working on called 'Living in The Night'. It will be my next single after 'Hey Boy'.

TSWS: What are you doing when you're NOT working on music?

-I work as a personal trainer! I've graduated university with a double major in Biology and Kinesiology. I seriously considered a career in sciences for a while, because I love biology and the natural world. I decided to give music a real and honest shot because at the end of the day, it's what makes me feel the most alive, and it's been my dream since I was a kid. Working as a personal trainer allows me to help other people, which I also love doing. 

I love going on walks, exploring nature and new places in my city and province. I also love cooking. If I'm feeling stressed about something I will often turn to cooking to gain a sense of calmness and control. 

TSWS: Who are you listening to right now?

-I actually go out of my way to listen to at least one new album every week. I will go on Spotify and type in the first artist that comes to mind and listen through an entire album. The last few artists that I have listened to were Fiona Apple, Beck, Feng Suave, P!NK, and most recently Summer Salt. I actually went to see Summer Salt live in Toronto last night and I was blown away! Oh, and Lady Gaga, of course. I'm seeing her in August in Toronto as well, so I'm hyping myself up!

TSWS: Are you putting any thought into live performances? 

-Absolutely. I had a performance two days ago at Kensington Market in a place called La Cevicheria. It was actually a singing talent contest. There were 6 contestants and we each had to prepare four songs. I was the only one who performed originals as well as covers. The audience voted for the top 2, and then we had to battle it out with one more song for the win. It was a very cozy venue so there wasn't room for anything big, but I had outfit changes, and I threw confetti, and I ended up winning it!
I have more performances lined up with fellow electro-pop artist Melotika, and another with pop-rock artist Apricity. They are both fierce, visual and performance-driven artists that I'm lucky to know. Part of the reason I gravitate towards strong and creative female artists is that they inspire me to be myself. Being a fan of Lady Gaga opened this door for queer liberation and love of performance art that makes me the artist that I am today.

TSWS: Do you have a home studio where you track your stuff? 

-I don't at the moment. When I write a song I come up with the chords on the piano and I type up the lyrics on my laptop. I always make voice recordings on my phone of all the various iterations and drafts of the song as it comes along. Once the song is ready I go to my producer Dima Graziani. He has a home studio where we lay down the guide track and start building the instrumentals. We will have a session musician come over if we really want a live instrument. I will play the piano on the actual record too if we feel like we need it. Then we record the main vocal, the harmonies and ad-libs (which is my favourite part), and off to mixing it goes!

TSWS: This track seems like a big undertaking. What kind of advice might you have for other up and coming artists out there?

-I am still an up and coming artist myself, I have so much more to learn. Something that would have helped me a year ago when I started is knowing that it's not enough to just make music that you're proud of. You have to build connections with your peers, reach out to people, and market yourself. This is a competitive, tough industry. If you decide that this is what you want to do, you better get ready to leave your comfort zone.

I would also like to say that it can be a very lonely endeavour, and it can take a heavy toll on your well-being. As independent artists we go through periods of time where it feels like we are creating into a void, like nobody is listening. Just remember to take care of yourself, and not to value other people's opinions above your own self-worth.

TSWS: Before we go, what would you like to say to fans of the music?

-I would like to say thank you. Your support and listenership means everything to me as an independent artist. The whole reason for my writing is to create a space for you to feel like you belong, and that there is a voice that can represent what you are going through. I've been making music for the past year and a half. A lot of my time and resources go into this, and I'm certainly not in it for the money. If I know that my music, lyrics, or performance has made your week better, or that it empowered you to love yourself more, then I did something right.