An Interview With Amanda McCarthy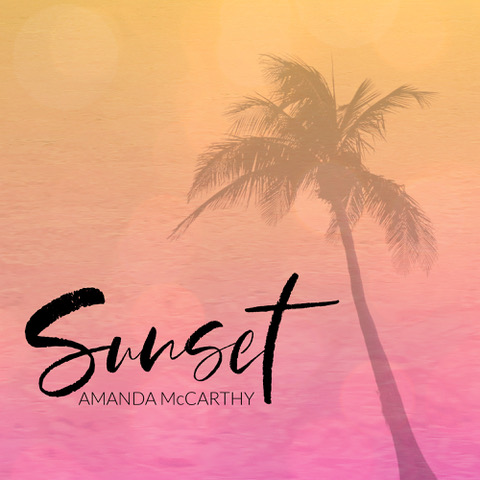 A gorgeous new single from Amanda McCarthy brings on the summer sunset pop feel with touches of nostalgic retro-pop undertones and tons of color that all come together to create this vivid and warming but energetic and youthful single. 
"Sunset" is an absolutely appropriate name for this track as the whole thing just boasts that feel from start to finish. 
This track has classic guitars, big beats and drums, and McCarthy performs with heart and a fun overtone that lets you get loose and dance around the living room as you sing along with the chorus.
This was a good time and showcases that beautiful and passionate pop feeling that you want and just in time for the season. 
This single is really well woven and performed and you'll find McCarthy has a number of gems out there that all have a different tonality but all fall into that colorful pop songwriting style and soundscape. 
Her songs are incredibly danceable, memorable, can be impactful, and cinematic to boot. 
But most of all, they're hands in the air, fun. 
You want to sing along; you want to turn it up. you want to have a good time. 
Her songs can be party songs easily. And they are but they all have a bit more meaning behind them almost like layers to be peeled back and it's great to hear that in this style of pop music. 
It shows intelligent songwriting and maturity in the process but still all done with that youthful, bouncy energy. 
With the release of "Sunset" we wanted to have a chat with the artist to see where this single came from and waht may be next for her. 
Here's what went down.
TSWS: Okay so let's start with "Sunset" This single has a wonderful pop feel and that summer vibe!  Where
did this track come from?

I quite literally wrote "Sunset" while watching the sunset in LA. The hook came to me immediately, and the person I
wrote the song about texted me about 5 minutes after I started writing - after I hadn't talked to him in months. That
seemed like a sign to me. I really wanted to capture that moment in LA within the production, which is why I really
embraced the LA pop vibe and 80's synth summer influences for this track.

TSWS: I'm hearing some great styles on this release. Who are some of your biggest musical influences?

I hold a lot of strong influences in the pop, rock and country genres. Some of my favorites include: Taylor Swift, Green
Day, Fall Out Boy, Aerosmith, Kelsea Ballerini, Kalie Shorr, Sasha Sloan, Lauren Weintraub, Mayday Parade, All Time
Low, Martina McBride and LeAnn Rimes.

TSWS: So how did this all begin for you really? When did you fall in love with making music?

I've loved music since I was a little kid, but songwriting became a source of peace and escape from me after going
through some traumatic things as a teenager. It was the one thing that made me feel sane and helped me process my
experiences - I was hooked. I have learned to apply that as a coping and processing mechanism ever since, through
the victories and challenges of my life as I continued to grow up. I write all kinds of songs for other artists, but every
song that I have released as an artist tells the story of a very specific moment in my life.

TSWS: What's next for you as an artist?

After taking a long time to focus on writing for others, I was hesitant on jumping back into releasing music as an
artist. But when I got engaged, I realized there were some things I needed to say and let go of pertaining to past lovers
- and I want that mission to be completed before the wedding so that I'm not getting married with past ghosts hanging
around. These stories will make up my next full length album, and will be out within the next year.

TSWS: What inspires you to write a song?

I'm inspired by the world around me. When I'm writing for myself, it's usually a very introspective and personal
feeling, but when I'm writing with others the possibilities are endless. We could write about their lives, world events,
imaginary characters - you name it. I can write a song about anything if I'm feeling the vibe.

TSWS: What are you doing when you're NOT working on music? 

Music is my full time job, so those moments are few and far between, lol. But I am usually hanging out with my
daughter!

TSWS: Who are you listening to right now?

Honestly, it depends on the day. My biggest genres that I bop around between are pop punk, modern pop, classic
rock, 90's country, and Taylor Swift. (Yes, Taylor is her own genre, haha, her versatility inspires me!)

TSWS: Are you doing live performances? 

Yes! I perform full time, usually around Nashville but also on tour as well. Show dates can be found on my
website www.amandamccarthy.comor at www.bandsintown.com/amandamccarthy

TSWS: This single seems like a big undertaking. What kind of advice might you have for other up and
coming artists out there?

Funny enough... I held on to this song for a long time and didn't know if I would ever release it. My previous single
release "Don't Stop Me" was a very thorough, planned out, calculated project with a 2 month pre-save campaign. At
the beginning of June, I found out that I would be playing at Nashville's iconic Listening Room Cafe, and felt that I
should release a single around that show. And I immediately had the vibe and feeling that it was time to show
"Sunset" to the world. So it was finished, put together and released really within two and a half to three weeks. Which
is the exact opposite of how I handled my last release, but I'm so glad I listened to that vibe within myself because
"Sunset" has been one of my most well received singles yet. All of that is to say - always listen to your gut, and make
the music and release decisions that feel authentic to YOU. Everyone and their brother has a "roadmap" to "success" -
but success looks different for everyone so always follow your own path and make your own rules. I find the most
success in music when I am being authentic to myself and my own personal vibes.

TSWS: Before we go, what would you like to say to fans of the music?

This is my first straight-up pop single. The only other pop songs I've released were album tracks that didn't really
receive any special highlight. My sound is usually more country/rock based, so this was something very different for
me. But I'm glad I took the risk and decided to enter Sunset Season! To my listeners who support my multi-genre
movement, and my mission to give each song and story the treatment it deserves: thank you for listening with an open
mind and caring about the stories I share.