An Interview With Anna Grace Beatty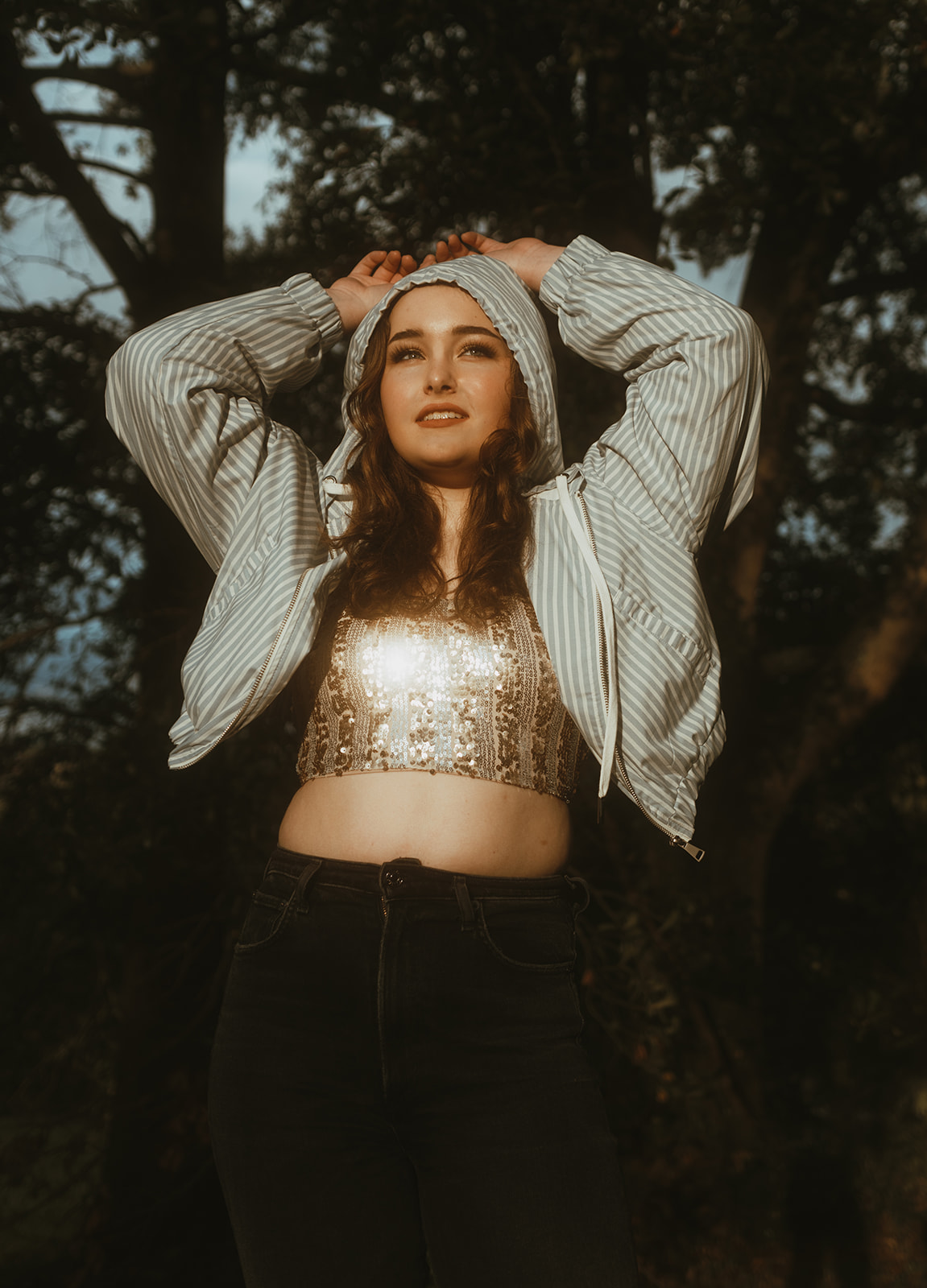 A gorgeous new album from Anna Grace Beatty showcases a youthful and catchy songwriting style that embraces the truths in life, and takes on a contemporary pop undertone with all sorts of vivid imagery and a colorful palette and performances. 
The Starting Over album is a robust one that touches on so many personal moments in a life. These songs are like chapters or letters to people. They bleed honesty and heart. They call out and cause memories of your own to pop into your head because they are so relatable. 
The performances are beautiful and Beatty has this alluring voice that feels cinematic, anthemic, empowering, and engulfing in all the best ways possible. 
The record is full of pleasant surprises in the form of changes that make the hairs on your arms stand up straight, an emotional drive that hits a sweet spot, and a presence that you can't deny.
Beatty seems wise beyond her years and that old soul comes through in the songwriting all over the place. 
You get the feeling that songs were written just for you. You become attached to them in different ways and what was once hers, becomes yours.
The music is blissful and shows diversity as they edge on Americana at times, stick to that pop undertone but has this maturity and gracefulness that's not easy to come by these days.
This record is Beatty literally starting over indeed. She's been through some things but she won't be held down any longer. It's time to start fresh and what better way than with this record release.
This album was wonderful and displayed such a thick passion and soul that it sticks with you for days after it's ended. 
With the release of such a great record, we wanted to have a chat with Anna Grace Beatty to talk shop about the record and more. 
Here's what happened.
TSWS: Okay so let's start with the Starting Over album. This record has a great energy and crosses into Americana, pop, and more! Where did this album come from?
 Thank you! The short version of the story behind this record is that I was in an abusive relationship that started at the end of 2019, right before Covid. It was obviously a really bad situation, and I completely lost my own identity, including writing music. Then, to skip over to when things started to get better, I left the relationship after a little over a year. Almost immediately, my love for songwriting came back, and I started thinking about making another record. Writing this record and being able to document and process what happened to me through it was a huge part of my healing and, honestly, saved my life.

TSWS: I'm hearing some great styles on this release. Who are some of your biggest musical influences?
 That's always a really tough question to answer fully, because I listen to pretty much everything and love so many different styles, but some of my major overall influences are Jason Isbell, Kacey Musgraves, The 1975, Patty Griffin, and Taylor Swift!

TSWS: So how did this all begin for you really? When did you fall in love with making music? 
I've loved music my whole life, and it's been my life for just about as long as I can remember. I started out playing classical piano as a kid, then picked up the guitar when I was 13 and started writing not long after. I got really serious about pursuing it as a career at 14 - that's when I first started playing shows and spending time in the studio. I released my first EP when I was 16 and started touring regionally right after that!

TSWS: What's next for you as an artist? 
I moved to Nashville about six months ago around the same time that "Starting Over" came out, so I've been really working on trying to get established there and find my place in the community. It's been really hard, but I feel like I'm starting to get settled, and I've made some awesome friends that I feel super lucky to get to make music with and just hang out with. I'm getting to co-write a lot, and some great songs are coming out of that. So, that's definitely where my focus has been, and it's been great. As far as my next release, I have a couple of songs that I feel really strongly about and have gotten a really good response at shows, so I'm hoping to release them maybe as another EP by the end of this year or early next year!

TSWS: What inspires you to write a song? 
My songs are 100% autobiographical - I honestly don't really know another way to write! They're always written about a specific story or experience of mine. It's my way of processing the things that happen in my life, and nothing else gives me the sense of clarity that writing does, so that's what really drives me to do it.

TSWS: What are you doing when you're NOT working on music?
 I feel like my whole life is related to working on music, either directly or indirectly... haha! I have two jobs and spend a lot of time working just to pay the bills in Nashville. At night, I'm always out at shows and writer's rounds to support my friends, meet new people, and hear great songs. I'm also really lucky that my hometown is only a three-and-a-half hour drive from Nashville, so I get to spend a lot of time with my family, too. 

TSWS: Who are you listening to right now?
 I love this question! I love Kendrick Lamar's new record and have been listening to it a lot. I'm a huge fan of The Band Camino, so I listen to them all the time, and I got to see them live a few months ago. One of their openers at that show, Hastings, was SO good and I've been hooked on his music ever since. I'm also super excited for the new Maggie Rogers record that's coming out this month, and the new 1975 record that'll be out soon!

TSWS: Are you doing live performances? 
Yes! All the time. I love playing writer's rounds in Nashville and am doing as many of those as I possibly can. I have a few coming up in July and August! I also love to play shows on the road opening for other artists, so I'm always working on making those shows happen. I've gotten to do a few really amazing shows that way this year - it's my most favorite thing to do.

TSWS: This album seems like a big undertaking. What kind of advice might you have for other up and coming artists out there? 
It definitely was a huge undertaking, in every sense of the word. I'm the one who needs the advice, to be honest, but if I were talking to a young girl who's where I was six years ago when I started, I would say, first - ALWAYS listen to your gut instincts and don't let anyone dissuade you when something makes you uncomfortable or doesn't feel right. Second, learn to do as much as possible on your own to manage your career, particularly on the business side, and learn as much about the industry as you can. Seek out people you trust and respect, and absorb all the wisdom that they earned the hard way. Then, third, say "yes" to as much as you can and take every opportunity you get, as long as it feels safe. Gain as much experience as possible, because you'll learn how you do and don't want to do this and how to develop your artistic identity for yourself. Knowledge is power and protection!

TSWS: Before we go, what would you like to say to fans of the music? 
Well, first off, every single person who's taken time to listen to this record means the absolute world to me. I've had so many people come up to me at shows or message me on social media and share their experience with abuse, which has really shown me just how disturbingly common of an occurrence it is. They've told me how they hear their story in my music, which is just unbelievable and the greatest gift I could ever be given. So, I would just want to say the biggest thank you for listening, for sharing your amazing strength and courage with me, and for motivating me to keep going. I'll never be able to articulate how much that means to me.