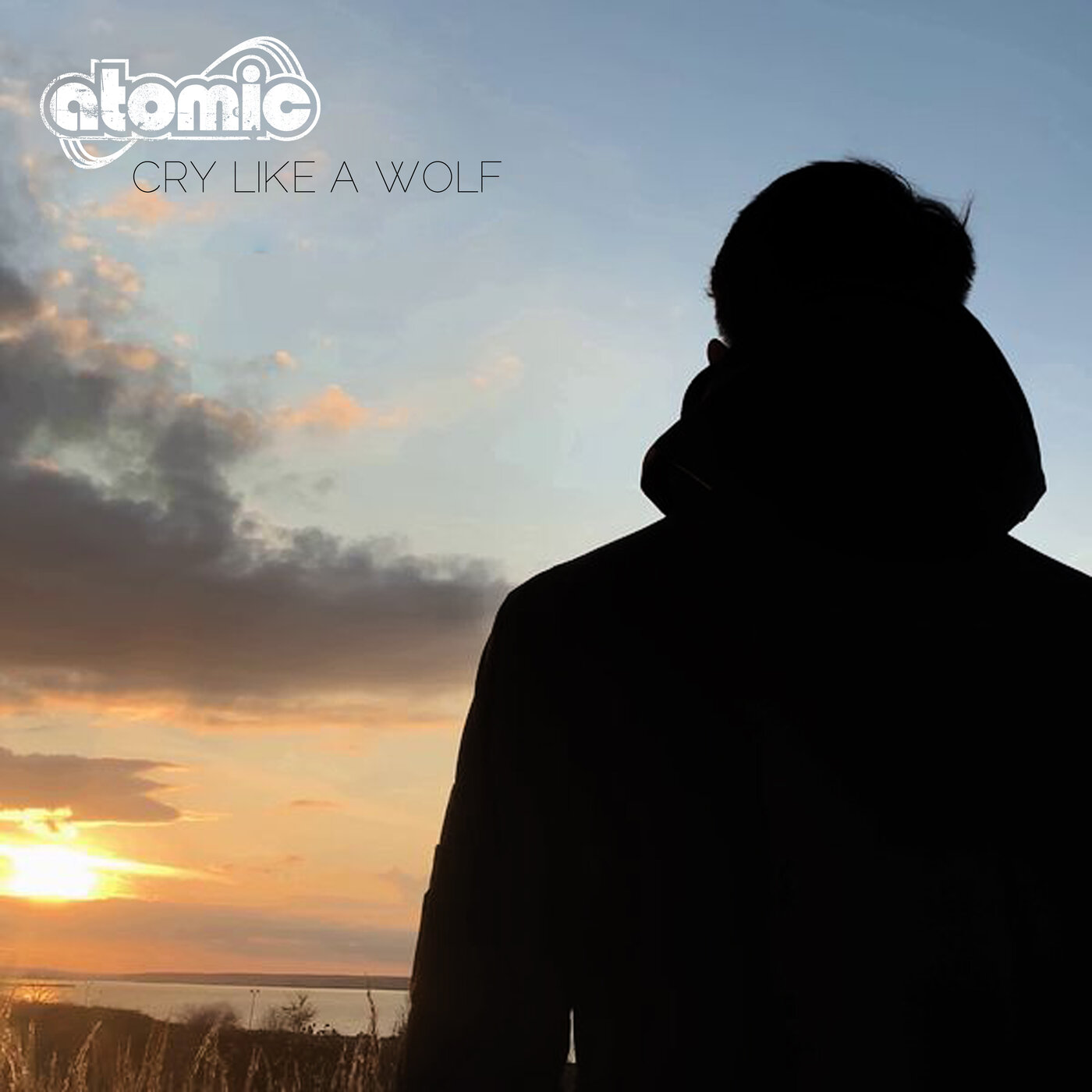 A new single from Atomic brings out a cinematic and driving soundscape with vast synths and keys, a deep groove and a crisp pop oriented forefront that boasts a rock undertone and a set of honest and attention grabbing lyrics. 
"Cry Like a Wolf" is quite an opus of a song and it belts right into that chorus that becomes the most infectious part of it all with a lush and full-bodied feel. 
The band has a unique style and it feels welcoming and anthemic at times as heavy handed melodies fly through with backing vocals that swell and bring added texture to everything. 
The track showcases Atomic's ability to grab at you and let you fly alongside them with the sounds.
The track gets personal and digs into inner thoughts and that part of it is really relatable and it works like a charm. 
This release boasts this sly and cool approach that blends pop and classic rock together without a hitch and it all comes through with a colorful but edgy vibe.
"Cry Like a Wolf" bares an impactful feel and a truthful and straightforward presence that makes you want to see them live. 
The energy on the track is just perfect. It's not overwhelming but it fits and helps the genuine feel of it. 
This is the type of song that feels like you've been hearing it on the radio for a few years now. It's got that sheen to it and shows less boundaries than most which is very refreshing. 
The song feels powerful but subtle at the same time and easily gets you hooked on Atomic. 
With the release of such a tastefully woven single, we wanted to have a chat with Atomic to find out where this came from and what may be next for them.
Here's what happened.  
TSWS: Okay so let's start with  "Cry Like A Wolf". This single has a great cinematic rock feel to it. Where did this track come from? I'm hearing some great styles on this release. Who are some of your biggest musical influences?

Especially on this song we were influenced by Oasis, Johnny Marr, Talk Talk and New Order. But that was only in the studio when we were recording and mixing. It's a relatively unusual song for us and our fans who have known us for a long time. We let ourselves be influenced by synthesizers and guitar pop sounds of the 80s and combined them with current british indie rock sounds. It´s a good mixture of different styles that harmonize well. Actually when the song was written, it was supposed to be in the vein of the 70s classic "Beast of Burden". At first the song was rougher and rockier. More guitar riff oriented. It still has the touch of The Rolling Stones when we play it live at gigs but in the end the studio production became more and more poppy, modern and epic due to the mentioned musical influences of the song, which we were actually quite happy about because it gave the song a more cinematic feel to it. It simply became a bigger tune.

TSWS: So how did this all begin for you really? When did you fall in love with making music?

Me and my brother founded the band Atomic after a visit to the music club "The Atomic Café" in Munich in the late 90s. This was preceded by love for the band Oasis in the mid-90s and love for the 60s beat bands. We discovered this in 1991 with the The Kinks song "You Really Got Me" while most of our age listened to bands like Metallica, Nirvana or Guns N' Roses, at that time we were pretty much familiar with current guitar rock bands but we couldn´t really identify ourselves with their look and attitude at all. Whether guitar sounds, whether clothes, whether hairdressing, which guitars they played as well. Everything felt wrong to us although they had some great tunes but a lot was missing that we loved so much from all these bands from the 60s. So for about 4 years we listened almost exclusively to music from the 60s and watched the Beat Club on german tv because we loved their look as much as their music. The Beatles, The Rolling Stones, The Who, The Kinks etc. The whole thing went on consistently until we saw an interview by Noel Gallagher in the MTV show called "120 Minutes" in 1994, in which the video clip of the Oasis song "Live Forever" went on so we wanted to be just like this band who, according to Noel's interview, were influenced by exactly our favourite bands of the 60s, it was a magical, life changing moment for us.

TSWS: What's next for you as a band?

We are still working on our new album which unfortunately has some production and release delays behind it due to the Corona crisis. However, we are in the final stages of production now. A new single taken from the new album will be released in the next months and another new song called "Back in the Race" will be heard on October 14th, 2022 in the martial arts action film "Accident Man: Hitman's Holiday" starring Scott Adkins who is previously known from films like "Boyka: Undisputed", "The Expendables 2" or "Marvel´s Doctor Strange". The film will initially only be available in theaters and digital on demand in the US before releasing to the rest of the world a few weeks later.

TSWS: What inspires you to write a song?

There are actually three songwriters in our band at the moment. Sometimes we also write songs together but most of the time it's not like that. So i have to answer this question in general because we have a very similar approach that inspires us in songwriting. Love is always a big topic. I mean, which songwriter has never written a song about the love of his life but there are also snapshots or experiences in life that inspire you to write a song with a certain topic. It can even happen that you sing about your dog, about a city, about love, about war and the desire for peace or about your best friend. All these topics are part of the songs of the new Atomic album. Life writes stories and stories write songs which of course can also happen that you like a song of another band very much and you let it inspire you while writing a song. That may not sound that exciting, but it happens to many musicians again and again. It happened to me as well.

TSWS: Who are you all listening to right now?

At the time i´m listening to Fontaines D.C., Sam Fender, Glass Animals, Tom Meighan, Pastel, Ride, George Harrison, Lola Marsh and Fil Bo Riva. Just to name a few. It´s always changing from month to month.

TSWS: Are you doing live performances? 

Yes, at the time we´ve planned several shows in Germany, Austria and Czech Republic but when the new album comes out, we will do more gigs in different places to promote the whole thing as usual. Just check our facebook site for gig updates.

TSWS: This single seems like a big undertaking. What kind of advice might you have for other up and coming bands out there?

Since i've been making music with Atomic for about 20 years, i can of course tell new current bands a lot about my experiences and give one or the other tip. On the one hand it´s important not to listen too much to others. You could have saved yourself a lot of shit and you could have been more successful if you hadn't listened too much to others. On the other hand, do your thing what you like and what you know best, even if it might not be up to date in terms of sound and style, but in my opinion, being authentic is very important to exist as a band for more than just a handful of years because nowadays for a band it´s unfortunately almost as important to know about social media and to have the necessary equipment regarding all that to make the band known. That means having a drummer in the group is just as important as having a social media expert with the most expensive iPhone and the best laptop as possible. So if you don´t have enough money in your pocket, don´t even think about it to buy a second or third guitar if you want to succeed. Buy a f**king Iphone or an Apple Mac instead. It´s a shame. Unfortunally it´s even just as important as good songs. F**k that shit! I don't like that aspect as a musician that became big in the 90s and early 2000s but it has become a reality for new bands these days. Otherwise you will hardly be heard or noticed. In terms of clothing and hairstyles, everything has changed again. You can look like shit again as a guitar band and still be successful these days. At least something has changed for an advantage, haha!

TSWS: Before we go, what would you like to say to fans of the music?

Keep buying records and tickets please. That´s the only way to keep real music and your favourite bands alive!