An Interview With Bute Street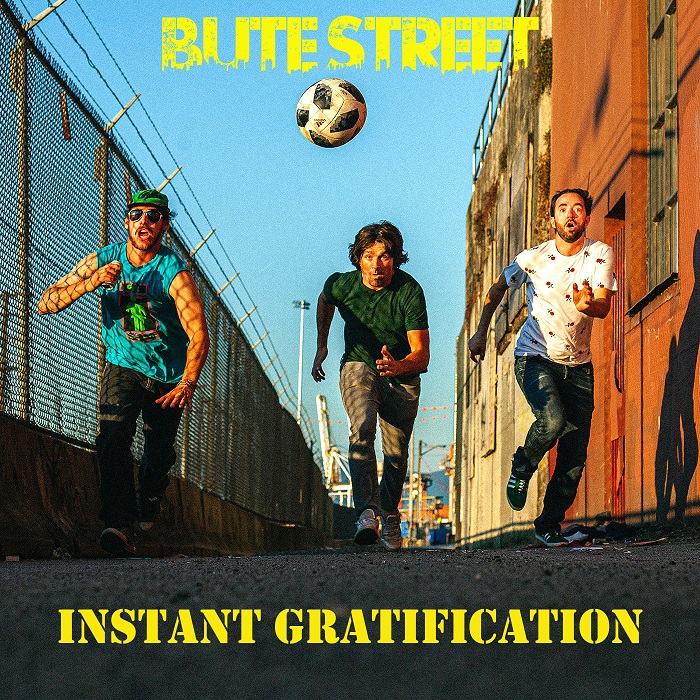 A new single release from Bute Street gives a high energy raw fuzztone driven rock sound with a youthful tonality that touches on punk rock at times and presents a ton of swagger. 
"Instant Gratification" is badass from start to finish and takes elements of classic alternative and grunge as it brings to mind bands like Local H. 
The track has a great edge to it and the band obviously has a ton of fun doing it and you can hear that come through on the record easily.
Bute Street showcases an outstanding rock presence and a blast of nostalgia. 
Anyone who is a fan of 90's alt will absolutely love this single. The guitars are massive, the drums are pounding and the vocals lay in some damn catchy sections and it's all done with a tasteful, jump up and down, fists in the air gusto you can't shake.
We miss bands like this. Bands that dive right in and take those influences they grew up loving and churn them into something refreshingly vibrant and still with a punch. 
And this song does pack quite a punch.
Bute Street has been dropping music on Spotify since 2019 and you can hear the evolution of their music as the releases go on but they always stay true to their roots. 
This is part of why they are just addicting as hell. 
Growing up loving bands like Hum, Local H, Nirvana, and more, these guys are dropping singles that sound like songs from that era of music. And what an era it was.
They also sound like they'd crush it live which is likely to be the truth. 
Maybe we'll find out one day. For now, we have "Instant Gratification" which is perfect for today's world indeed. 
With such a killer single, we wanted to have a sit down with them to find out where this came from and what may be next for them. 
Here's what happened. 
TSWS: Okay so let's start things off with "Instant Gratification". This track has such a great grunge tonality to it and tons of energy! Where did this track come from?
Liam wrote the riff in rehearsal and I ad libbed the melody in real time but I had the lyrics for another song although it worked perfectly. It was the easiest and quickest song weve wrote. All wrote in less than a half an hour. I recorded it that night on my phone as I always do when it gets half decent and liked it short and to the point so it was arranged too that night by luck of recording. I do like dirty guitars as does Liam but I would maybe give credit to our producer Dan for the grungy vibe.
TSWS: I'm certainly hearing some different styles mixed in on this one. Who are some of your biggest musical influence
I am a huge Beatles and Smith's fan. They are the two best for me but with this song theres definitely an Oasis vibe vocally although I was aiming for a Johnny Rotton vibe but so was liam Gallagher  in his pomp. I do love oasis, sex pistols and the arctic monkeys and I'd say on this track they are all in there.
TSWS: Do you guys do any live performances?
We had our first gig in February 2020 and our second gig got cancelled due to covid in March 2020. This is why we done the album really as we couldnt gig which was a blessing really but I look forward to playing the album as the songs are much better than our previous work.
TSWS: What kind of things inspire you guys to write
I write all the time but my mantra about writing is Morrissey's line in the Smith's song Panic "it says nothing to me about my life". I try to write about real life and hate glamour and coolness to a degree although I do like Rock machismo too when the lyrics and delivery are good. I just hate insincerity in music. Even if its shit you should mean it.  Writing songs is a bit like therapy so when I hit the nail on the head with a lyric I get a good buzz although none of it's totally autobiographical. You think of 10 people and put it into one character usually which gives the story more scope. Liam only started writing since I've known him but he has more of a political head than me but he can write a good party sing along too.
TSWS: Can we expect any music videos coming from you guys this year?
Music videos are expensive and I dont really like doing them but weve found an editor who can make some shit footage recorded on a phone look decent. I'd rather spend money on recording music but were trying to play the game on a budget. A 15 song album wasnt cheap and I've no desire to spend 3 grand on a video. But were making these DIY videos for our 4 singles then well see but the Cohen brothers wont be getting brought in that's for sure.
TSWS: What's next for you as a band? Is there anything new in the works even now?
I'm already writing the second album but whether that ever gets made depends on how this album goes. If we could make enough money to record I would be elated but it would probably be singles from now on. The album was the best experience of my life musically because I had time to get songs right and edit but  it was expensive. It was a good crash course though and I learned more in 9 months doing an album than the last 5 years doing one every 6 months. We are going to start gigging locally in Vancouver and hope to do an album launch gig around April/May. Weve got audition musicians though as our drummer went home to Ireland .
TSWS: What are you all doing when you're NOT working on music?
I'm a father of 2 year old twin boys and they are amazing and take up most of my time. But I appreciate having music as a positive outlet now more than ever. So its family and music and a little exercise and I've never been happier.
TSWS: This track feels like a big undertaking. What kind of advice would you have for other up and coming bands out there?
Dont base your decisions on what other people will think. Everyone's an expert. Especially someone who never had the balls to be creative. So have tunnel vision to a degree. Dont kid yourself either because if something isnt right it's probably not good. Just work hard and if you know you've wrote a good one love it like your baby and enjoy it. 
TSWS: Okay so you wake up in the middle of the night starving. What's all of your go-to midnight snacks? (a question of character here)
Cheese and crackers or a toast.
TSWS: Before we go, what would you like to say to fans of the music?
I'd say listen to the album Eclectic Taste in order as a whole and you might get us. All my favourite bands are consistent and diverse and sincere and I think this album is. Our previous work was rushed in hindsight and fall short before the end and a little rhythmically sterile but I got the arrangements right on this album and as a whole piece of work I couldnt be prouder.
Bute Street IG