An Interview With Cal in Red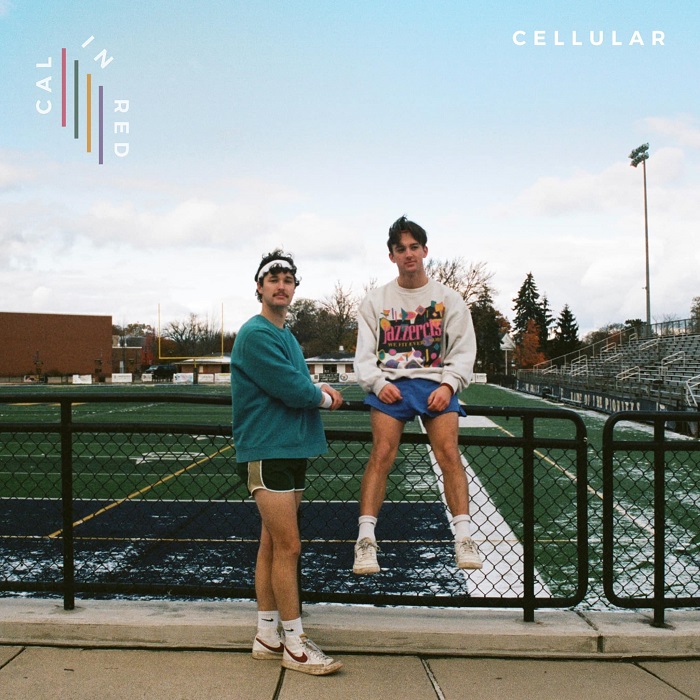 Cal in Red just delivered a spectacularly colorful and youthful indie-pop EP that hits all the sweet spots you can ask for from disco undertones to floaty ariel synth pads that keep the dream feel going throughout it all. 
The Cellular EP is packed to the brim with musical and vocal hooks as the singing style is wonderfully executed with touches of a killer swagger but kept silky and alluring. 
This record has a vibrant tonality to it that stays strong and the use of synths is nearly perfect as the dup preys upon those who love that retro pop sound hidden just beneath the surface of a bright and current sound.
The vocals swim around you and come together with the music for memorable chorus lines and these guys have their sound on lock for sure.
One of the coolest things about this is how much actual heart the EP boasts. You can clearly hear how much these guys love what they do. 
A true passion project from a young duo that captured a nostalgic sonic sensibility and bottled it up in such a way that you can;t really help but want more. 
Yes, the whole EP is like this. Song after song you just kind of go "damn that was really good too". 
They have this dream-pop atmosphere that becomes a staple for their sound and they run with it so well it's almost intimidating.
These two seemed to have nailed that sound that plenty kind of go for. 
They don't hold much back and they have fun with it. You feel the warmth and good time vibes come through. 
You sense this came from friends. A couple of guys doing it because they can. That's part of why this is so good. 
It's freeing in a way. 
 Also someone is really in love with synth sounds and writing melodies that are quickly infectious.
Let's not forget the video for the track "Got What You Need" is riddled with VHS effects and oozes with humor and character from start to finish. 
With such a great new release, which by the way, is their debut, we wanted to have a sit down with them to find out more of where this came from. 
Here's what happened. 
TSWS: Okay let's start with the Cellular EP. This record crosses some killer genres from indie-pop, disco, and rock too. Where did this record come from? 
Kendall: This record came from a few years of experimenting and finding our footing when it comes to songwriting. We relied a lot on what we've learned from our favorite artists. I think there's a lot of spots where we could point to a certain piece of production - a riff, a tone, a melody, and immediately know who influenced it. 
TSWS: We love the video for "Got What You Wanted". Did you guys have the whole retro VHS idea from the start?
Kendall: We knew we wanted it to be a bunch of cheesy workout stuff on a track… the 80s outfits fed into that well. I think it was Austin's idea to add the VHS.
TSWS: Did you shoot and edit the video yourselves?
Kendall: Our good friend Austin Wyeth shot and edited the video for us. We only had a general idea at the start but Austin pretty quickly conceptualized exactly what the video would be. We're kind of the worst at planning for videos so it's nice when we have someone like that in charge of the shoot.
TSWS: So, how did this all start for you guys? 
Connor: I feel like Kendall and I both fell in love with songwriting around the same time and with our musical influences being almost identical, we started collaborating which led to our first release 'Dang' in 2019. 
TSWS: What's next for you guys as a band?
Kendall: We're going to try to keep steadily releasing singles and playing as many shows as possible (as many as covid will allow that is). Probably another EP early next summer, but I also hate to put a time frame on it because we're so bad at meeting dates. I guess hopefully* an EP early next summer.
TSWS: Have you played any live shows? Are you planning on it?
Kendall: We got a chance to do a US tour (mostly out west) in September/October of 2021 which included a stop at Treefort Music Fest. Other than that, we try to play a show in Grand Rapids every other month or so. We'd like to tour again early next year and start hitting more spots in the midwest next summer.
TSWS: We can hear a bunch of great styles on the EP. Who are your biggest musical influences?
Connor:  Biggest influences on this record are MGMT, Beach House, and Tame Impala.  Even though we may not be listening to these artists 24/7, they all have had a major impact on us at some point and we want to emulate that experience they gave us as listeners.  
TSWS: What are you all doing when you're NOT working on music? 
Connor:  I'm currently an RBT!  So I work with young kids who have autism at Acorn Health.  After work, you can catch me at a brewery or playing disc golf with Kendall. 
Kendall: I work for City Built Brewing in Grand Rapids and spend a lot of time playing and watching disc golf. Outside of that just the normal stuff, watching tv with the roommates and riling up the dogs.
TSWS: Who's in your headphones right now?
Connor:  Porches, Still Woozy, Gus Dapperton, Role Model
Kendall: Hovvdy, The Strokes, Men I Trust, Peach Pit.
TSWS: Do you guys write the songs together or is there one main songwriter in the group?
Connor:  We do an equal amount of songwriting!  With Kendall and I living an hour apart, we both will write/record demos in our minimal bedroom setups then send them back and forth.  
TSWS: What kind of things really inspire you to write? 
Connor: It's usually hearing a song I really enjoy because I immediately want to create a similar experience for someone else.  
TSWS: The EP feels like a pretty big undertaking. What kind of advice would you have for up and coming bands out there?
Kendall: Keep writing and learn how to self produce/mix for as long as you can. I guess that's funny coming from me because I don't actually do any of that, it's all Connor. Still though, I think having him in creative control of our mixes is what allowed us to be most confident in the songs we were putting out for this EP. Also don't put a deadline on something like an EP, especially if the songs aren't all there yet. It's great to have a timeline and goals for releasing music but don't be discouraged if you release something a month, even a few months later than expected. Don't rush something out when you're unsatisfied with the quality, you'll regret it. Play lots of shows. When it comes to booking: email constantly, bug every venue no matter how big or small. Lastly, become friends with other local bands. 
TSWS: Before we go, what would you like to say to fans of the music?
Thanks for listening, and please stay tuned. Your support means the world to us. Peace.