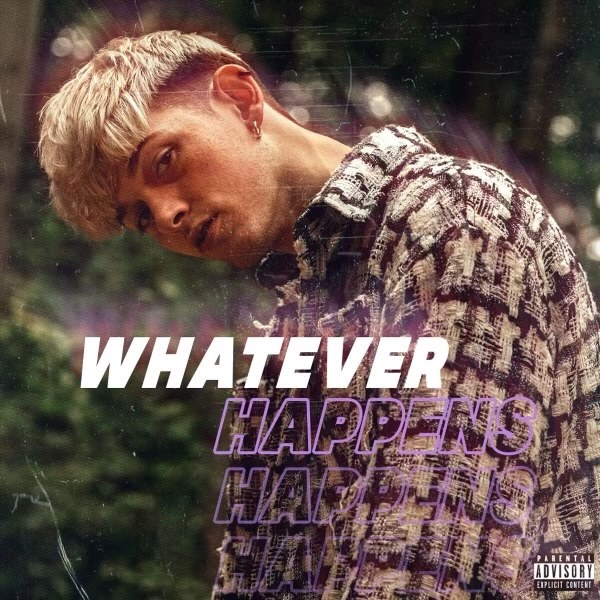 A new EP release from Edwrds gives off a killer R&B poop vibe with colorful and textured sounds, alluring vocals and an honest lyrical approach that drives the record. 
The Whatever Happens EP is packed with an indie-pop undertone utilizing synths and keys along with smooth beats to bring together the records's massive soundscape. 
Songs are personal and cinematic at times and the whole thing has a youthful energy that's tough to beat. 
The release features an array of bright and vibrant instrumentation and emotionally fueled songwriting that leaves an impactful style. 
The record boasts some different styles but all stick to a certain staple sound as Edwrds lays down vocals with swagger and purpose. 
This does feel like a summer EP and it's a massive step for the artist in terms of his evolution in songwriting as a whole. 
This was performed with heart. Songs come from real places most of the time and that comes through strongly on the record itself.
Hip-hop hints just under the skin and there are layers to be peeled back throughout the record's course. 
This record is filled with bangers, ups, and downs and it plays out like a concept album. 
We wanted to know if this actually is a concept record and discuss how it all started and where it's all going. 
We sat down with Edwrds to find out all of this and more. 
Here is what happened. 
TSWS: Okay so let's start things off with the Whatever Happens EP. This record has a refreshing R&B
and indie-pop sound that comes through colorful and alive. Where did this EP come from?
EDWRDS: Whatever Happens came from deep diving into the many layers of myself including the good,
the bad, and all the chaos in between. I wanted to create music that showed the most authentic
version of Edwrds.
TSWS: Going through the record it almost feels like a concept album of sorts. Is this true?
EDWRDS: Unlike my album Loverboy from 2020 which had a whole concept and story line, Whatever
Happens is just some of my favorite music I've made that I couldn't keep in the vault any longer.
Each song has its own message, its own story. That's kinda why I chose the title, i'm releasing a
variety of styles and point of views so whatever happens, happens.
TSWS: I'm hearing some great variety in production and style on the EP. Who are some of your actual
biggest musical influences?
EDWRDS: Thank you! I'm extremely proud of the production on this project. Every song besides track 1
was produced by me. Track 1 was produced by the talented Blindforlove from Sweden. Some of
my biggest musical influences in production are Mac Miller, Jon Bellion, Kenny Beats, and Rick
Rubin.
TSWS: So tell us, how did this all start for you?
EDWRDS: It all started through taking dance classes as a young kid. I fell in love with the way music
moved my body, how it fueled my soul, and how it brought people together. I was inspired to be
the one who made the music I loved so much. I went on to learn as much as I could while
growing up. I really believe this inspired me to become Edwrds.
TSWS: What would you say is next for you as an artist?
EDWRDS: It's hard to say what's next. I'm a big believer in the gift of the present. Definitely more music,
more visuals, and as many shows as I'm able to do. I've been working on ways to connect with
the fans on a more personal level because it's deeper than just music; so keep an eye out for
that. Maybe I'll even end up doing weekly streams to talk about life behind the scenes and my
other interests.
TSWS: What are you doing when you're NOT working on music?
EDWRDS: When I'm not working on music I am spending time with friends and family, watching the sunset
at the beach, doing little side jobs for extra cash, playing video games, and getting into trouble.
TSWS: With things slowly getting better, will you be planning any live performances?
EDWRDS: I am currently performing on The Boys of Summer Tour and plan on doing a few shows in the
Fall.
TSWS: Who are you listening to right now?
EDWRDS: I've been listening to a lot of Mac Miller, Isaiah Rashad, and Jeremy Zucker.
TSWS: Not just for this EP, but in general, what kind of things inspire you to write?
EDWRDS: I'm inspired by many things. I love writing about the journey we're all on in life, mental health,
movie moments, our imagination, and spiritual growth.
TSWS: This record feels like it was a pretty big undertaking. What kind of advice might you have for
other up-and-coming artists out there?
EDWRDS: I'd have to say don't overthink it and trust your feelings. I found myself having a ton of mental
blocks because I wanted things to be perfect. How are people supposed to know you are up to
something if you don't put yourself out there though? A few of the songs on this project sat for
months because I was skeptical of what I made. When I relistened after giving myself time to
forget I remembered why I made the music, why I wrote the lyrics. If it feels right, it's ready.
TSWS: How do you write your songs? Is it lyrics first? Do you collaborate on production? It's different
for everyone. How does it work for you?
EDWRDS: Each song is a blank canvas at first. Most of the time I freestyle first to find inspiration for lyrics
and melodies. Other days I create the whole beat before a single word is written. Once I get an
idea rolling however, the music and lyrics just fall into place.
TSWS: This was an incredibly well done and radio-friendly EP. Did it come out how you expected?
EDWRDS: I like to have no expectations for myself. By doing that it allows me to create honest music that
was first made for me. I find I create better when I don't try to impress anyone. Because of this, I
am thrilled with how the EP came out because it is genuine, unique, and exceeded any little
expectation I had for myself.
TSWS: Before we go, what would you like to say to fans of the music?
EDWRDS: I hope Whatever Happens gives you something you can take with you in life. Thank you for
listening to this beautiful chaos of a project. Keep smiling and make someone's day brighter.
Love will always win.