DOUBLE CLICK TO EDIT TITLE
An Interview With Elvie Darling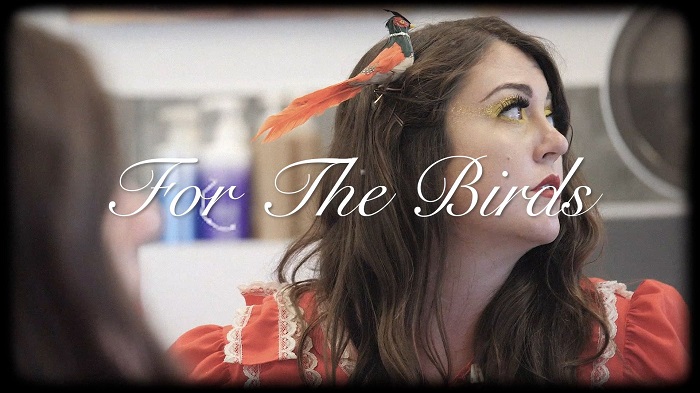 A debut single and video from Elvie Darling brings an endlessly fun pop rock style to the table with classic vocals that feel like a 50's approach but the whole song has that undertone to it. 
"For The Birds" is full with some great guitar work throughout the song's course along with a bright production style and a major pop sensibility. 
This track feels almost like it came from the Grease soundtrack as the chorus has a way of sticking with you and becomes a sing along quickly. 
There are sounds of birds chirping in the background and a flavorful and very colorful energy that comes through shining grabs you and gets your attention from the get go.
This is a pop song for sure. It has that presence about it and really showcases the artist's ability to write songs that are not only catchy but damn fun, danceable, and memorable. 
"For The Birds" is radio friendly and packs a feel good punch from start to finish and there is a sort of quirkiness that makes is unique as well. 
These elements are part of what make this an outstanding debut.
Hearing the song for the first time you'd certainly not think it is Darling's first release. 
Either way you can hear she has been writing songs for a long time and this is her impactul debut into the pop world.
This single also happens to come along with a music video that only shows more of the artist's presence and sith some killer visuals it fits the song well indeed. 
With such a massive debut, we wanted to have a chat with Darling to find out where this all came from. 
Here's what happened. 
TSWS: Okay so let's start with "For the Birds". This track has a bright pop-rock feel to it and came through with a vibrant energy to it! Where did this track come from?  
I actually wrote the chorus when I was in high school. It is in one of my journals packed away in a box somewhere. The song was originally about being misunderstood and underestimated. Events transpired in my life that reminded me of that exact sentiment. I changed a few words in the chorus and wrote new lyrics for the rest of the song, so that it reflected what I had recently experienced.
The track is vibrant and bright, in order to illustrate the freedom that comes along with being okay with losing relationships or opportunities, that only value a subdued version of you. I wrote the vocal melodies with Maria De La Paz. Maria and I go way back, as in we went to first grade together. She introduced me to Dawty Music, who made the instrumentals after listening to our rough draft. 
TSWS: The video for the single was awesome! Did it come out how you expected? Were you happy with it in the end?  
 The video came out even better than I had imagined. I always have a lot of ideas and tend to be overly ambitious. Josh and his wife Cassie of Cassanova Films, were able to find a way to incorporate all of the parts that were most important to me. Josh captured both the vibe and the message that I was trying to relay. All of the people featured in "For the Birds" were amazing as well. The majority of them were my friends, which made it even that much more special. 
TSWS: So I'm hearing several pop undertones on this track. Who are your biggest musical influences? 
My favorite band is The Eels. I love how their sad, yet intelligent lyrics are often paired with poppy and fun instrumentals.  I am also very into: Modest Mouse, Yeah Yeah Yeahs and Blondie as well.  
TSWS: How did this all start for you?  
I have always been very into lyrics. I love all of the interpretations that can be made from any given song. Back in 2008, I met a friend in Ocean Beach that had a bunch of extra tracks that he wasn't doing anything with. He told me that I could do whatever I wanted with them. It was really exciting for me to be able to create an entire album with his music and write a story for each song. I felt like I was bringing his original art to life, but from my own lens.   
TSWS: Do you ever do any live performances? 
"For the Birds" is the first song that I have written in thirteen years. Back then, I used to perform live pretty frequently. This time around, my main motivation is creating the videos to go with the music.  
 
TSWS: Do you produce your own stuff? Do YouTube a home studio to create your songs? 
"For the Bird's" is actually my first YouTube video ever and I have yet to use YouTube home studio.  
TSWS: What else are you performing aside from vocals on this song? 
It was really important for me to add certain sounds onto this track. I recorded the birds that are in the background of the song with my phone, on my street one day. While I was recording the song, I noticed that the birds were being pretty feisty where I lived, almost as if they were telling me that they wanted to be put on the track. 
 The ice cream truck sounds highlighted at the beginning and end of the song, were in a way a starting point for creating the video. I was going to a work appointment a few weeks before I started writing the song and I was pretty bummed out due to what had occured in my personal life. There was an ice cream truck that started following me  around that day, blaring its music. Just like the birds, I started seeing the ice cream trucks everywhere. It was almost as if I couldn't escape them. I was not happy, but the music was and it was chasing me. It was one of the first things that I thought of when I started writing the rest of the song. Cedrick Courtois, who mixed the track helped me add this element into the track. 
TSWS: What's next for you as an artist? 
I am currently finishing "The Last Lap," which will be the next track that will be released. I am teaming up with Cassanova films in order to create a music video for it as well, which will be out in December. 
TSWS: This single and video seems like a big undertaking.  Any advice you have for other up and coming artists out there? 
I think the most important thing is to surround yourself with people that are able to understand your vision. I dedicated the video to three of my friends that had passed. All three of them were very positive forces and believed in my endeavors.  
TSWS: What sort of things inspire you to write?  
I have always had the desire to try to make sense of difficult situations. If I can create something neat from it, in some kind of weird way, it makes it worth it.  
TSWS: Who are you listening to right now? 
I have been listening to Black Hesher (Van Bates) a lot. He was one of my friends that I dedicated the video to. I am wearing his shirt in the beginning of my music video. There are a lot of talented artists in the collective that he was  affiliated with (Cult Muzic Media) and I have had the pleasure of meeting several of them.  
TSWS: Before we go, what would you like to say to fans of the music? 
I had my friend Denise listen to the first version of "For the Birds" and recently sent her a snippet of my next song, "The Last Lap." I view her as my first supporter, because she has always been a fan of my artistic adventures. She was at my first show back in 2007 when I performed all by myself with a blown speaker and a backing track.  
I really appreciate anyone who takes the time to watch my music video, whether they see value in it or not. Without experiencing feelings of being discarded or sold short, "For the Birds" would not exist and without the support of so many talented people, I would have never been able to bring the project to fruition.