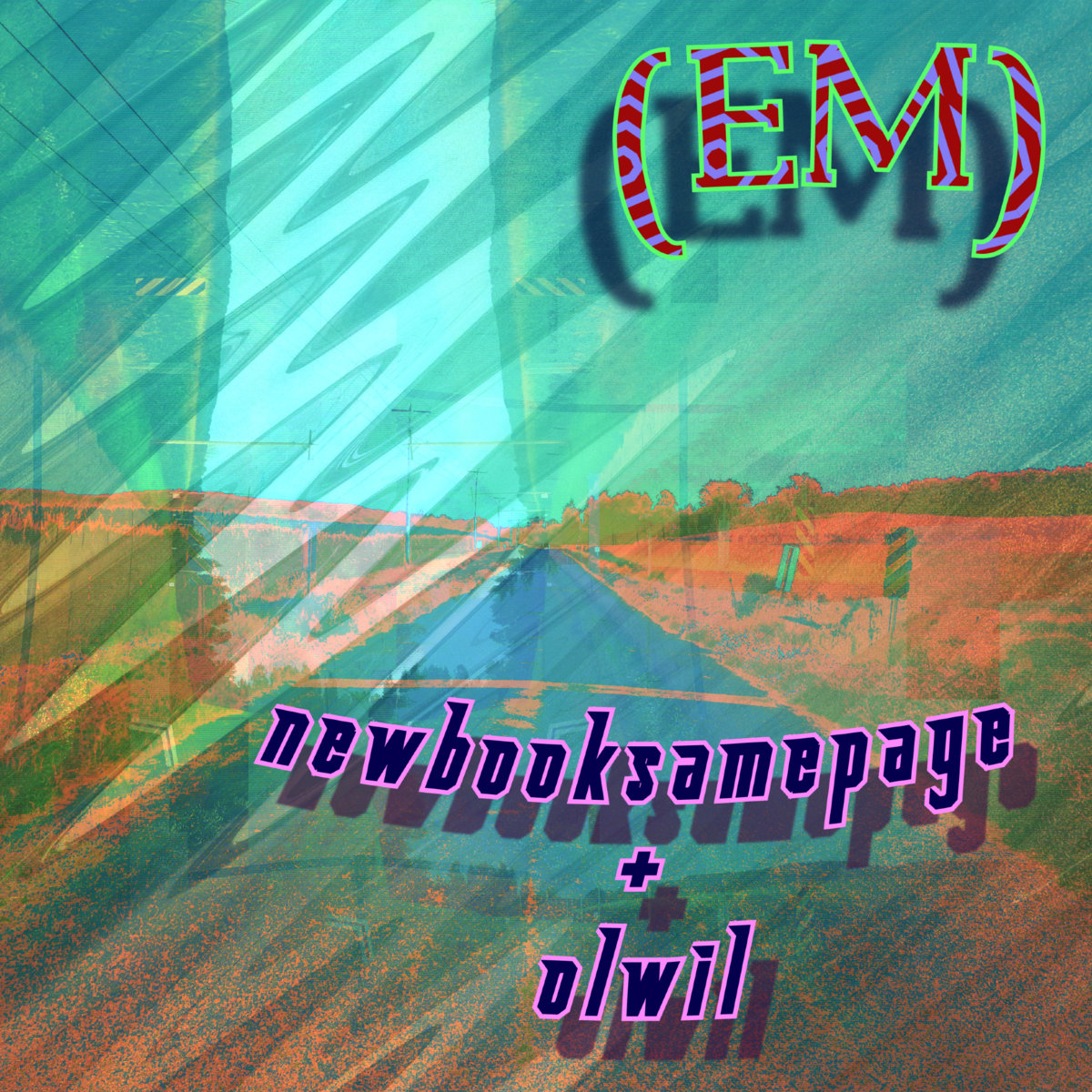 A new double single from (EM) brings us a bright and lively brand of garage rock that feels influenced by classic rock and even indie-rock from the late 90's at times with a killer fuzztone feel to everything giving it all this certain sheen while vocals have such memorable melodies and guitars take on such an orchestrated tonality.
The first of the two is called "newbooksamepage" and it's incredibly honest and upfront which is one of the most addictive parts about this whole thing. It's all so right in your face. There are a few layers to pick apart but for the most part this is a way to get things off of his chest. 
The whole thing has a live performance approach to it and the energies are feeding off of each other the entire time which also makes it unique right alongside the augmented and experimental guitar sections that pop up between the bright and catchy pop guitar parts.
Vocals are harmonizing 2 or 3 parts at a time and it gives things a robust feel and with everything together, it has a beautiful sonic presence honestly. 
You get that classic rock feeling at times and you can relate to the words half the time. 
"Olwil" is the second one and the intro riff is wild! Its bendy punk rock with a hyper energy musically while vocals keep to that melodic fuzztone which all together is sort of the staple sound of the whole project.
These songs are outside the box, done with nothing but pure heart, and explore elements that most don't. 
Plus the riffs are just great all over this thing. 
This is for experimental rockers and classic rockers out there for sure. It doesn't get as pure as this. 
That says something. 
With the release of such a killer set of songs, we wanted to touch bass with the band to find out where this all really came from. 
Here's what happened.
TSWS: Okay so let's start with the new double single release. This record has a youthful garage rock style to it. Where did this record come from?
All of the music, except the bass and vocals, were recorded last year. In fact, all ten songs of my next album were recorded in 2021. Now I'm in the process of writing/compiling lyrics for them, so I can record vocals and finally release it.
Although the music is upbeat (and from a different time/place), the lyrics come from a dark period of homelessness I experienced last winter, as well as various aggressions. My lyrics have always been a pouring out of difficult and painful emotions, no matter how vague. This single's first track, however, has some light in its lyrics.
TSWS: I'm hearing some great styles on this release. Who are some of your biggest musical influences?
Guided By Voices, Television, Rites of Spring, Bob Dylan, The Replacements, My Bloody Valentine, Big Star, Dinosaur Jr., Mission of Burma, Nick Drake, The Cure, and Cloud Nothings are amongst my seemingly endless list of influences. For that reason, I'll quit the list there.
TSWS: So how did this all begin for you guys?
(EM) is actually a solo project of mine. Everything is self-written, recorded, produced, and released by yours truly. I chose the moniker over a decade ago to upload some amateur demos, but it wasn't until late 2018 that I began using the name (EM) officially to release music. I've led quite a few bands over the years, and am currently a member of a collaborative musical group named NITE DINO. 
TSWS: What's next for you as a band?
I hope to finish my next record soon, as it has been a long work in progress. I'm very proud of its content - it is quite dear to me - and I think that is part of the reason I had to take a break from working on it to focus on other musical endeavors.
Next is also doing my own PR work to spread the word of this and upcoming releases. It is a tough task to take on alone, but I am trying my best to reach out to everyone that might be interested in the music of (EM).
TSWS: What inspires you to write a song?
My songwriting style varies. There will be months of lyrical writer's block during which I am able to record a ton of music. Then it switches, and my mind fills with words while musical ideas fade. After these periods, I usually compile the many words/lyrics I have written and choose which songs they will fit with properly.
This isn't always the case, and lately I've been approaching recording as a one-night process. I will record the musical tracks in one take off the top of my head, then scratch down words to fit with it. This is how most of NITE DINO's material is made. 
TSWS: What are you doing when you're NOT working on music?
I like to spend time listening to vinyl records from my collection, reading (I have stacks of books I've acquired and have yet to open), and journaling. Sometimes portions or whole journal entries may become lyrics in future songs. I am also a dedicated collector of VHS tapes. At this point, my collection numbers in the hundreds. 
TSWS: Who are you all listening to right now?
Guided By Voices (of course), really anything from Speedy Wunderground, including Black Country, New Road, black midi, Squid, etc. Bob Dylan is a mainstay, and I think his most recent album stands up to some of his other greatest releases. The Weather Station's album 'Ignorance' is fantastic. I am a big fan of Angel Olsen too. Oh, and Cloud Nothings never fail.
TSWS: Are you guys doing live performances?
(EM) has yet to play live. I am slowly working on putting a live band together that can transfer the sound and many layers in my recordings into an appropriately similar sound on stage.
TSWS: This release seems like a big undertaking. What kind of advice might you have for other up and coming bands out there?
My advice would be to continue working hard; practice, write, record, and play live as much as you can. The more you do, the better your music becomes, and you will find an audience that appreciates it. Promotion is an important part of the game, no matter how much of a pain it may seem to be. Social media can be a game-changer, so keep up-to-date with your profiles on various sites.
Most importantly, don't forget to enjoy yourself and marvel at the fact that you are creating something unique. You will inspire yourself this way.
TSWS: Before we go, what would you like to say to fans of the music?
I have a great appreciation and admiration for anyone and everyone who has given my music a chance over the years, even if they merely listened to a single song. The support I've received so far is something I'm eternally grateful of, and I hope (EM) fans enjoy both my brand new music and the many tunes to come. Thank you!