DOUBLE CLICK TO EDIT TITLE
Honest And Edgy Pop From Heckyl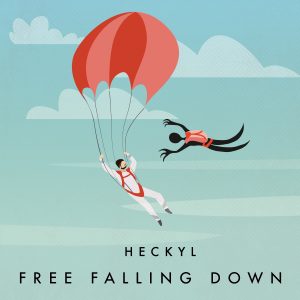 Heckyl returns with another banger and this one has a little darkness living in its walls but it all comes from honesty and it sure flows well with the natural textures of the artists pop overtones. 
"Free Falling Down'' is an example of how music is used as an outlet and even pop music can be harnessed to do something like that. 
It's not easy but Heckyl has a knack for writing those chorus lines that stick forever. 
Synths and bass fill the air as the vocals sing that harmonized chook and get you reeled in to the songs infectious and deepening vibe and it's all like stepping into another world for a few minutes. 
"Free Falling Down" breathes new life into honest pop music as the platform for the genre isn't always emotional or even honest half the time. 
Percussion builds and little things are added as the song plays on until that final chorus hits again. By then, you've almost been waiting for it to come back and it gives you what you want. 
But that's how Heckyl works. They know what to give you and when to do it so you really attach to the song more quickly than you would normally. 
I once read that Rivers Cuomo of Weezer has a notebook and in it lies several formulas for the perfect pop song. 
Not sure if that is true or not really but it might be the same for the man behind Heckyl. 
Heckyl is more or less one man by the name of Luke Potter who also releases other material under that name. 
The artist manages to drop singles like nobody's business and it's crazy how good each one is. 
For those who don't believe what we're saying just jump to the Heckyl Website and have a gander. 
You'll find a string of singles that all have something special to them. A sheen and polish, a vivid set of colors and palettes. Something that refreshes and satiates each time. 
"Free Falling Down" pretty much sets a great tone for what to expect but there is something different with each piece and they are all radio friendly as hell.