DOUBLE CLICK TO EDIT TITLE
An Interview With Ida Alex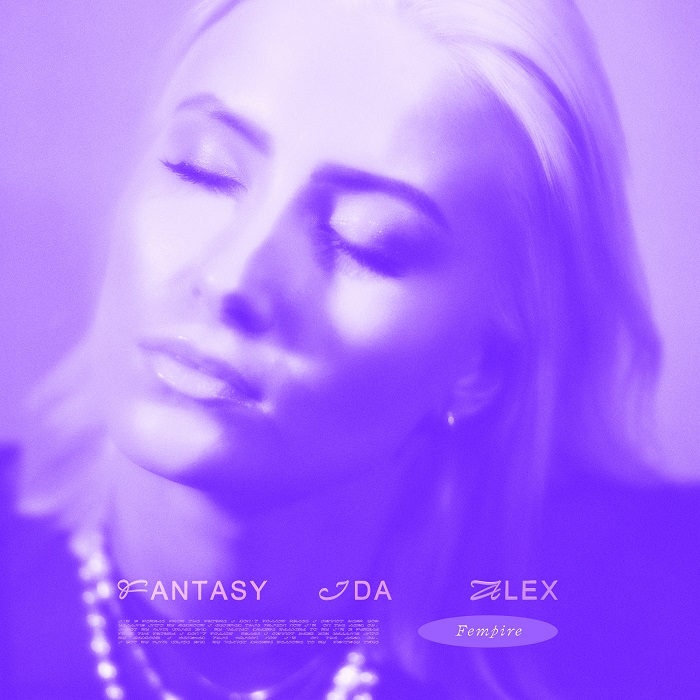 Ida Alex just released a super bright and colorful dance pop single that reaches into a futuristic feeling vibe and comes through with a vibrant character and heavy handed choruses.
"Fantasy" is a lush and full track that breeds some outstanding synth work combined with an upswing beat and vocals that really shine as they are performed with a fun and passionate gusto from beginning to end.
This single has a fresh feel and feels crisp and has the aesthetic of a late night on the club dancefloor inthe middle of Summer. 
This is high energy, hands in the air, danceable and has loads of killer builds along with its full bodied textures and backing vocals. 
The song boasts a hook that really ticks with you and even has an anthemic feel that showcases the artist's uplifting and powerful pop style and swagger.
This was a neon lit synth-pop track that takes both old school and new styles and smashes them together in a youthful and exciting way. It's very addicting and makes you feel good when you listen to it. It makes you feel like you can pretty much take on the day.
Ida Alex is clearly in love with her craft and singing has to have been a major part of her life for some time as the vocals are heartfelt and bountiful. 
This song has an absolutely wonderful soundscape and life to it and there is no doubt the track will help Alex pave her way in the pop world.
With such a killer single, we wanted to touch base with Ida Alex to talk shop. 
Here's what happened.
TSWS: Okay so let's start with "Fantasy". This track has an outstanding pop feel. Where did this track come from? 
Fantasy was one of the first songs we wrote together with my team at the beginning of the global pandemic. It is definitely one of the most important songs for me personally. I usually like to be prepared when I write songs with other people so I had an idea in my head what I wanted to write about and we went with that. My producer Matti Kankkonen made the track and it turned out to be awesome! Fantasy is a song about the fear of being completely yourself with other people and escaping those moments into your fantasy where there's no one who can judge you. 
TSWS: I'm hearing some awesome styles on this track. Who are your biggest musical influences? 
Thank you! I grew up watching MTV and the biggest pop stars of that time so Lady Gaga, Hayley Williams, Britney Spears, and Avril Lavigne have all definitely had a big influence on me. Also, I remember being a huge fan of Christina Grimmie before she passed away unexpectedly. I loved the passion and sharpness in her voice that always felt like piercing my heart in a good way. 
TSWS: So how did this all start for you? 
I have dreamed about becoming an artist and a performer for as long as I remember, but I feel like the big kickstart for my career was when my producer saw my singing video on Instagram and contacted me by asking if I was interested in starting a collaborating with him. So we started co-writing songs with other songwriters in the summer of 2020 and somehow here I am, releasing my third single and my debut EP in spring 2022. Time has gone so fast!
TSWS: Do you produce your own stuff?
At the moment I'm leaving the production side of the songs for people who are more passionate about it than me, but you know never say never! However, I do write a big part of my own songs. I feel like I have still a lot to learn, but it's been so cool to see how fast you can learn if you are just ready to work for it!
TSWS: What are you performing on "Fantasy" aside from vocals? 
All the instruments that you can hear on the track are played by my producer. I get that so many artists out there want to do everything on their own from songwriting to production, but I know my strengths at the moment and I want to focus on being an artist and a storyteller. I have the big vision which is all about empowering women to be who they wanna be and encouraging them to speak their minds with no limits and for me it's just important that we succeed in that, no matter who gets the final credit in everything.
TSWS: What's next for you as an artist? 
I have plans to release one more single from my debut EP before we publish it completely in spring 2022. So obviously that's going to take a lot of my focus next year. But besides that, I just wanna create more music with different people and focus on growing my team with small steps. 
TSWS: Can we expect any music videos coming from you this year? 
Oh, I would love to make a music video one day! But I'm not sure about it yet. I feel like if I decide to put out a music video I really wanna give it some thought and make it a really good one. 
TSWS: What really inspires you to write? 
I feel like I have so many stories yet to tell from my own life so I haven't still felt like I would run out of ideas, hah! But seriously, I get inspired by deep emotions and movies that touch my heart somehow. My all-time favorite movies are Divergent, The Hunger Games, Harry Potters, and Inception. Maybe that says something about me? I feel like good storytelling, strong characters, and dramatic arc can also be heard in my music. 
TSWS: What are you doing when you're NOT working on music?
I have studied social sciences for four years now so when I'm not working on my music I'm studying and trying to finish my bachelor's degree. Even though music has always been my number one priority, I've found that very helpful to study gender studies when making feminist pop and trying to bring to light some of our experiences as women in my music too. 
TSWS: Who are you listening to right now? 
I've been recently inspired by artists like Upsahl and Glowie to name a few. I look up to both of these artists in a way they dare to be honest and vulnerable in their music. 
TSWS: Do you have a home studio you record with? 
I do have a microphone and a program I can record my vocals in case I need to send something for my producer. Also at some point, we only did zoom sessions because of the pandemic and we had to learn to move the creative process there. So it was really important for my career to be able to record myself even outside the studio. But oh how much I love live sessions and I'm so happy that we have been able to do them now!
TSWS: This track feels like a big undertaking. What advice would you have for other up-and-coming artists out there? 
I feel like the biggest thing that I've learned is to find confidence as an artist within yourself. If you're always dependent on other people's opinions of you, eventually you're going to feel lost. Learn to listen more to your intuition and what feels right for you and follow that gut feeling. It's good to take advice but at the end of the day, only you know where you're heading. 
TSWS: You wake up in the middle of the night starving. What's your go-to midnight snack? (a question of character here)
Cookies and milk are definitely my go-to! It never let you down!
TSWS: Before we go, what would you like to say to fans of the music?
Thank you so much for listening to my music! I really hope I get to do my first live gigs soon so we can finally meet each other. I really hope you like my new single and that it makes you cry-dancing in your own bedroom when you need it the most.