An Interview With Jack McKee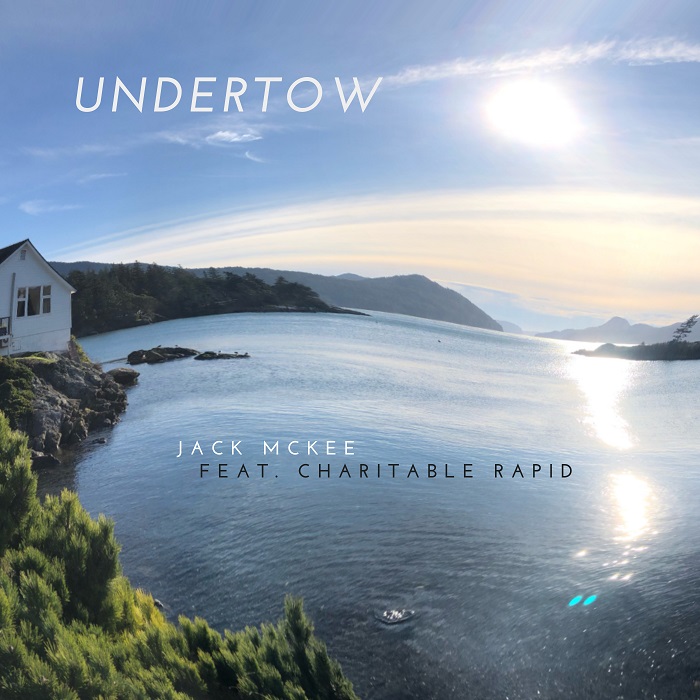 Jack McKee brings a little something different to the table with his new single release and it comes through with a shining and cinematic backbone that's absolutely covered is heart and soul. 
"Undertow" is a passionate and moving single that can captivate you and let you get washed away with the sound. 
Vocally, the song boasts a smooth and sultry style of R&B influenced singing but is performed with a youthful energy that's tough to let go of. 
The song has an incredibly smooth radio friendly sound but it's the song's honesty that really gets you.
The song is really straight forward and relatable as well.
The production is nearly perfected and it's easy to get engulfed by the songs intensity and impactful feel all around. 
This came through with a gracefulness you don't always get to hear these days.
The release has a way of becoming infectious in the way that it sticks in your head long after it's ended.
With such a wonderful single drop, we wanted to touch base with the artist in regards to where exactly this track may have come from and what may be next. 
Here's what happened.
TSWS: Okay so let's start with "Undertow". This track has a great cross between classic and new school R&B to it. Where did this track come from?

When people ask me what genre of music I make, I typically say 'pop with a heavy influence of R&B'. "Undertow", in my mind, achieves this sonically along with some of my previous releases such as "Alone Again" and "Paper Thin". This track manifested from personal reflection. At its core, it's about navigating through the world in your own, unique way. Too often we get caught up in thinking the mainstream path is the only option. However, this song is about embracing your individuality, being willing to take risks, and going against the grain to achieve something. In terms of the title, I've always had a fascination with the ocean, so naturally this theme took over the song and production as well. As waves move into the shore, the undertow current quietly moves offshore. Sometimes the path less traveled is unpopular and blind, but incredibly fulfilling.
TSWS: I'm hearing several styles on this release. Who are some of your biggest musical influences?

I definitely draw inspiration from a wide variety of artists and genres including artists such as Justin Bieber, Lizzy McAlpine, Daniel Caesar,  Jeremy Zucker, John Mayer, Giveon, Shawn Mendes, Tate McCrae, John K, etc. The list could go on and on. I am also really intrigued by new music and really enjoy discovering fresh artists every day. I am inspired by artists big and small, and really, it is seeing others create that pushes my art to the next level. 

TSWS: So how did this all begin for you really? When did you fall in love with making music?

I have always had a love for music ever since I can remember. I vividly recall listening to the beach boys and the beatles with my dad in the car when I was maybe 7 or 8 years old and just falling in love. For me, music is about evoking emotion, whether happy, sad, or anywhere in between, that is what I love about it. It is what I felt at that young age too. Growing up, I was always in choirs and was heavily involved in jazz choir as well. I was even a part of an acapella group for a short time called "Low Key Men". 
In terms of actually creating music myself, I dabbled a little bit in songwriting my last couple of years of high school, but it really took off for me in college. The independence, the fresh start, and the people I met along the way inspired me deeply. I began learning how to produce on Garageband, and eventually worked my way up to LogicProX. I spent nearly every night playing piano and writing songs. My first project I ever put out was a 4-track EP called "Empty Stairwells". While I am well aware this is not my best body of work, it is significant to me because it was what got me started. It was the first step of this amazing journey I am on. To share my music with the world and hopefully make people feel less alone.

TSWS: What's next for you as an artist?

There is so much in store. I have got several projects in the works that will definitely find their way out to the world soon enough. Creatively and musically, I want to take more risks. Risks with lyrics, melodies, instrumentation, and production. One way I am doing this is when I am brainstorming melodies for a song, I try to not just stick with the first one that sounds good. I listen to it, digest it for a few days, and continue to brainstorm other ideas if it does not evoke the same emotions as before.  

TSWS: What inspires you to write a song?

Right now, I can honestly say I am the most creatively inspired I have ever been. With a growing amount of support recently, I want to give my listeners something that they can connect with, something they can feel with me. My music is my escape, it is my diary, it is my oasis of self-reflection. I write about love, about loss, about battling with my inner demons, including anxiety. I write about my perceptions and feelings about the world around me. I write about my human experience. This is what is so cool about music and art in general is that inspiration is everywhere. You just have to recognize it. Then you can sculpt it into something impactful and beautiful. 
TSWS: What are you doing when you're NOT working on music? 

Outside of music, I love spending time with family and friends, especially my amazing fiancée and our black lab named Winnie. My day gig is teaching and I also do a lot of running. I am currently training for my second marathon. It helps center me and pushes me to stay in shape. I also recently found disc golf, which is a lot of fun, and super accessible to learn and play. 

TSWS: Who are you listening to right now?

Right now, I am loving ASTN's EP called "You're Almost There". I have it on repeat and absolutely love his modern R&B sound he has curated. I am really enjoying Shawn Mendes' "When I'm Gone" and Harry Styles' "As It Was". I am also incredibly excited for Lizzy McAlpine's second full-length album called "5 Seconds Flat" that is dropping next week!

TSWS: Are you putting any thought into live performances? 

Currently, I am putting my focus into creating the best songs that I can, and I am hoping to begin performing live in the near future. I want to share these songs with the world and see fans connect with them and each other.  

TSWS: Do you have a home studio where you track your stuff? 

Yes, I have a complete home studio set up where I create and track all of my projects. It seems to do the job for now!

TSWS: This track seems like a big undertaking. What kind of advice might you have for other up and coming artists out there?

My biggest piece of advice to other up and coming artists is simply to KEEP GOING. It sounds cliché, but you will get better, and your music will reflect that in time. As hard as it is, don't overthink numbers. Track and celebrate them, but don't over analyze them. Focus on listening to yourself and being as authentic and honest as possible in your music. Numbers will follow. Consistency is everything and this is something I am still working on as well.

TSWS: Before we go, what would you like to say to fans of the music?

THANK YOU! From the bottom of my heart, thank you. It brings me so much joy and fulfillment to see you all connect with what I am creating. I don't ever take it for granted. There is a lot more in store, I promise.