DOUBLE CLICK TO EDIT TITLE
An Interview With James T Wilde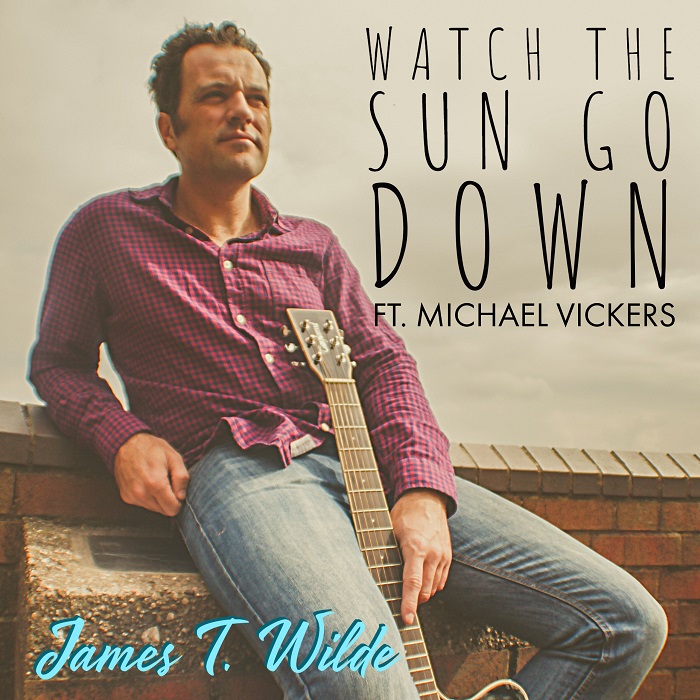 A
A single release from James T Wilde brings on the danceable alt-pop aesthetic that touches on a refreshing but familiar nostalgic sound that gives you the feeling you've heard this somewhere before. 
"Watch The Sun Go Down" is a wonderfully colorful and honest pop song that boasts classic guitar sounds and addicting lyrical phrasing that becomes quickly infectious and the more the song plays on, the more fun you have as that chorus is a damn good time. 
The song features that hook that sticks in your head for days and you end up singing it out loud when you aren't even paying attention.
You can hear the song comes from a real place. It comes from an experience or from an emotional platform and grows into a vivid pop song that has just the right edginess to it that makes you want to dance around the room and sing it aloud. 
Wilde teamed up with Michael Vickers on the track and it seems like a great choice as the song came through exactly as it should have. 
The best thing about this is that if you love this single, you will love most of the artist's library.
The songs vary in style and touch on different feels at times but stick to the roots of what makes this project speak so loudly. 
It has passion behind it. It boasts a powerful backbone and takes real situations and emotion and brings them into a pop world. 
With such a great release we wanted to have a chat with Wilde to talk about where this track actually came from. 
Here's what happened.
TSWS: Let's start with the "Watch The Sun Go Down" single. This track had an anthemic chorus and brought old school alt pop and rock together! Where did this track come from?
The track was the closing song for my 2020 "Reflections" CD/digital EP release I wrote & recorded with dAudio Music Group & producer Alex Dudley in south Birmingham; the EP was written following/during quite a difficult, traumatic & turbulent year for me, following a difficult breakup with my ex boyfriend in early 2019 – after relocating from Leicester back to my home town of B'ham the EP became semi autobiographical, charting my experiences dealing with heartbreak, starting over, self reflection, coming out to my family & (mainly) my dad, the 'ups & downs' of gay single life/dating, burgeoning new romances - & the closing track & single "Watch the Sun Go Down" was a collab written with (straight) Leicester artist Michael Vickers I met on the Leics acoustic scene; having also gone through a split with his ex girlfriend the year before we wrote the song about that joyous point following a breakup when you're finally over someone, dealt with all the pain/hurt & ready & excited to commence on your next chapter – it's ultimately a celebration of life, & that feeling of leaving your old life behind & getting ready to hit the town & party/drink, dance & sing your woes away with your friends without inhibitions or worry – we called it "Watch the Sun Go Down" as a metaphor for saying goodbye to your old life/chapter, to begin anew. It was also interesting, & quite cathartic to write about the experience of heartbreak, loss & mourning after a breaking between a gay & straight artist, & in the writing process it made me realise that we're not alone in these experiences, millions have gone through the same - & that actually in saying 'goodbye' to one person will open up your life to a world of new people/friends, & experiences! :)
TSWS: Love your whole aesthetic! Who are some of your real influences musically?
In terms of my stage performance/prescene, & musically/melodically some of my biggest influences are the classic Rock/Pop icons of the 70s – 80s/90s, including Bowie, Queen/Freddie, Elton, Tina & George M – you just don't seem to get many real icons of that calibre anymore (except maybe Pink & Gaga) – whereas most modern pop stars these days go either low key/authentic & smart casual/acoustic, or tightly choreographed, there was a wild energy, flamboyance & spontaneity in the stage outfits & performance style of these icons that you just don't see anymore; no Freddie/Bowie/Tina or Elton show was ever the same.
Pink is my female icon/diva I've idolised since my twenties; I love her spunk, attitude, fierce individuality & courage in her songwriting – she isn't afraid to lay down her flaws/vulnerabilities & I love her confessional songwriting style - & how she writes about all the dark/uncomfortable & sometimes funny/awkward aspects of r'ships other artists may shy away from. I'm also hugely influenced vocally & lyrically by artists of the 'Nu/Blue eyed soul/ movement, & roots rock/folk soul artists from the mid noughties to 10s, including Amy Winehouse, James Morrison, Adele, James Arthur, Lewis Capaldi, Sam Smith & Rag n Bone Man; I love their frank, confessional songwriting style in how they write about love/r'ships & heartbreak, & the more difficult/dysfunctional, & sometimes funny aspects of love, & also the raspy, husky vocal styles & imperfections/voice cracks to convey the emotion.
TSWS: When did you first fall in love with making music?
 Somewhere between the classic Rock icons/bands of the 80s & 90s played by my dad, & on MTV – including U2, Bon Jovi, Meatloaf, George M & Frankie; I loved how falling in love, or losing it could me made to sound/feel so joyous, with a soaring chorus & guitar solo/crescendo, & I loved the poetry of the lyrics – U2 "Joshua Tree" was a defining album of my childhood, prob as my dad played it on almost every family car trip til I was 12 years old!! lol
I also got swept up in the mid 90s Britpop era – Blur vs Oasis, Pulp, Suede – then post Britpop with Radiohead – I loved the clever/idiosyncratic lyrical references to council estates & Sat night pub/clubbing life, partying & excess - & 'clubbing' culture, then the resulting hangover of Millenial angst & emptiness that followed – from 17/18 years old in the late 90s they kinda documented my 'turbulent' partying youth, from Blur's "Parklife," Oasis "Definitely/Maybe"/Morning Glory," Suede "Coming Up" to Radiohead's "The Bends/OK Computer" kind of soundtracked my youth, & coming of age to my ambitions to learn guitar & become a musician myself! :)
TSWS: What do you think is next for you as an artist?
Well I'm actually currently going through another breakup currently :'( Despite having all the love & respect in the world for each other (we still believe we're each others soulmates) – we met/found each other during the 2020 lockdowns, & in some ways he kinda saved me from myself/some of the 'excesses' of gay life I was indulging at the time - & as a result I've definitely changed/matured for the better, so we're parting with love/amicably – however I made the difficult realisation that, for the majority of my adult life since my twenties, I've often been in r'ships defined as being someone's 'other half' – I've also spent most of my adult life partly still 'in the closet', until a couple of years ago when I finally came out to my parents, & wider Irish catholic family/relatives on FB/social media when I announced my recent partner/r'ship.
I've got a close lgbt fellow artist/friend, Emma who's making waves with her roots/country group, & sorted me a 5 track EP/Music video production deal I'll be commencing from late Feb/March 2022 to start a new songwriting/recording project;
with the amicable split, & the newfound freedoms I'll have as a single gay artist I've decided my next EP release will be all more about finding/celebrating myself & my own individuality as a mature (now) 40 something gay artist, & about finding/celebrating new adventures & experiences indepentally, & on my own 2 feet, & being excited about the future. This will also be my first official recording/release in which I'm fully 'out,' & previous songs I've released have been a lot more 'ambiguous/discreet' in terms of sexuality/gender when I've written about previous 'love interests' etc – so I intend to be a lot more 'loud & proud' with this release, & lyrically/thematically will have a lot more fun toying with themes of gay/gender stereotypes, pre-conceptions & as a gay rugby player, my experiences of 'toxic masculinity.'
TSWS: This whole single feels like it was a big undertaking. What advice might you have for other artists out there?
Keep your heart & your mind open when songwriting; writers block but also toxic self doubt can often be a big barrier to creativity, but don't be afraid to fail first when trying to write that 'classic/perfect hit;' start with a chord progression/guitar riff & a basic hook first, then when penning your lyrics just get down the first things/words that come to mind – don't worry about it sounding rubbish/cringe, or reverting to cliché at first, & don't worry about any of it making perfect sense/following logic or reality & playing around with the abstract/poetry – music is often an emotional/sensory experience & the best songs are open to interpretation – look/listen to half of Bowie's 70s output, or Bohemian Rhapsody – one of the greatest songs of all time & few people understand what it means even to this day – just go with your heart, & your gut! :)
TSWS: What sort of things inspire you to write?
The outdoors, beautiful panoramic/natural country views & the British coastline, & beautiful inspiring cityscapes litup at night, & sadly my many romantic endeavours/heartbreaks, & shared memories with previous lovers/friends, & old photographs that captured a cherish memory/vibe, & era/phase of my life.
TSWS: Do you do any live shows? I know it's not the same as it used to be but are you working out performances?
Yes, since I relocated to the SW & East Devon for my current/recent partner I've been slogging away on FB Exeter/Devon musician's groups & on the local acoustic/Open Mic scene, both as a Solo acoustic/vocalist & artist, & as a covers/tribute vocalist (Freddie M & Robbie) – I have gigs booked at local/UK SE & SW & some Midlands pub/bar venues confirmed from Feb – Dec 2022 starting with a Solo Swing/Soul covers show at Market House in Cullompton, Devon today then each month from March – Dec 2022, & pending acoustic bookings at local venues in Exeter/Honiton & surrounding areas, including Coolings Bar in Exeter & Bruv's Bar in Honiton – all bookings/dates tbc on my official music website events calendar:
TSWS: If you won an award for your music, who would you thank?
My mum, Kay – having been out of the closet to her now for nearly 14 years (I told her in confidence in 2008) she couldn't have been more accepting despite my family's Irish Catholic background, & she allowed me the confidence to fully explore my sexuality/romantic endeavours into my music & songwriting. I'd also thank all of my booking agents, for all their hard work in still finding me consistent paid work over the past year or so, despite the recent lockdown restrictions.
TSWS: Who are you listening to right now?
Ed Sheeran's "=" CD (obvious choice, I know!!) - but I love the openness, self deprecation & frankness of his songwriting, & even when writing about pain/loss he still does it with such beautiful/uplifting melodies; also my fave 2 Paloma Faith albums, "Fall 2 Grace" & "The Architect;" stunning vocalist/songwriter & massive voice for such a small lady – I also saw her in concert with my (recent) partner in Plymouth last Oct & she blew us away. I've also been listening to Jack Savoretti's "Europiana" CD on repeat – I love his retro/throwback vibes, sun drenched nostalgic melodies/lyrics reminiscent of lost summer romances, & he has one of the best 'gravel' voices in modern Pop/Folk music; you can literally feel/hear his pain/heartache in the rasp.
TSWS: What is someone like you doing when you're NOT working on music? 
Long, relaxed 'therapy' beach walks or coastal walks, or country park walks with a coffee for head space, often with our dog (cockapoo) Cilla or an al-fresco coffee & read of my new Bowie biog, or a novel (love reading) - I've also just recently joined a local health club/gym & spa on Sidmouth seafront & started working out again 4 days a week, just to get the summer 'beach body' back – I love enjoying an al fresco coffee after on the cafe decking to enjoy the stunning view of the Jurassic coast.
I'm also often pulling pints at local Hare & Hounds country pub for my new bar job.
TSWS: Before we go, would you like to say anything to your fans?
Always be true to yourselves, find your vocation & your creative passion first; find a job/career or calling that feeds your soul & gives you a reason to get up in the morning, whether that be music, songwriting, art, fashion, writing, pottery, acting, dance, singing, filmmaking, photography – anything that feeds your soul & lets you enjoy new places/people & experiences. Never compromise your goals/passions, or who you fall in love with (male/female) to please your family/parents – as if they love you they will accept you, & find yourself & career/passion before you fall in love – then if they love & support you for who you are they either get with the programme, or get lost; always be true to yourself - & never compromise yourself for friendships either – some will hate & be jealous of your success, & if you have to lose them or cut them off to be happy then so be it – just let your light shine brighter! :)