An Interview With Jon Statham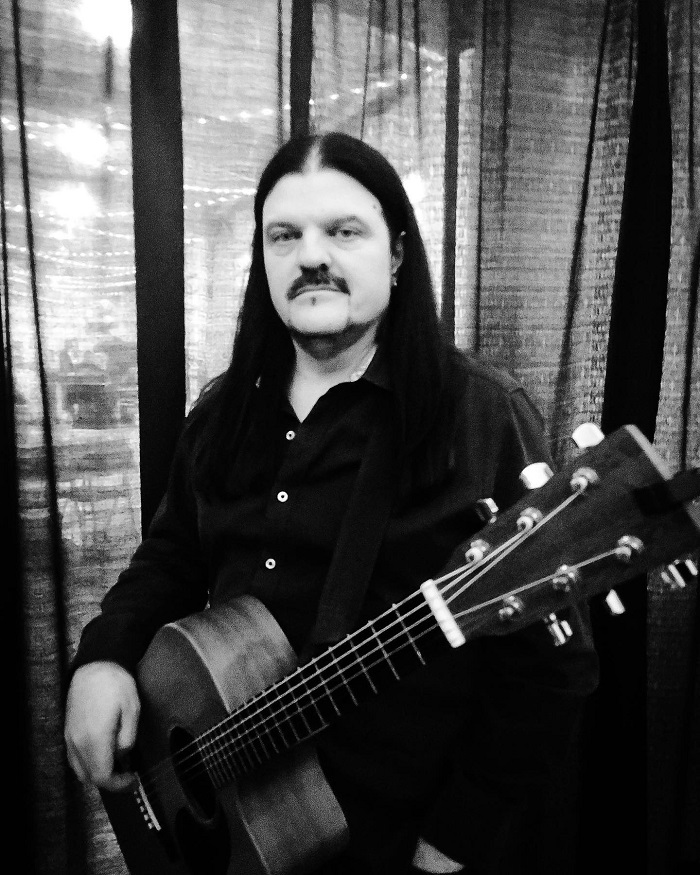 A new single from Jon Statham takes on a classic southern rock approach and with a tasteful style and powerful songwriting, pulls off an instant classic that feels as honest as they get. 
"Tidal Waves" is a song about standing up and doing something about certain kinds of people treating others wrong and it's a graceful and passionate place for a performance.
This is one of those songs that comes across so well, you feel almost like it was written for you. It's extremely relatable and boasts a bright and strong standpoint and attitude.
Guitars are massive and the vocals are belted with a passion and need to get the point across which only gives it more life. 
This song came from real experience and it's something that can drive people in different directions. 
Statham is known thus far for putting a lot of honesty in his lyrics and maybe that's because this is how he gets his emotion out. 
It's clear that he has a major love for his craft but it's also clear that these songs are indeed emotionally driven and they all have some sort of actual purpose. 
This single is an example of real deal rock n' roll and it shines with a certain touch of grit that makes it genuine and addictive.
There is also this cinematic backbone to it that really shows face as well. 
This song has a ton going for it and if you love it, you're bound to love Statham's music as a whole.
With the release of "Tidal Wave '' we wanted to have a chat with him to find out where this actually did come from and what may be next. 
Here's what happened. 
TSWS: Okay so let's start with "Tidal". The single has a killer southern rock feel to it! Where did this track come from?
Jon: Thank you! Yeah, it seems to come out that way most times. I was inspired to write this after watching a hard-hitting documentary on the abuse of teen actors in Hollywood. It was pretty gut-wrenching. But it ended with a spirit of fighting back against abuse. And actually triggered some memories of abuse that I experienced at a very young age. So I delved into those emotions and if you don't go into sorrow and apathy, the right way to go and path upward is anger against the abuse and the abuser who tries to make you feel small and powerless. Hence, the main line in the chorus: "I know you think I'm just a drop in the ocean. I'm a TIDAL WAVE."
TSWS: I'm hearing several styles on this release. Who are some of your biggest musical influences?
Jon: I'm super-encyclopedic about my tastes  LOL! From the 16th Century up to today. But I get my greatest influences from songwriters like Townes Van Zandt, I like Eric Church a lot, and I get a lot of influence from 70s rock and singer-songwriters from that era. 
TSWS: So how did this all begin for you really? When did you all fall in love with making music?
Jon: Well, I knew I had the capacity to make music at a really early age, probably around three or four years old. I played violin and viola all through school until I graduated. But when I was sophomore in high school, guitar took over and I started writing songs then. 
TSWS: What's next for you as an artist?
Jon: We're going to be releasing singles for the next few months and then the full album after that. 
TSWS: What inspires you to write a song?
Jon: Oh man. Lots of things. For me, it just seems to be in the ether, or I get a certain feeling like something is coming through that I have to jot down or record. It happens at Wies times when in doing mundane things like doing the dishes or cooking. I'm just thankful that it happens at all, really!
TSWS: What are you doing when you're NOT working on music? 
Jon: Eating and sleeping LOL. That's actually almost true, since I have a music production business producing other artists. But I like to go out to dinner with my wife and go on short road trips with her. I do a lot of spiritual study as well that enhances my life and artistic life. 
TSWS: Who are you listening to right now?
Jon: I'm listening to Magdalena Bay, actually. I love their melodies and their arrangements, quite amazing and quite different instruments than the I use. 
TSWS: Are you putting together any live performances? 
Jon: We're planning some showcases in the Nashville area and would like to do a lot more veterans benefits. We'll likely do a show this year in upstate New York for all my homies up there (that's where I'm from - Horseheads NY).
TSWS: This single seems like a big undertaking. What kind of advice might you have for other up and coming bands out there?
Jon: It is quite an undertaking. Working with Billy Sheehan on these songs that you got to hear coming out made it very much worth it. And in the song "Tidal Wave" it has a greater purpose than just "hey look at me and listen to my songs." And that purpose is for people realize that they are not as small as toxic  people are making them believe. Artists and bands run into a lot of toxic personalities. So my advice would be to not listen to people who are making you feel like you're not as good as you know you are.  
TSWS: Before we go, what would you like to say to fans of the music?
Jon: I would just wanna say thank you very much. My life's purpose is to make great music. Thank you to the thousands of you that have listened to "Tidal Wave" across all the various platforms. And if you love "Tidal Wave" I'd love to hear from you for a social platforms. And get ready for some even greater songs coming up this year.