An Interview With Little Panacea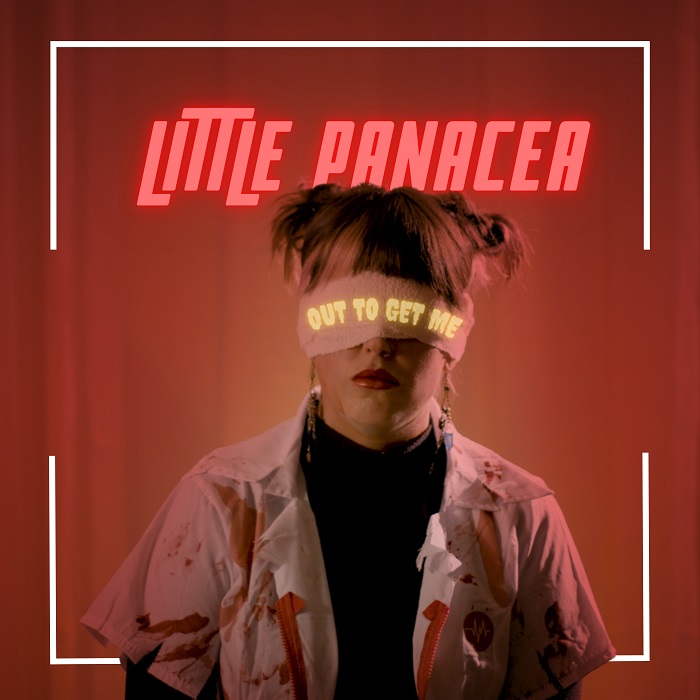 A fresh banger from Little Panacea just dropped and it's got a killer pop swagger that's tough to beat from start to finish to go along with a heavy musical hook lead by electric guitars and synths. 
"Out To Get Me" is incredibly smooth and colorful as vocals come through alluring and with some damn catchy melodies and changes you don't really expect that bring some added soul and a touch of funk undertone between the lines.
The whole track has surprises and has a breathing living quality to it that feels commercially viable and even anthemic at times. It has this cinematic feel that gets edgy but warming as well. 
This was like a genre crossing single that ups the game a bit by way of a unique and fun songwriting approach combined with a passionate performance and a super danceable sound. 
The single borders on everything from rock, to pop, to disco, to soul and more. This was a great time and showcases a wonderful and youthful energy with a bit of a mature songwriting style that all comes together to create its own atmosphere.
It's been some time since you've heard a song with such a great musical hook like this and any fans of pop music in general should really dig this one. 
With such an awesome new release, we wanted to have a chat with Little Panacea to talk about where this song actually came from. 
Here's what happened.
TSWS: Okay so let's start with "Out To Get Me". This track was such a vibrant blend of genres it was outstanding! Where did this song come from?
Oh wow! Such a massive compliment. Thank you so much! Yeah, I think because I have such a love of a blend of genres I can't quite help but put that into the songs I make - even in the realm of indie pop. I think that keeps things fresh and interesting all the time for me though. 
TSWS: I'm hearing rock, pop, soul, funk, and much more on this one song alone! Who are some of your biggest musical influences?

I'm always finding new inspirations and falling in love with new artists all the time but I'd say my biggest influences that have stayed with me are Kimbra and The Kills. Both these artists are so individual and have so much to do with their own production. I remember falling in love with the fact they make their own samples. Jamie Hince was a big influence on my guitar playing too! Kimbra is such a genre chameleon and so fearless in the way she presents it, I always strive to be nothing but myself in that way aswell. As far as others who have really played a part in inspiring me, I'd say late Paramore/Hayley Williams, St Vincent, nothing but thieves, disco music (young hearts run free and finally are two of my favs), talking heads and tears for fears.
TSWS: How did this all start for you?

This little song started in a different arrangement quite a few years ago actually. I wrote it about a boss i had at a bar I was working at who constantly bullied me about taking nights off to play shows. I became so anxious and unhappy in that job that I literally would drink down at another pub on my breaks sometimes. I loved the venue but that boss was a total prick. But anyway, fast forward some years and I revisited the song, giving it a face lift and writing a whole new section. 
TSWS: What are you performing on this track aside from vocals?

Everything you hear on this track, i either played myself or used samples to create. It was a different process to the two previous singles, as I had collaborated with other people and producers on those ones and only sung on them but not this time! I even mixed the song myself.
TSWS: Do you collaborate on the production or songwriting?

I haven't collaborated with other songwriters for this project yet. It's something I would definitely love to try at some point! I've been putting some thought into some potential co-writers for future releases..so maybe sometime down the track. Collaborating on production is definitely something I do enjoy doing. My first single 'Still In Bloom' was done with my pal Ryan Martin John (who I was dating) and recorded with my live band at that time. It was good fun and a very different process coz we recorded the drums, bass and guitar in the same room all together, so it was very organic and has a bit of a vintage vibe, even though it's a synth pop tune. 'Myself' on the other hand was done with Ryan and Mario Spate. Both of them playing or programming everything on there. I learnt a lot watching them both work.
TSWS: What's next for you as an artist?

What's next for me is finishing my EP. I'm currently in the studio slaving away at it. You can expect a blend of the different processes. Some songs collaborated on and others done by myself again. It will come out in 2022 but not sure of an exact date yet. I also took a hiatus from live performances for this project for a bit but once the record comes out, i look forward to getting back to it. 
TSWS: Can we expect a music video coming from you anytime soon?

I actually just released one for Out To Get Me. You can find it on YouTube. It was filmed with the same person as 'Myself' was (Kristoffer Lucia, Gutterpop Pictures). We did a fun little Halloween themed video, as it was filmed around Halloween. Of course I will definitely release another one in the new year though when the next single comes out. So stay tuned!
TSWS: Do you play any live performances?

I've played many but as I said previously, i took a bit of a break from playing live shows and focused on writing and harnessing my sound. I've still been getting my live music kicks with my rock band Twin Decoy though so that's kept me happy. I will bring back live performances for this project when the EP comes out. I'm very much looking forward to it!
TSWS: What are you doing when you're NOT working on music?

Hmm..that's a good question. I do spend a lot on music or listening to it..BUT when Im not doing that I like hiking and rollerskating, eating good food, camping, binge watching tv series - Ru Pauls Drag Race is a current favourite, playing board games or video games, reading, and coz it's a summer now, living at the beach. 
TSWS: Who are you listening to right now?

Oh my gosh, erm, I'm really vibing on Sycco, Jaguar Jonze, Billie Eilish, Doja Cat, Dua Lipa, Benee, and lots of local Adelaide artists. I've been building my own local playlist on Spotify! 
TSWS: This single feels like a big undertaking. Is there any advice you'd have for other up and coming artists out there?

My advice would be to just do it! No good ever comes from doubting yourself, so just be fierce and fuck the haters - you cant please everyone. Surround yourself with a good support network and get out to lots of shows and meet people, then play lots of shows. Work with people who inspire you and lift you up because music should be fun! 
TSWS: Before we go, what would you like to say to fans of the music?

To anyone who has given me support and appreciates the music I make, I thank you. It is my favourite thing in the world to do and the reason I breathe the air I breathe so thank you for supporting that dream. X