An Interview With Moon Walker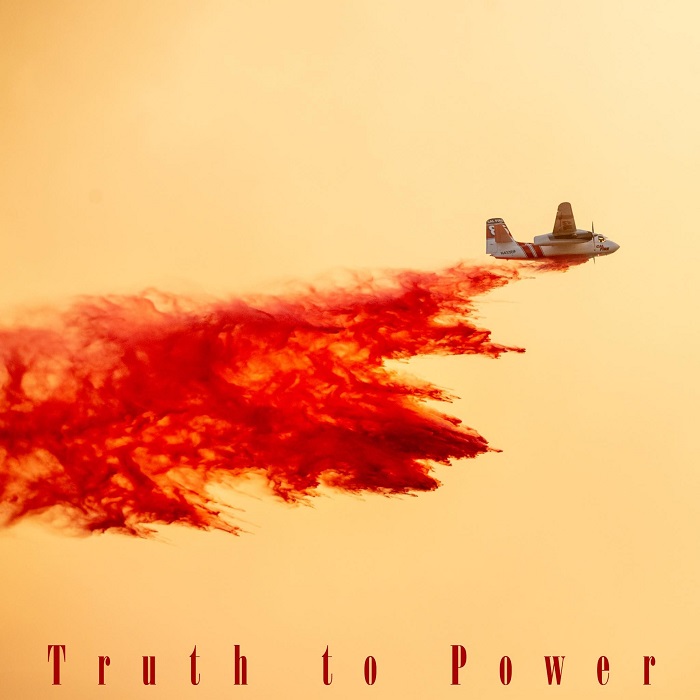 Moon Walker brings on the fuzztone funk rock with a fresh new release packed with classic rock tonality, soul, and indie rock all tied into one massive record that bleeds attitude and swagger non-stop. 
The Truth To Power album is a huge record that features some righteous guitar work with power, guts glory, and passion. 
Vocals go right along with the band in terms of endless energy and character for days. 
This band is the kind of band you yearn to see live in front of you. They'd be outstanding and we know this just by listening to this record from front to back. 
The album itself almost sounds live and in your face. 
This release has it all from balls to the walls riffs that give off a Black Sabbath feel, to gospel inspired vocals and everything in between.
Basslines drive the funk and the band follows suit into a world of deep grooves that turn into heavy hitting rock songs riddled with wah pedals, danceable drum beats and lyrics that make you think a little deeper. 
There is a blend of almost everything on this record and its so addictive you'll have a hard time not shaking your ass to just about all of these tracks honestly. 
That swagger thrives by all performers and you can certainly hear the love these guys all have for their craft and how lucky they are to have found each other to create such a colorful and energetic sound that fills the space you're in.
This band gets their kicks from letting their freak flags fly and it works so well it's almost intimidating. 
Anyone with an ounce of rhythm in their bones will fall sucker for these tracks in a heartbeat. 
It's built for everyone. All ages, all races, sexes, everything. 
With such a killer release, we wanted to have a talk with the band to find out where this all came from and where it may be going from here.
TSWS: Okay so let's start with the Truth To Power record. This album has a ton of classic rock and funk going on. Where did this record come from?
1. Absolutely. I guess it came from two huge rock and funk fans with ample amounts of free time during a global pandemic! I started off by writing music for sound libraries, until I wrote a few songs I wasn't comfortable selling. It was a stripped back, raw rock sound that I hadn't fully leaned into yet. I kept following that and soon the record was finished.

TSWS: I'm hearing a number of different styles on this album. Who are some of your biggest musical influences?

2. There are so many! Bowie, Talking Heads, Can, T Rex, The White Stripes, Supergrass and Radiohead were the biggest sources of inspiration while making the record though.

TSWS: So, when did this all start for you guys?

3. Me and Sean have been playing together in The Midnight Club for almost 10 years. We just had a lot of free time in quarantine so we figured we'd give a side project a try. When the record was done, we were incredibly proud and felt like we had kind've struck gold. So, our musical relationship started years ago, but Moon Walker only started last year.

TSWS: What's next for you as a band? Anything in the works even now?

4. We have a new single "The Hollywood Machine" out on December 10th. We also finished our second record and will start releasing singles from that at the beginning of 2022. There will be some other fun surprises between then and now as well!

TSWS: Do you produce your own stuff?

5. Yes. I produce, arrange, record, mix, etc. everything myself. I think there's a benefit to collaboration, but I also think there's a benefit to working in a very insulary manner and sticking true to your own vision. I knew exactly what I wanted. I think collaboration would've just led to compromise.

TSWS: What are you all doing when you're NOT working on music? 

6. Hmmmmm.... Good question! I spend so much time making music! But I love making videos as well. I make our music videos with my girlfriend and I find that process just as creatively fulfilling as making the records. I am a massive cinephile so I also spend too much time watching movies. Besides that, really just getting coffee and hanging out with my dog and girlfriend. I lead a pretty simple life haha!

TSWS: Can we expect any music videos coming from you this year? 

7. Absolutely! "The Hollywood Machine" will have an accompanying music video and we already have three other finished videos for songs on the record. We've also already started planning more.

TSWS: Do you  guys do any live performances? 

8. Yes! We have a show on December 6th at the Resident DTLA in Los Angeles. Hopefully we will be on tour soon, as well. Playing shows is essential to our band. "Truth to Power" was made to be played live. 

TSWS: What really inspires you to write?

9. I guess it depends. In Moon Walker, it seems to be mostly anger with the world around me haha. But music is my coping mechanism, my therapy and also my most effective means of communicating, so I write about absolutely everything.

TSWS: Who are you all listening to right now?

10. Right now I'm super into Primal Scream, Spoon and Silk Sonic. As always, I still listen to Bowie, The Beatles, T Rex, ELO, etc. almost every day.

TSWS: You wake up in the middle of the night starving. What's all of your go-to midnight snacks? (a question of character here)

11. Hmmmmmmm good question... I suppose maybe jalapeno chips or dark chocolate of some kind. I also love those kinder hungry hippo things, but I can't always find them!

TSWS: This album feels like a big undertaking. Is there any advice you have for other up and coming bands out there? 

12. Don't sacrifice. When I started playing in bands/releasing music, there was an expectation that you fit into this big machine. You had co-writers, multiple producers, engineers, external mixing engineers, managers/A&R's giving input, etc. Some artists still feel pressure to fit into that. Radio is dead and there is no standard for what type of song will perform well. Make music that YOU love. However you can accomplish that, that's your process. Don't feel pressured to apply a certain process just because that's what you believe to be industry standard. As long as YOU love what you made, you've accomplished all you can. You can't control or anticipate anyone else's reaction. All you can control is how proud of your own work you are.

TSWS: Before we go, what would you like to say to fans of the music? 

13. Thank you for listening! It truly blows my mind how fortunate we've been since launching the band. We're self managed, self funded and entirely independent. The amount of luck we've had in finding a fanbase/listenership is truly beyond my comprehension. Every single person who has listened to our music, seen us live, watched our videos, etc. already has given me more than they could possibly know.