An Interview With Nightingale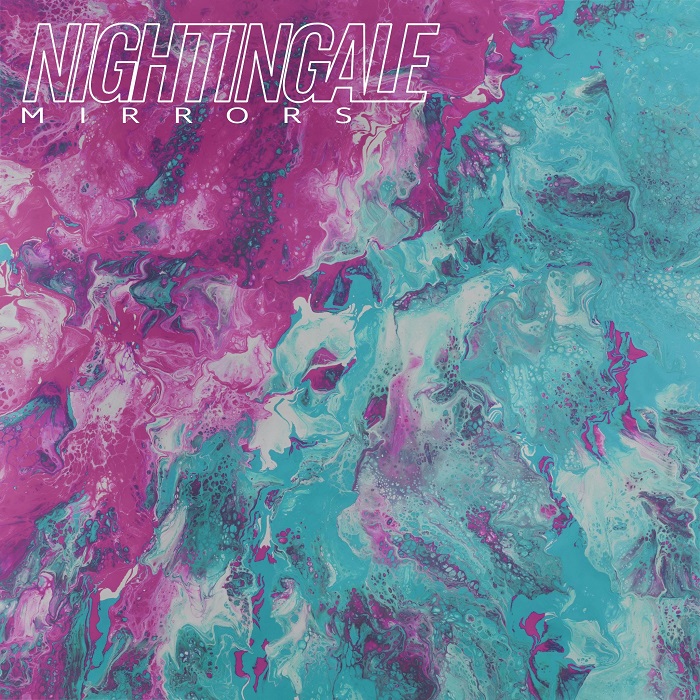 A fresh release from Nightingale brings some colorful textures in the form of synths and smooth contemporary guitars along with swelling pads and a huge soundscape. 
"Mirrors" gives the feel of something you'd hear on the radio in the late 90's and it all comes with a tasteful and alluring vocal approach along with an ambient atmosphere that can engulf you at a moments notice. 
There is a dreaminess to this track that feels good. It's warm and somewhat familiar as it brings a slight nostalgic touch. 
The track clearly comes from someplace real and is emotionally driven and it shows with every passing minute. 
Guitars build and fill the air with an edge and the arrangement creates an intensity that grows as the song layers and fills out its naturally lush sound.
There is heart and a certain gracefulness built into the performance of this track and it has a sunset feel to it that sticks with you for hours after it's ended. 
The song also has quite a cinematic backbone as it does seem like something that would be heard in the scene of a film.
"Mirrors" is a shining example of a youth in songwriting that utilizes tons of influences and sounds to create something that has a life of its own. 
With such a beautifully woven release, we wanted to have a talk with Nightingale about the single and what may be next for him. 
Here is what happened. 
TSWS: Okay so let's start with "Mirrors". This track blends contemporary pop and electronic music together and creates a fresh atmosphere. Where did this song come from?
'Mirrors' sprouted from a keyboard chord progression and melody that I was improvising on one night in my home studio. I was exploring the sound palettes on the 'Mini Grand' VST and really resonated with the sounds within the 'ambient' settings. This catalysed the reflective chord progression and melody.  Once I stumbled on that progression, the melodies and lyrics easily flowed and I knew it was a song I had to write.
The lyrics that came to me were inspired by my experiences of relying too much on seeking acceptance from others and what I felt when I realised that. I wasn't necessarily in the middle of a crisis around identity when I wrote this song. It's more that I wanted to capture these past reflections and empathise with those going through similar thought processes. If I could tell myself something then, it would be to the effect of that I'm not alone and my realisations should lead to better decisions that inform who I am moving forward.  
I go into some technical specifics in Ableton in a break down video that I'll be releasing over the next few days. Specifically, I speak on each layer and sound that makes up 'Mirrors'. So please make sure to follow me on my socials so you can catch that as soon as it's out!
TSWS: How did this all start for you? 
I got involved in the local music scene here in Melbourne as an electric guitarist for a few indie/alternative rock bands around ten years ago. After a few years of this, I got to a point where I started thinking about pursuing an electronic solo project. I learned so much being involved with these bands and looking back, the desire to be able to fully control a creative project along with wanting to work within a different soundscape is probably what propelled to me launching and releasing under Nightingale in 2019.  It coincided nicely with learning Ableton as the Push was a new thing then and it was a good transition for me hardware wise as a guitarist who didn't know piano/keys. Back then I couldn't grasp producing music with just a mouse and keyboard (but that's changed now!). I took my time to learn the consuming world of music production and experimenting with different sounds and styles that I felt were going to be representative of my vision that ultimately led to my debut EP 'Thrill' in 2019.
TSWS: What's next for you as an artist? 
My focus lately has been to release consistently, around a single every two months or so. At the moment I'm currently working on my next track, and it's been an absolute delight to make. I'm delving into that progressive house sound more akin to my earlier release this year, 'Phantom'. I'm looking forward to releasing that one later this year with potentially some local live shows and DJ sets, subject to how Melbourne looks lockdown wise!
TSWS: It seems like you use your music as an outlet. Is this true? 
For me, making music is all encompassing so I think there are aspects of it that are by default cathartic and a space to express creativity. I find this to be especially the case when I'm writing lyrics as I tend to share transparently on personal experiences. I often use songs to navigate and revisit memories and associated emotions. In contrast, sometimes I just find it so fun and uplifting. With the current project I'm working on I mentioned earlier, I'm really enjoying the energy that I've achieved. I just love listening to it repeatedly and continually feeling the excitement of new ideas that I hear. Currently though, I've observed that my song-writing and music production isn't necessarily always sparked by a significant event. I've learned to approach making music with consistency every day and sometimes that means making my own inspiration and my own motivation – not sitting around waiting for it.
TSWS: I'm hearing several great styles on this track. Who are your actual biggest musical influences?
Specifically for Nightingale, I took inspiration from artists that had range in their songs and productions that you can either chill or dance to. I find these are universal moods and I love exploring the areas in between as it allows for experimentation and new sounds within an understandable context. Acts that come to mind include Flume, SBTRKT, and Rufus Du Sol. For 'Mirrors', I've leaned towards moodier sounds and a slower feel. James Blake was a big reference for this song. I love his approach and consistency in delivering spellbinding songs technically, sonically, and lyrically.
TSWS: What are you doing when you're NOT working on music? 
My wife recently gave birth to our first child! So that's keeping me very busy. It's such an amazing experience being a first-time dad. Just like with venturing out in my solo project, there are learning opportunities every day (or minute!) and challenging periods of growth. Aside from that, my schedule is already fairly full currently with full time work, exercise, and general life. This is largely fuelled by coffee. I spend a lot of time (potentially too much) experimenting with different brew methods and tasting different roasts/beans. When I can, I also like to maintain inspiration through photography, and engaging with, and appreciating, the creative arts.
TSWS: Do you like collaborating with other artists? 
As a solo artist, I've previously collaborated on one occasion. This is on my song 'Thrill' and I worked with an awesome vocalist, Eden Knight, and I'm grateful for her work on willingness to collaborate with someone who was so new to the game. Although it was done remotely as we're different cities, we clicked well, and it was so easy to work together in making 'Thrill'. I did enjoy that process for what it taught me, and for helping me gauge where I was at as a producer/artist.  At this point for me, I'm enjoying focusing on establishing Nightingale further through the regular releases that I talked about earlier. Collaborations are a part of that process in a broader sense and I'm working through as to what a good opportunity to collaborate would look like, rather than collaborating for the sake of collaborating at this stage.
TSWS: Who are you listening to right now? 
I'm really enjoying Australian electronic duo Lastlings. The way they incorporate progressive house elements to their tracks is seamless and make for great catchy songs overall. It was special seeing them live earlier this year as a first gig following the prolonged lockdowns here in Melbourne, such an engaging live show. I'm also loving the textures and production in Isles by Bicep, and the range of songs in Fred again..'s Actual Life. Great tunes all around.
TSWS: Do you think you might be performing live anytime in the near future? If so, how would you pull off a live show?
Great question! Previously I performed with an Ableton Push on stage with my MacBook Pro and a live guitar setup. I had vocalists join me onstage. I'm now in the middle of revising my live set as I only incorporated my own vocals to my own songs this year. The reason for this is I initially set out to only do the music and get different singers in to do the vocals in my tracks because I wasn't confident vocally. This changed when I was able to have a release with Australian label etcetc last year for their 'Decade of Dance' EP, where I covered Two Door Cinema Club's 'Undercover Martyn' and did the vocals on that. The feedback and response were so positive and this gave me the confidence to go down the path I'm on now. I'm also thinking of involving other musicians on stage with me to give that 'live' experience for an electronic act and continue to grow as an act in that regard. I'm thinking I'll incorporate elements of live drums and a keyboard, with me on vocals and guitar. With the recent releases ramping up to a bit of a new set, I'm looking forward to setting a date for this by early next year. I also need to mention how the lockdowns are still impacting the creative arts down here in Melbourne/Australia, and the people involved in them. I just want to acknowledge that here and give my support to the people committing to setting dates and making and readjusting plans. If you have a friend that's part of putting on a show (not just in music), please go.
TSWS: Before we go, what would you like to say to fans of the music? 
A massive thank you to you for listening and being a part of this with me. As an independent solo artist, it's no exaggeration when I say that it means so much. I've got more releases on the way so please stay tuned   Also if you're in Melbourne, keep your eyes peeled for gig dates!