An Interview With Rob Gravelle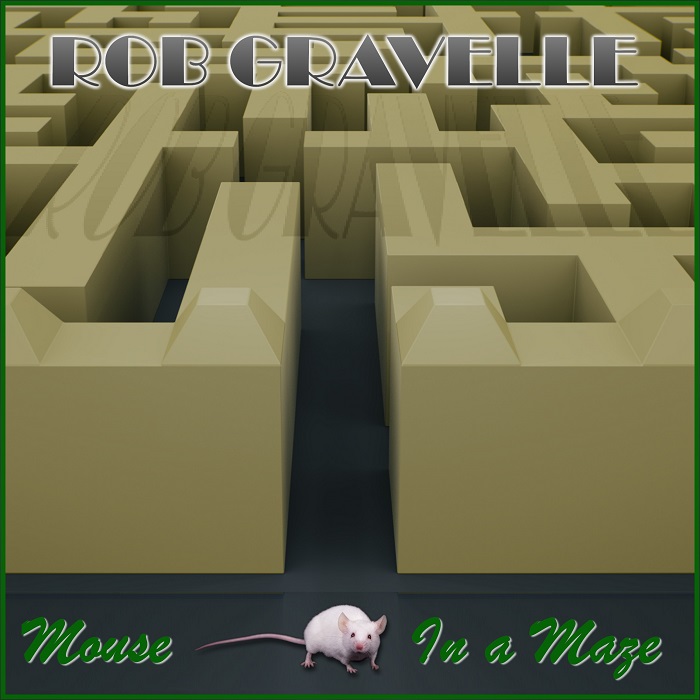 Rob Gravelle has a knack for recreating classic rock songs with an unreal amount of depth and precision and his latest isn't lacking in any department whatsoever. 

"Mouse In A Maze" is an absolute masterpiece from start to finish complete with an amazing palette of guitar work riddled throughout the song's nearly perfect metal arrangement. 
The track, originally performed and written by Saga, is packed with lively energy destructive trudging sections, and pounding drums that all come together with vocals, performed by John Perinbam, are displayed with a massive passion and pure love for the craft. 
That's exactly why Gravelle is so good at what he does. It's his love for the music and for the craft of songwriting. 
The artist has delved into covering a number of rock classics throughout his career and he nails just about everything with an incredible attention to detail. 
The single has a blistering and sill graceful feel and comes through with a swagger and attitude that's not only portrayed through vocals but with those guitars. 
The guitar work on this track is just insane and to have the ability and patience to cover a song like this and do it with such a huge feel without letting up for even a second takes time and skill not many possess. 
When the track is over you get the same feeling you do from watching a live show and seeing those guitars shred right in front of you.
The entire aesthetic is there and Gravelle, a true perfectionist, shines from beginning to end. 
With such an absolutely killer release, we wanted to touch base with the artist to find out where this came from and how he does it all.
TSWS: Okay so let's start things off with "Mouse In A Maze". This is an amazing cover from the original
by Saga. Where did this come from?

Rob:
Thank you so much. I am quite happy with how it turned out.
I have been a fan of Saga since I was a kid and I always thought that Mouse In A Maze was one of their
greatest songs. I think that my rendition is fairly faithful to the original, except that I amped up the
heaviness and desperation of the poor mouse. I sent the track to Michael Sadler, who responded that the
song is "very well done" and "intense", so I think he got what we were trying to do with it.

JDP:
Thanks so much. I'm glad you like our version of this fantastic song. Strangely enough, as a teenager I
used to sing all the songs from the Images at Twilight album - while riding my bike (bicycle) to my part-
time job at 5:30 in the morning - must have made an interesting sight! When Rob contacted me about
covering it I jumped at the chance!
TSWS: To cover a song like this one, you have to have experience and real passion for the craft. Who
are some of your biggest musical influences?

Rob:
A ha. Well, I have been at it for quite a while now. While the Gravelle/Perinbam project is only about 10
years old, I have been playing in bands with John for a good 30 years now!

Regarding musical influences, besides Saga, I tend to lean towards heavier sounds, like those of
Maiden, Priest, and Metallica. I also really dig progressive music like Rush, Yes, Dream Theater, and
Symphony X.

JDP:
I've been playing music professionally or semi-professionally for many years. It's something that I could
not imagine NOT doing. It's in the blood, I guess.

Some of my influences include The Beatles, Rainbow, Blue Oyster Cult, Black Sabbath, Judas Priest,
Gentle Giant, King Crimson, and others. Vocal influences include Dusty Springfield, Derek Shulman, Ian
Gillan, Rob Halford, Ronnie James Dio etc. although I don't sound like any of them! Bass influences
include Joe Bouchard (Blue Oyster Cult), Roger Glover, Geezer Butler etc.
TSWS: How did this all start for you?

Rob:
I started playing guitar in my mid teens, when my cousin suggested that we start a band to meet girls. It
was a great idea, except that, for some reason, we never did start a band, and I got so into guitar that I
was at home practicing instead of going out to parties. All in all, getting into music was disastrous to my
social life.

Regarding the Gravelle/Perinbam project, that began as a vehicle to record some covers of classic rock
songs in a heavier style, as well as for instrumental music that didn't properly fit in Ivory Knight. It also
gave me a chance to work with a variety of other musicians. John and I work so well together, that it
seemed only natural that we should join forces whenever feasible.

JDP:
I've been singing as far back as I can remember - my Dad remembered me singing in the crib! My
earliest recollection is singing along to Beatles records probably around age 4 or so. I remember writing
my own songs even at a very young age and, with my siblings and some friends, playing basement and
living room 'concerts' for my family.

My first 'real' band that performed outside of the house was called Trojan Hammer. The guitarist was Jeff
Waters, who went on to fame as the mastermind behind Canadian Metal legends Annihilator. Shortly
after Trojan Hammer, Jeff and I did a couple of recordings as the Jeff Waters Project, then I formed Ivory
Knight (with drummer Paul Malek, who played on the early Annihilator demos). Ivory Knight released a
well-received cassette demo called Voice In Your Nightmare, but eventually decided on a more hard rock
style and was renamed Sudden Thunder. When the guitar player left, we auditioned many guitarists
before finding Rob via a 'musicians wanted' ad we had placed in the local newspaper.

Since then I've worked on many projects, some with Rob, including Sudden Thunder, the reformed Ivory
Knight, alternative rockers Dr. Squish, and cover band The Broke Brothers etc. With Ivory Knight we
released 3 critically-acclaimed CDs - Up From The Ashes (2001), Unconscience (2004), and most
recently, Unity (2018). Ivory Knight appeared in the Brave Words and Bloody Knuckles article "O
Canada, Our Home and Metal Land! The List - Great White Metal A-Z;" in issue #92, among greats such
as Rush, Saga, Voivod, Annihilator, Exciter, and Anvil! Additionally we've played a ton of shows, some in
premier venues.

In 2009 or so, I released a CD called Knightfall, which was produced, engineered, and mixed by Jeff
Waters. Rob plays most of the guitar solos and co-wrote (with Jeff and myself) much of the album.
Besides singing I play bass, guitar, drums, and piano / keyboards. I was the founding bassist of popular
Ottawa-area cover band Raw Sugar, with which I played literally hundreds of shows. I also create and
release my own music (more info: johnperinbam.com) and am the frontman of (Ottawa's) Enforcer.
TSWS: Do you do any live performances?

Rob:
We don't play live in this project. It was always meant to be a recording project. I already got my fill of
live performance within Ivory Knight. We have played around our home town of Ottawa, Canada, quite
a bit over the years. Having said that, I would never rule it out. If there is enough demand for live shows,
I'll consider putting together a band for that purpose.

JDP:
I do frequently play live with Enforcer and Ivory Knight but at the moment Gravelle - Perinbam is a studio
recording project, but who knows what the future holds?! Perhaps at some point we'll put together a live
line-up.
TSWS: We know vocalist John Perinbam is working with you on this. What are you performing besides
guitars?

Rob:
I've really had to grow as a musician doing the Gravelle/Perinbam project because I do as much as I can
myself. That includes mixing, mastering, producing, marketing, and everything that goes into being an
independent musician. Ivory Knight has had a lot of outside help along the years, but most of the time, I
personally have been disappointed in the results. Consequently, I resolved to expand my skill set into
other areas, besides writing and playing. That is not to say that I'm categorically against hiring
professionals for certain jobs. For example, I sought out professional animators for the Suspended
Animation video. That wasn't something that I dared try to do myself.

JDP:
I'm singing and playing 6-string bass guitar on Mouse in a Maze. Rob's doing everything else.
TSWS: It seems like you put focus on covering classic rock masterpieces. Was this always your style?

Rob:
Yes, that is exactly what I set out to do with this project. I was raised on classic rock, but I also gravitated
towards heavier music in my teens. Thus, both are part of my wheelhouse. Moreover, I found classical
music to be really inspiring, which is what led to songs like The Rabbit of Seville.
JDP:
I personally just go wherever the music takes me. As an example, my last solo release was a remake of
an original rock / pop ballad called Picture on the Wall, which is completely different from anything else
I've released...but that's where the music took me. Prior to that, my last solo release was the Jeff
Waters-produced Knightfall album, which was all originals - mainly melodic heavy metal and hard rock.
TSWS: What kind of things inspire you to write or even to say "hey I'm going to cover this song"?

Rob:
I'm always listening for songs that I think I can put my stamp on. I'm increasingly getting requests from
people as well. Usually, something about a song catches my attention and I think to myself "I can totally
hear this happening at that part." Then, after a few more listens, inspiration hits me, and I create a
project for it in my recording software. From there, it's only a matter of time before the song sees the
light of day! Then I start reaching out to fellow musicians to see who might be interested in participating
in the recording. Nowadays, John gets the first call, not only because of his vocal prowess, but he can
also handle bass & drumming duties as well! You might say that he's doing more recording than I am at
this point.

JDP:
That's a tough one. I don't know where inspiration comes from - probably subconsciously from
everything we experience or sense, whether real or imagined. I wrote the Sudden Thunder song 'Watch
You Walk Away" while stopped at traffic lights - I sung it into a portable recorder and completed a rough
musical arrangement when I got home. I've written other material in the process of trying out a new
instrument or piece of gear.

As far as the Gravelle - Perinbam covers, so far Rob's been the one choosing the songs. I welcome the
opportunity to make noise vocally and / or on various instruments.
TSWS: Can we expect any music videos coming from you this year?

Rob:
At the very least, I always create a lyric video for my songs. My lyric videos are a little more like
traditional videos in that they have many scenes in them, as opposed to a looping animated sequence.
They've done very well, with some of them getting around 20K views on YouTube, with only moderate
promotion. I'm looking to expand my horizons in that area too, so the video for Suspended Animation will
be a traditional video with a mix of animated and live action sequences.

JDP:
Yes, I know we are working on a couple of things right now as we speak.
TSWS: What's next for you as an artist? Is there anything new in the works even now?

Rob:
There is a lot of music coming down the pipe! I don't like to give away too much before a song is
released, but I can say that the next one will be a progressive metal original called Black Veil of Silence -
the first Gravelle/Perinbam composition with vocals. It's being mastered as we speak! The next song
after that is a cover of a 60's song, which is going further back than anything we've done thus far. There
is at least one other original and cover coming up as well, with more covers in the works...

JDP:
Lots of new material coming down the pipe, so to speak!
TSWS: Do you collaborate with anyone on the production side to create a song like this?

Rob:
Nope. I have refrained from hiring outside people for any of the Gravelle/Perinbam releases, unless
absolutely necessary. At first, I did have a big studio in Italy do the mastering, but we eventually took
that over as well. The cover art design and execution is shared between myself, John, and my cousin,
Marc Gravelle. I did Mouse In a Maze, but John did the art for Black Veil of Silence, and Marc did the
artwork for Suspended Animation. John and I have a good system in place to fine tune the mixes. I like
to think that we're getting better with each release.

JDP:
So far Rob and I have handled all aspects of production.
TSWS: What are you doing when you're NOT working on music?

Rob:
Sleeping.
Seriously though, I do a lot of other things, such as work out, go to restaurants with my wife Jeanie, and
travel (Covid permitting).

JDP:
I do a lot of walking and get in the occasional game of tennis or squash. I also like cycling and
snowshoeing etc. depending on our Ottawa weather. Recently I've started revisiting my chess game,
which has long been neglected.
TSWS: This track feels like a big undertaking. What kind of advice would you have for other up and
coming bands out there?

Rob:
It was, but nothing like Black Veil. That pushed both John and I to our limits, in terms of playing, mixing,
mastering, and everything in between. Right now, I'm so happy to get to do a cover again!
Regarding advice, I certainly have some opinions. Speaking for myself, I can say that you can't take the
Field of Dreams "Build it and they will come" attitude that if you put something out there, people will flock
to it because you're so awesome. Especially if your music is not Top 40 material, you will have to push,
push, push to get people to listen to it. Then, you will probably find out that unbiased impressions of your
music will differ significantly from your own. Case in point, one of the first songs I covered was Ballroom
Blitz by The Sweet. I heavied it up significantly, as I did back then. Some of the first comments I got on
YouTube was that it was "Shite" and that I should not quit my day job. Thankfully, I received a lot of
positive comments as well since that rough start. In the end, I was so thankful that people were listening
and reacting to my music. That is a really good sign, far better than getting a few dozen views!

JDP:
My advice is that music needs to be its own reward. Love what you are doing, be a good person, be
yourself always, and don't compare to others.
TSWS: Before we go, what would you like to say to fans of the music?

Rob:
First of all, I'd like to thank you and The Sounds Won't Stop for featuring us!
I'd also like to thank the fans for their support.

If you'd like to know what's coming up, you can check out my website at https://robgravelle.com/. You
can also join the mailing list to receive monthly updates. All of our videos are up on my YouTube channel
at www.youtube.com/c/RobGravelle.

JDP:
Thank you so much for your support. We very much appreciate you spending your precious time
listening to us. Stay tuned for lots more!
Rob Gravelle Bandcamp