A Fresh Interview With Robin Shaw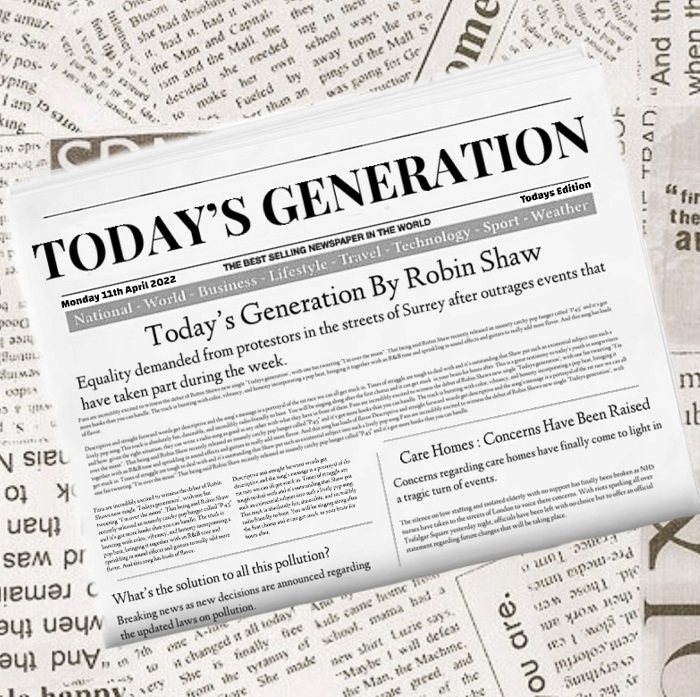 Robin Shaw gives us an existential and deep thinking single that comes from real places and impacts just right all with a mellow but vibrant pop tonality that sticks.
"Today's Generation" is the type of song you need to listen to a few times to really soak in because it touches on so many hot button topics within each verse that it's crazy. 
The track has an addicting chorus and a chilled overtone but there is a certain edge to it that comes from the lyrical content of the song that makes it very powerful.
The single comes through with a stripped down feel featuring guitars, beats and vocals that all have this indie-pop feel but with a slightly alternative sound lurking just beneath its surface. 
The vocals grow in intensity at times and brings elements of R&B and pop to the table in a unique way.
The main thing is how much the artist crams into each verse and how much you sit there and go "dude, he's so right". 
Shaw hits everything from social media to poverty and so much in between its a ton to soak in.
But this is Shaw's style. He hits topics that we all think about but don;t speak out on all that often. 
This is how he does it. He speaks out with song and it has a great closed fisted subtle aggression that you can't help but agree with.
All of it is real and genuine and the way it's spun into music is quite genius really.
It's absolutely refreshing to hear music with so little held back.
With such a deepening pop release, we wanted to have a chat with Robin to find out where this came from. 
Here's what went down. 
TSWS: Okay so let's start with the "Today's Generation". The single has such an honest and impactful feel to it! Where did this song come from?
Robin: The song is inspired by the 1980's song 'We didn't start the fire' by Billy Joel. I wanted a record that encapsulates the various different range of changes we have seen politically, culturally and revolutionary. I actually started the notation and writing aspect of this song back at the start of lockdown.
TSWS: This single has a great style to it. How do you think it differs from your last release?

Robin: I would say this is more of a relatable song then my last release in terms of some of the subjects covered. In my previous song 'Higher Stakes', the song was all about my personal experiences with gambling. The sound and style of 'Today's Generation' is hip hop mainly with a hint of Pop and Blues. 
TSWS: How often do you work on new songs?

Robin: I have many more songs written up and ready for production. I try to spend around 20 mins every other day either writing or learning the guitar. Although lately, I haven't done as much writing as I have been recording a lot more in London. I started recording again back in September after everything started to open up again so the last seven months have been productive!
TSWS: Do you have a home studio where you track your stuff?

Robin: I don't' have a home studio as such. I travel to West London to a place called South Acton to work with my producer called Chris Hall
. I teach myself different sounds and patterns on an acoustic guitar to keep my musical mindset fresh both lyrically and mentally.

TSWS: A lot has changed since we last spoke. Are you doing any live shows now that everything is a bit more open?

Robin: I have currently got some gigs lined up in the summer which I am looking forward to doing after such a long while. I want to try and have a busy summer showcasing my music as much as possible.
TSWS: Do you produce your own material yourself? What are you performing along with the vocals on this one?

Robin: So, the production I do with my producer down in London. The studios are actually shared with one of the 'Florence and the Machines' producers as well as one of Ellie Goulding's sound engineer which is pretty cool.  With all my songs, I always try to establish many themes with the starting point of a song. I find, once youve got themes, some type of content and some visual, no matter how vague, we both work from that and our musical chemistry has always been strong. The ideas I've had, my producer always gets on board with which gives me such confidence to explore.
TSWS: Can we expect any music videos coming from you this year?

Robin: Music videos isn't something I've done a lot of but I am open to the idea of doing more visual work this year. Certainly, with my new material. I have a song called 'Jack The Lad' coming out in the autumn and that would be great to get visuals to match the record.
TSWS: Who is in your headphones now?

Robin: I listen to a range of genres if I'm totally honest. My current song I've been listening to repeatedly for the last week is 'Glad U Came' by Liilz and Zie Zie. It is a remix of the song 'Glad You came' by the band 'The Wanted. I have also been listening to 'This Is What You Came For' by Calvin Harris/Rihanna and 'I'm So tired' by Lauv, Troye Sivan.
TSWS: This track feels personal. Do you use music as an outlet?

Robin: Yes, most definitely. Music is like therapy and has been such a catharsis for me. The whole process right from writing a song to production to release, the journey of making a song is a huge outlet. This song particular with all the different aspects and challenges involved has been huge. We have experienced a pandemic, a change in studios, I've lost a job in that time as well as starting a new one. My producer lost his original studios pre covid, so it has been a real build up to getting this exciting song out.
TSWS: It seems like you are really loving the recording process. Is that true?


Robin: Abosoloutley. The recording is just exciting. It can be intense, it can be relaxed, sometimes the energy is high, sometimes low but it is rewarding and I feel privileged to be doing this and trying to build and pursue my career. This record particularly, has been like a jigsaw puzzle to put together but I've loved every aspect of it.
TSWS: Before we go, what would you like to say to fans of the music?

Robin: I'd like to say thank you to anyone who has supported, stream, saved follow or contributed in any way shape or form. Every little step has led me to my next point and it is a journey that I am embracing. The future music I have got I hope will take me further. I hope everyone enjoys 'Today's Generation'.